One of the wonderful qualities of David Austin wedding roses is that they are available all year round. Grown throughout the year, our roses are always in season and can be purchased across the globe through wholesalers and florists.
Selecting David Austin Wedding Roses will elevate your wedding to a whole other level of style and sophistication. Will you choose elegant understated white rose Purity or perhaps effervescent Edith with her rose gold and warm apricot tones? Maybe a classic rose like peach Juliet is more your style, or eye-catching fuschia Capability, the perfect choice for a vibrant pink bridal bouquet? We've selected some of our favourite rose bouquets to match the seasons to help you choose.
Autumn Rose Wedding Bouquets
The season of mists and mellow fruitfulness is the perfect time to embrace our warm golden toned roses like Effie and Beatrice, which blend beautifully with autumnal shades of rust, burgundy and ochre. The nuance of colour in David Austin roses makes each rose unique and multi-toned roses like Edith create artful bouquets that are totally one-of-a-kind.
Textural Autumn Wedding Bouquet
Talk to your florist about reflecting the feel of fallen leaves crunching underfoot with crisp textures of seed pods and bracken, plus shiny berries and soft grasses that waft in the autumn breeze. A beautiful statement red rose like Tess or Darcey is the perfect choice to give a punch of colour to a muted warm palette.
Bold pinks and reds might not feel like a traditional choice for a fall wedding but we're all about brides going their own way. If you love it, go for it! A dramatic pink rose like Capability and a bold red rose like Tess can be taken into the cooler months by combining with flowers in juicy berry tones of plum, mulberry and blackberry with touches of rich forest green. Even a pretty pink rose like Miranda can be used in early fall in a bouquet full of seasonal accents and textured foliage.
Winter Wedding Rose Bouquets
For winter weddings, we love rich reds and cool whites – but crucially, never styled together. In old flower lore, red and white flowers represent blood and tears and are considered unlucky, so best avoided if you are at all superstitious! Instead, pair red with glossy green for a traditionally festive feel, or even hot pink for a statement colour block look that feels contemporary and chic.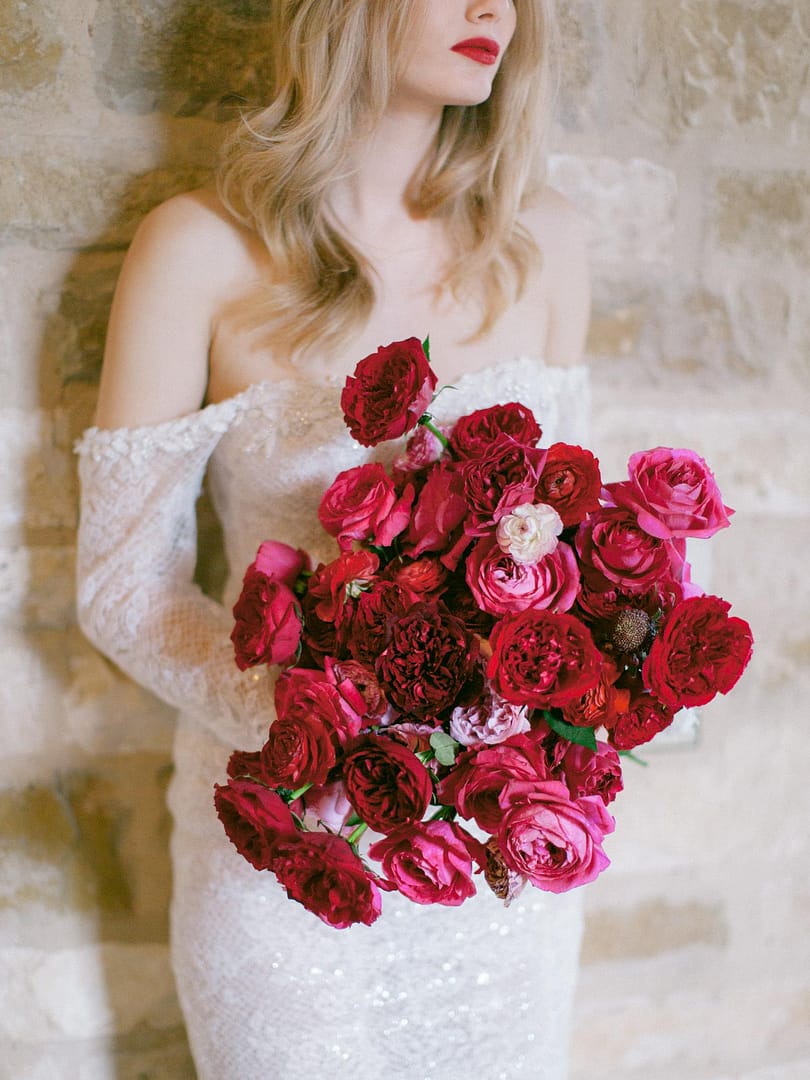 Winter White Bridal Bouquet
White roses are dreamy in any season but feel particularly perfect in winter, capturing the tranquil feel of snow-covered landscapes and the look of understated elegance many brides strive for. Our white David Austin Wedding Roses – Leonora, Patience and Purity – all have their own unique identity and work well alone or together for a gorgeous multi-layered look.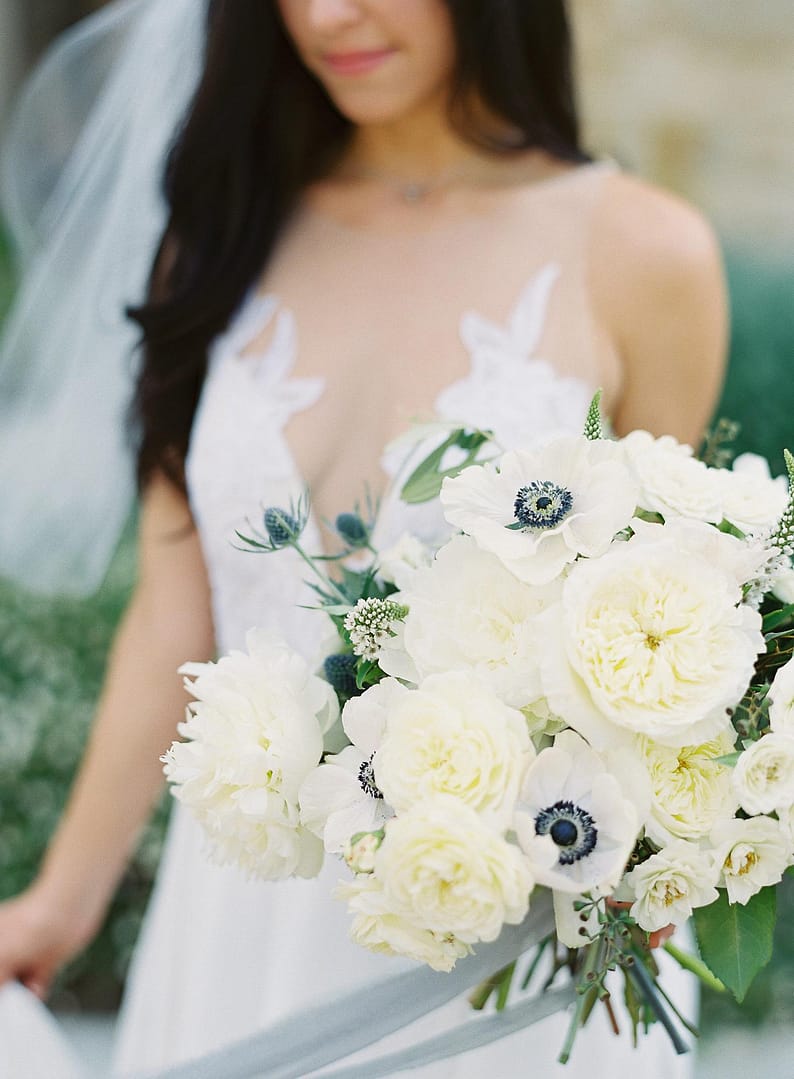 Spring Rose Bridal Bouquets
Spring brings hope and revival and is the dream wedding season for many brides thanks to the abundance of flowers blooming as the weather warms up. We love to see brides carrying classic bouquets of creamy white roses with accents of seasonal blooms to bring character and charm.
Golden Rose Spring Bridal Bouquet
The colour of spring chicks and sunshine sparkling on dew covered narcissi, joyful Beatrice is a delightful choice for a springtime wedding. With a rosette of golden buttery yellow swirls and a captivating scent of myrrh with hints of fruit and almond, all Beatrice needs is a touch of white and fresh green to make the perfect finishing touch to a spring bridal look.
Blush Rose Summer Wedding Bouquets
Blush remains one of the most popular wedding colours as it's so romantic, soft and feminine. It's also surprisingly versatile and a good middle ground between brights and white. Each of our pale pink roses – Eugenie, Keira and Charity – has unique characteristics and can create a classic bridal look when styled with papery white flowers and flashes of foliage.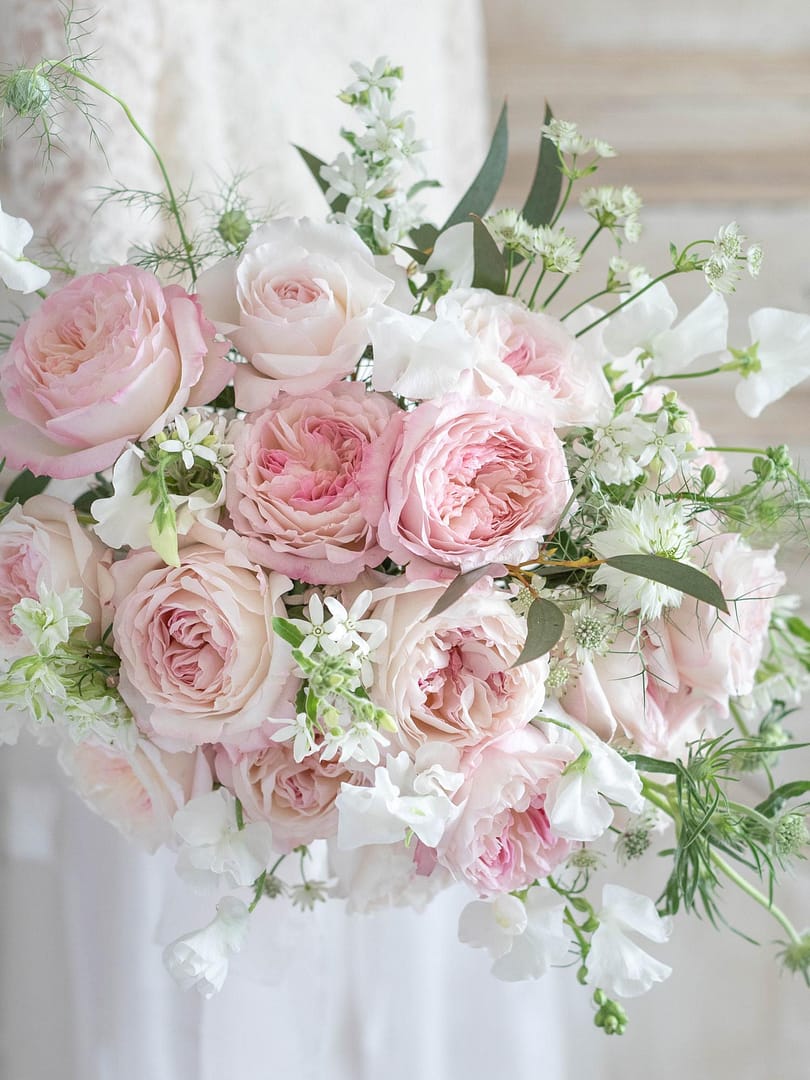 Vibrant Summer Rose Bouquet
Fashion forward brides who dare to be different may like to embrace clashing brights for a show-stopping look, and summer is the ideal season for it. The blazing sunset shades of orange-hued Beatrice, Effie and Edith paired with vibrant pink Capability and Kate evoke the vibe of a Moroccan souk for a look that's modern and exotic.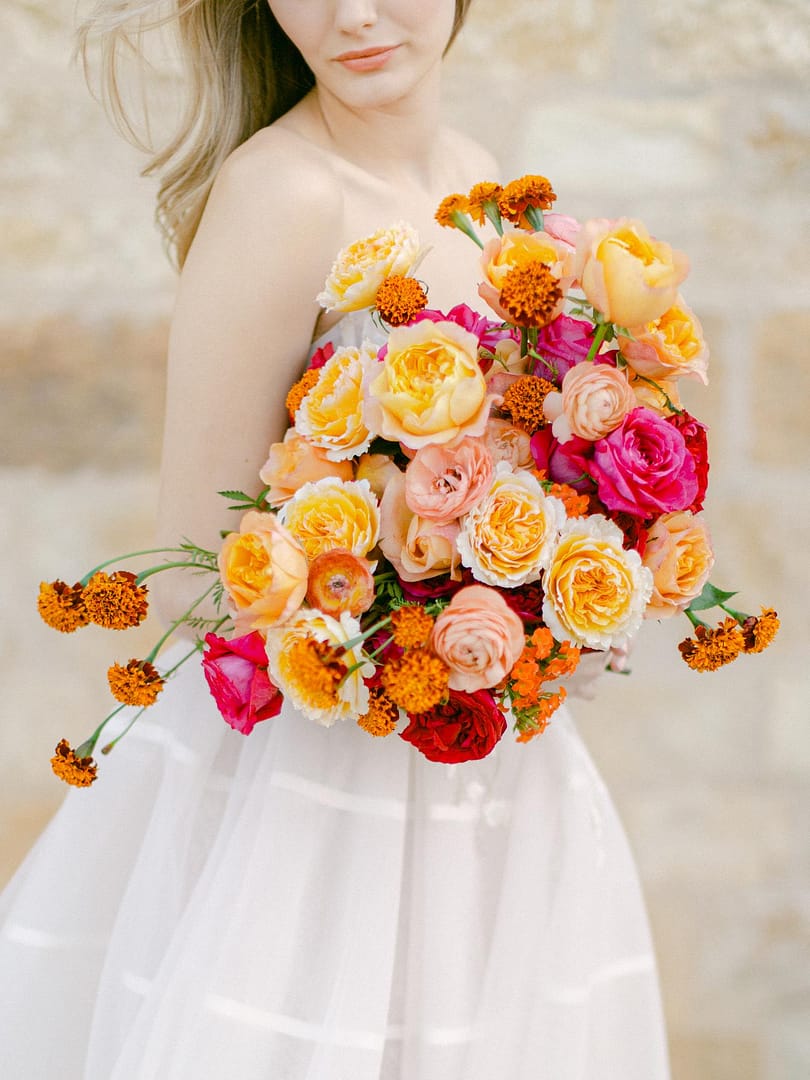 Pastel Summer Rose Wedding Bouquet