Dreaming of an elegant yet understated celebration that exudes effortless style and sophistication? Purity (Ausoblige) is the perfect creamy white wedding rose for you with just a hint of blush! Pearly white outer petals open to reveal a loosely ruffled centre, lightly dusted with tones of pale apricot and peach. Purity is beyond exquisite and the epitome of relaxed romance.
While smaller in size than her cream rose sisters, Leonora and Patience, Purity packs a punch with a delightfully strong scent, reminiscent of Turkish delight and rose-water that gives her a slightly exotic feel. Purity is the ideal rose for a stunning ivory bouquet, yet her neutral tone makes her versatile enough to blend with a multitude of colour themes. Let's find out how to incorporate this gorgeous rose into your wedding flowers.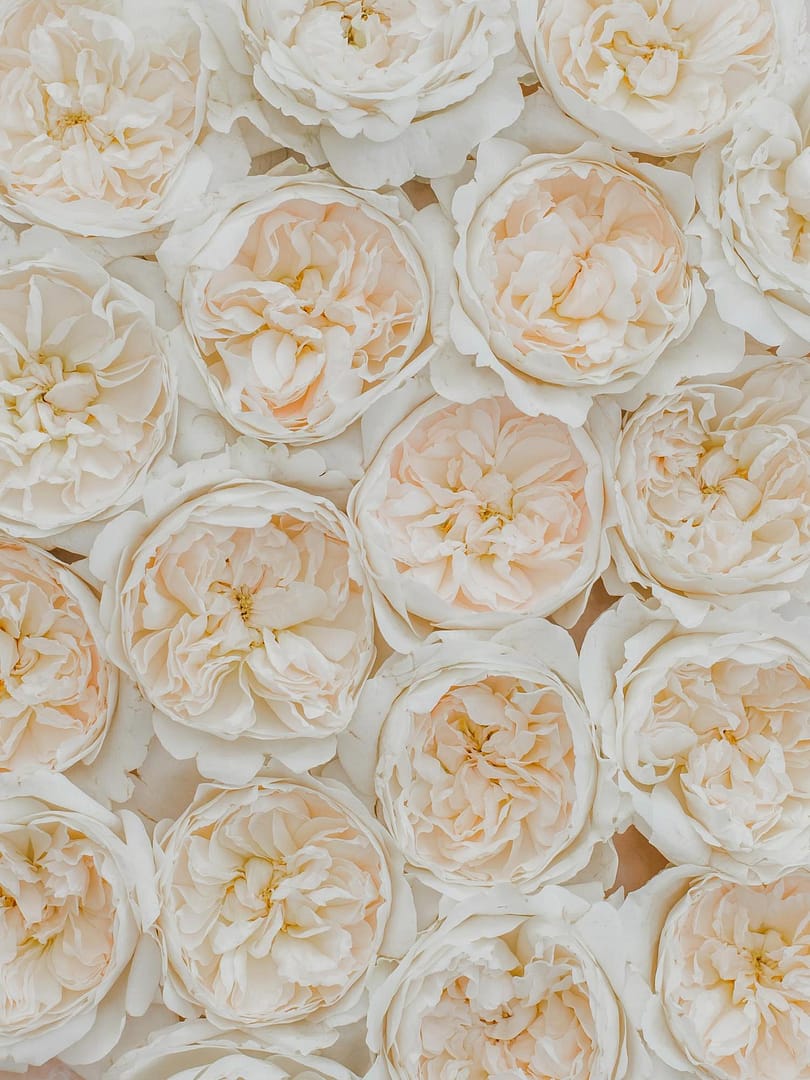 What Style of Wedding Does Purity Shine in?
We think of Purity as graceful and glamorous in a naturally relaxed and effortless way. The creamy white cupped rosette opens to reveal loosely ruffled petals, which lend a feeling of laid back luxe to weddings and achieve that enviable feat of looking gorgeous without trying too hard. So if your moodboards are full of simple understated wedding gowns; chic modern stationery; natural linens and floral designs inspired by coastal walks or woodland strolls, Purity is the perfect rose to bring your wedding vision to life.
What Colours Does Purity Work Well With?
Purity is a beautifully versatile rose and compliments myriad wedding colour palettes, from warm shades of pink and peach to cooler blue and lilac tones. We recommend pairing Purity with dainty flowers in soft pastel colours to avoid distracting from her elegant form and delicate hue. However, our preferred colour palette to really allow Purity to shine, is simple green and white. Fresh, natural and eternally chic, this neutral look with heaps of verdant trailing foliage and textured blooms really showcases the pure beauty of this rose and makes the perfect white bridal bouquet.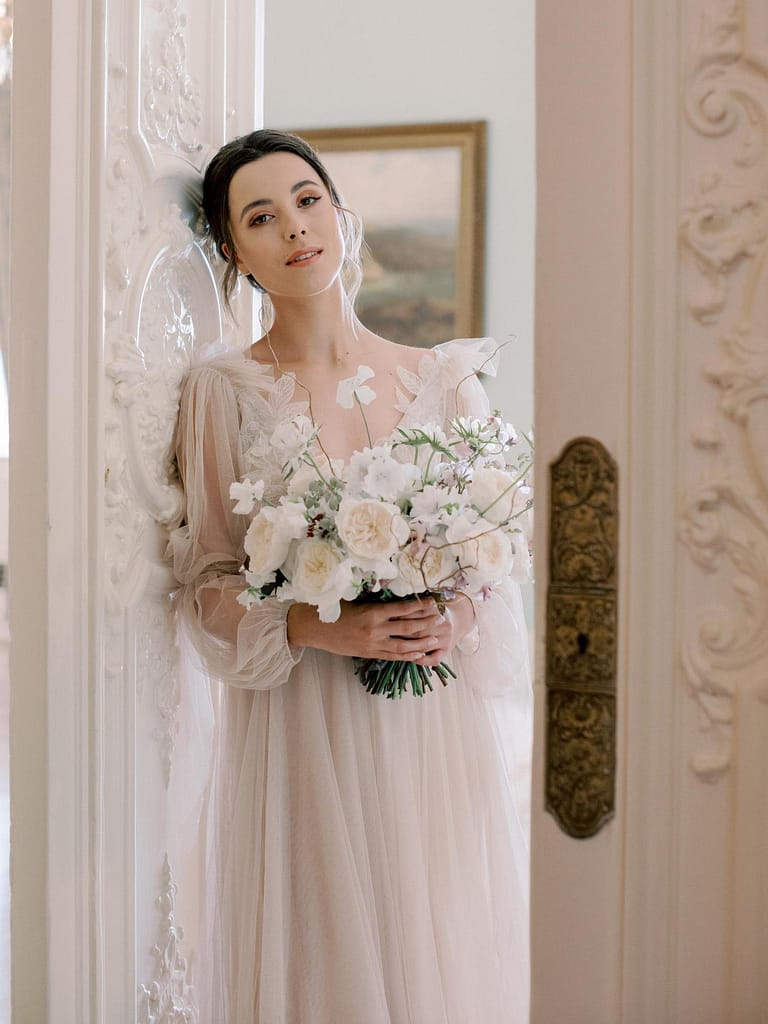 What Other Flowers Compliment Purity?
Introducing different forms and textures is the best way to bring a neutral palette to life and compliment a focal flower like Purity without overpowering it. For example, consider papery scabious, budleia, lacy ammi and vines of fragrant trailing jasmine or honeysuckle for a beautifully wild and unstructured ivory bridal bouquet. We love rambling foliage and natural elements like willow, moss, berries and seed pods to bring a sense of the outside into your white wedding reception.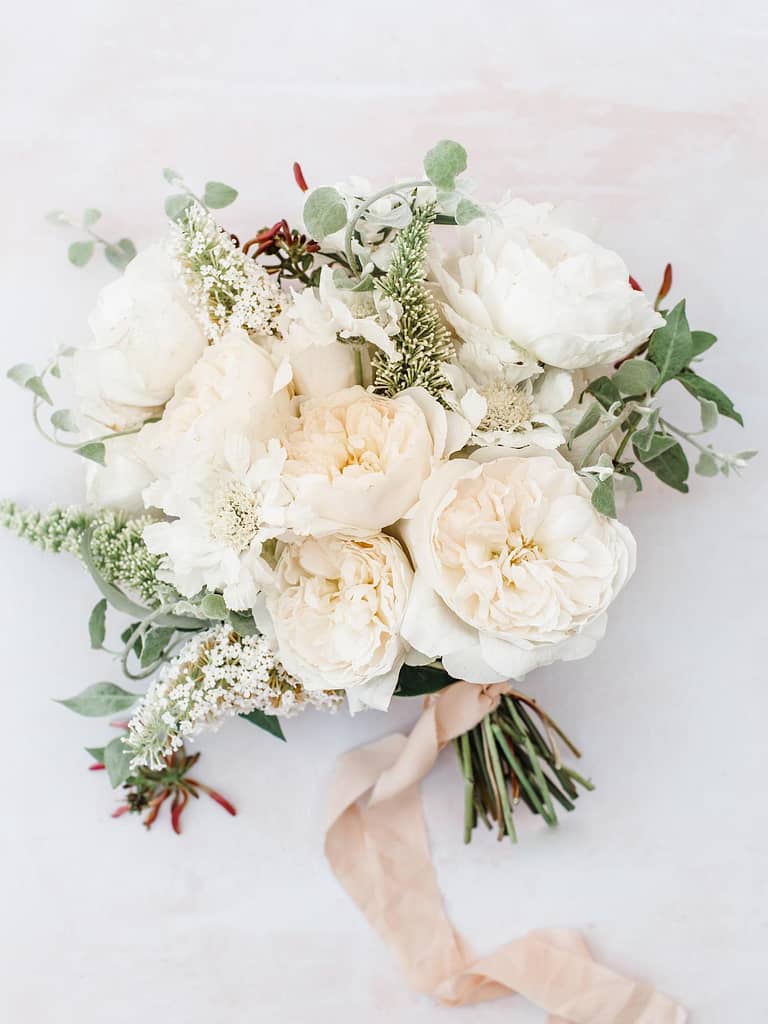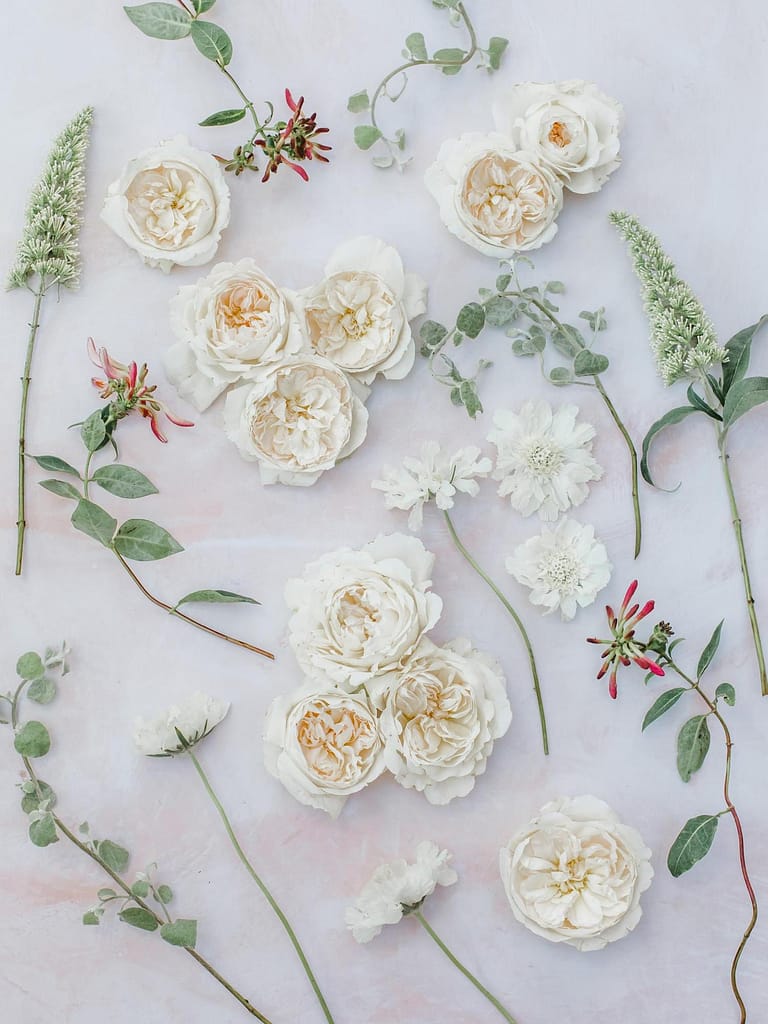 White Wedding Reception Inspiration
While less is more in terms of colour when styling Purity, we say go big on the volume of roses along with supporting flowers and foliage to create a dramatic look that really immerses your guests in the natural world. Fill mantelpieces, bannisters and tabletops with lush greenery and don't forget to look up. Floral chandeliers and trailing garlands are great for adding drama to a reception space, dotted with twinkly or festoon lights to create an intimate cosy atmosphere as night falls. Add leafy elements to your stationery design; sprigs of green to white linen napkins, and place a simple white tiered cake on a moss-covered table top for a chic understated look.