Spring wedding flowers are the refreshing tonic we all crave after a long dark winter. The first green shoots as the earth wakes up are such a joyous and hopeful sight, it's little wonder spring weddings are so popular. So where do you start with spring wedding flowers, and what varieties and colours work well together? Let us guide you through some ideas to create the perfect spring wedding bouquet, whether you love a classic rose bridal bouquet, or wish to weave in seasonal favourites for a true celebration of spring.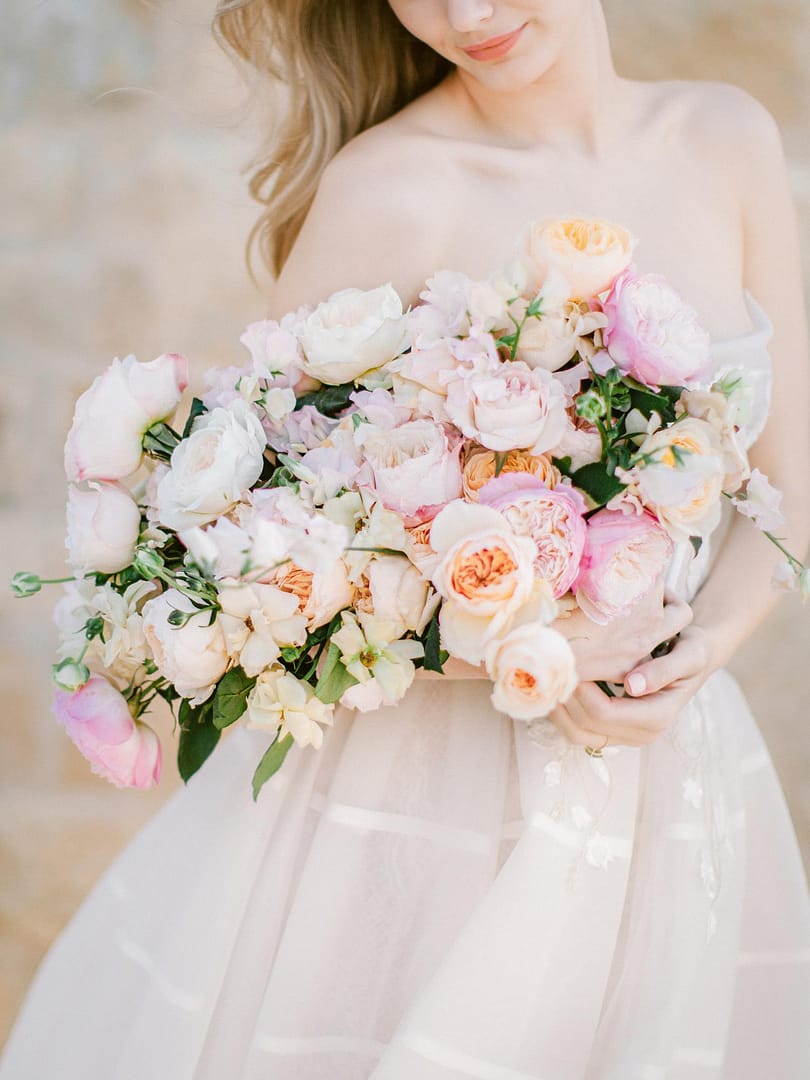 Many people associate purple, yellow and green with spring (and Easter) but don't forget about pastels. Soft, feminine and surprisingly versatile, pastel wedding colours like blush pink, pale lemon, soft peach and ivory work well alone for a chic understated look, or layered for an artistic painterly effect like this example of our wedding arch.
David Austin wedding roses are the perfect addition to a pastel wedding bouquet, with the subtle shades, countless blousy petals and heavenly distinctive scent of each rose. If you're looking for a mostly neutral bridal bouquet, our ivory roses – Leonora, Eugenie, Patience and Purity – are exquisite focal flowers to compliment touches of delicate pastel spring blooms. However if you prefer more colour, soft peach Juliet or blush pink Keira are ideal for bringing more vibrancy to your spring bridal bouquet.
Spring Greens and Sunny Yellows
Foliage is a key part of a spring bouquet so don't discount it as simply a filler ingredient. Fresh green leaves bring a light youthful feel to your bridal bouquet and provide contrast to pastel shades, allowing each flower to really sing. Keep the textures soft and light.
We love zesty green flowers too, such as lime green mini pompoms of viburnum, dainty hellebore and fluffy sprigs of maidenhair fern or greenbell. Paired with our pastel roses, these varieties give a fresh feel to your bridal bouquet.
And if a pastel colour palette is not for you, bring sunshine into your bouquet with the golden yellow tones of Beatrice and Effie, accompanied by apricot ranunculi and paper whites.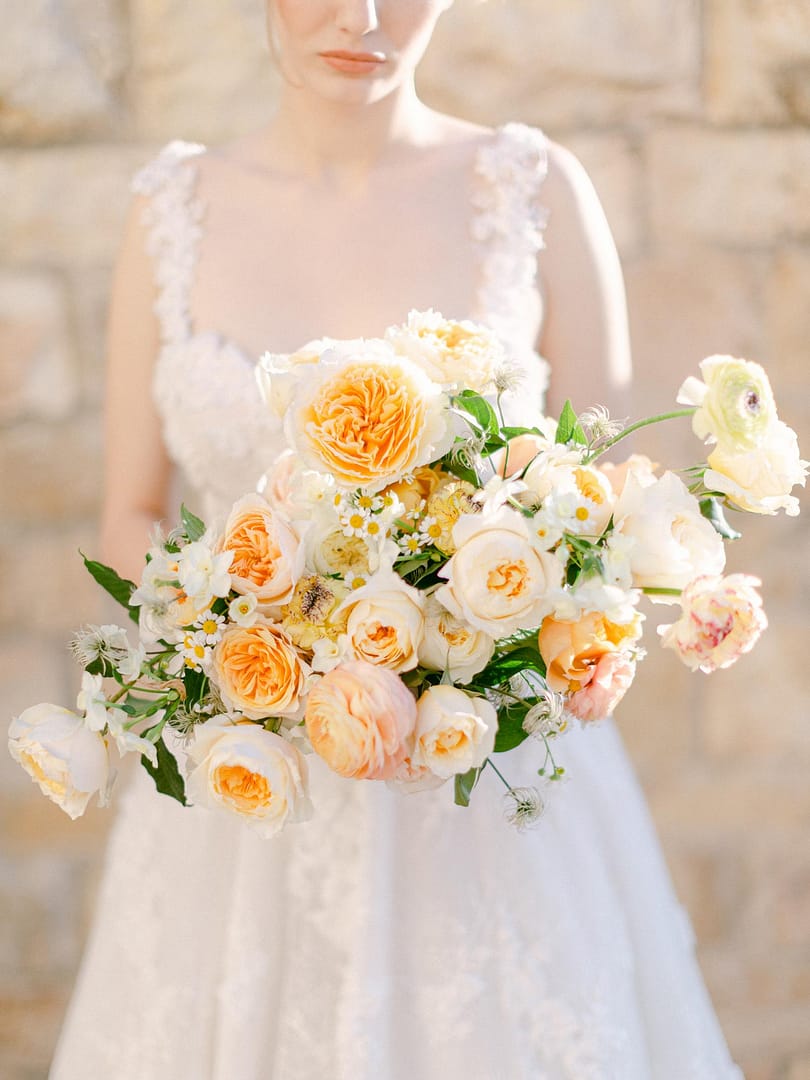 The temperature varies greatly from early to late spring, and consequently, the availability of flowers does too.  Early harbingers of spring include hellebore, paper whites, narcissus, butterfly ranunculi, tulips, hyacinth, anemone, lily of the valley, fritillaria, many of which quickly disappear as the weather warms up. The good news is that the David Austin cut roses are available 12 months of the year, allowing you to incorporate them within your wedding flowers whatever the season. 
Some varieties we typically associate with early spring, such as snowdrops, violets and crocuses, are short-stemmed and therefore not well suited to wedding floristry. However, look higher up on a spring walk and you'll see options for adding texture, height and movement to your wedding flowers, with magnolia buds, lilac, forsythia, winter jasmine, pieris japonica or blackthorn or wild cherry blossom.  [Ask your florist about sourcing these]
Combine flowers with care
When it comes to combining flowers to create your dream spring bridal bouquet, the expertise of an experienced florist is key. It's not just about making them look pretty! 
Meanwhile, flowers in the narcissus family (which includes daffodils) emit a slimy sap from their stems, which can kill other cut flowers by blocking the uptake of water by the stems. High quality wedding flowers can be costly, so it is worthwhile investing in a great florist who understands the idiosyncrasies of each variety and how to best treat them to really celebrate the bounty of spring on your wedding day.