Once you've said your vows and posed for countless photos, it's time to sit down, relax and enjoy your wedding reception. It's often the first opportunity to pause and soak up the occasion, surrounded by all the special people in your life and the gorgeous setting you've been planning for months.
Creating beautiful tables for your wedding reception is all part of styling the space and making your guests feel welcome. Whether you're planning long family-style tables or traditional rounds, floral centrepieces create a focal point and set the scene for a stylish celebration. So where do you start in designing a dreamy tablescape? Here's a selection of our favourite 10 centrepieces to give your wedding reception the wow factor.
Never underestimate the impact of a simple white rose centrepiece, especially one made with deliciously scented David Austin Wedding Roses like Leonora, Patience and Purity, and touches of lush green foliage. Each of our white wedding roses has a unique character, colour and fragrance, and works equally well alone or combined to create a beautiful, layered effect.
Leonora is a celebration of understated, classic elegance, thanks to her perfect form, countless blousy petals and fresh scent with hints of cucumber and citrus. Meanwhile, Patience is the quintessential ivory rose, with creamy ruffled petals and a distinctive clean heady scent of old rose with a dash of lemon. Heavenly!
Finally, Purity is the perfect pearly white rose, with alabaster outer petals that open to reveal a loosely ruffled centre, lightly dusted with tones of pale apricot and peach. Purity packs a punch with an intoxicating scent reminiscent of Turkish delight and rosewater, giving a slightly exotic feel.
If a monochrome centrepiece feels a little too understated for your taste, consider adding warm tones with our yellow roses, Beatrice and Effie, or rosy golden Edith. These sunshine roses bring joy and energy to floral designs and are surprisingly versatile when paired with ivory, beige, peach, gold, and even touches of contrasting blue.
The colour of long hazy summer days and golden sunsets, Beatrice has a rosette of golden buttery yellow swirls surrounded by outer petals of cool blonde and vanilla, with a fragrance of myrrh, fruit and almond. Effie is known for her beautiful sun-kissed blooms, with zesty orange and apricot tones framed by cream petals, and a subtle scent of tea. Whether used alone or paired to highlight their different hues and fragrance, these joyful yellow roses are the perfect choice to brighten your wedding reception.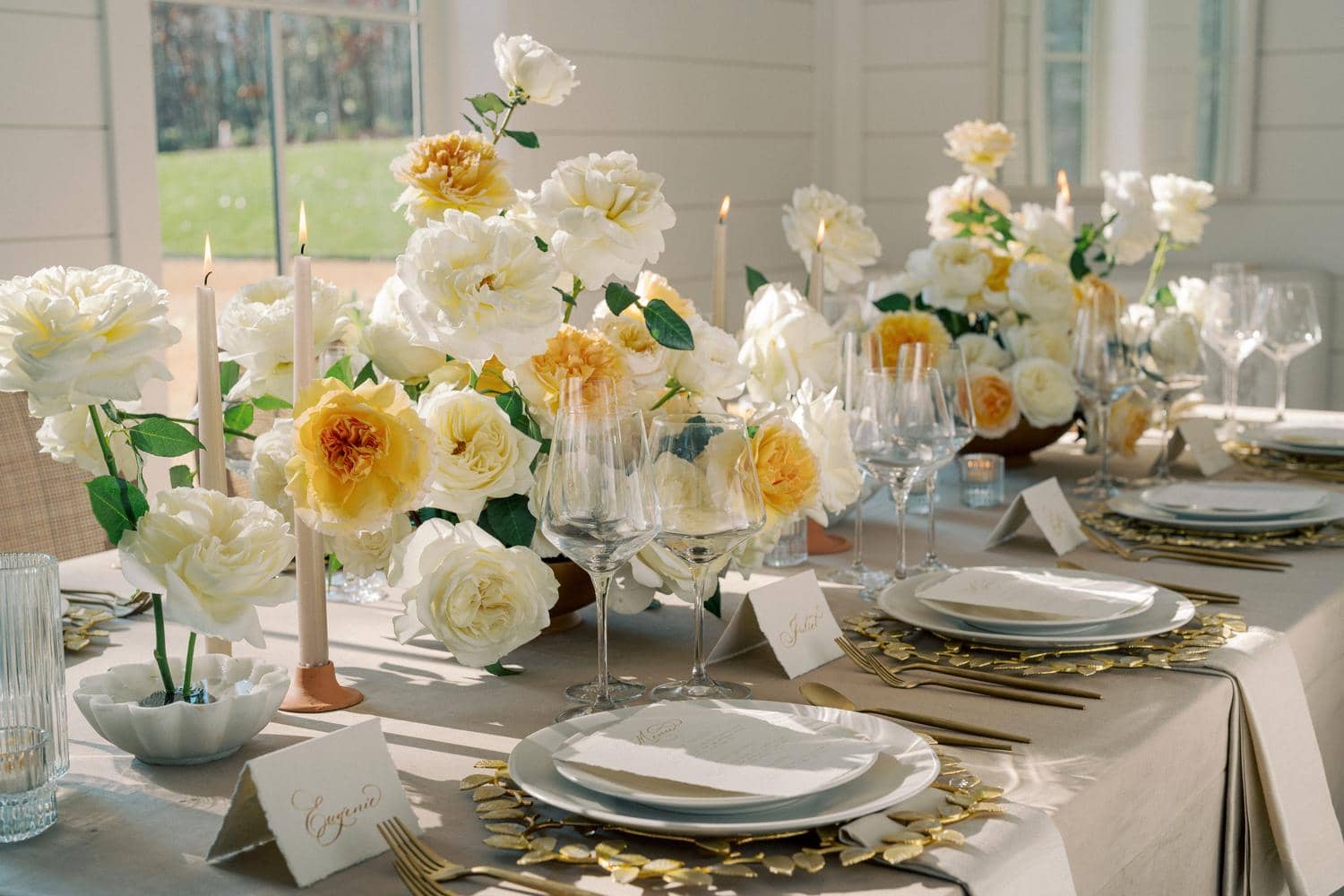 Pink roses are an eternal wedding favourite and our specialist Wedding Rose collection at David Austin provides a choice between pretty and dramatic tones. Pink symbolises friendship, affection, harmony and compassion, making it the perfect colour choice for a wedding in any season. Whether you choose a soft marshmallow blush rose like Constance or Keira, a brighter Barbie-pink Miranda or the deep fuchsia tones of Kate and Capability, there's a perfect pink David Austin Rose for you.
If you want to create a sense of drama for your wedding reception, ask your florist about elevated arrangements such as rose trees (pictured below). Based on the traditional style of a round topiary tree, these rose trees were handmade with David Austin Roses and are pure luxury and sure to become the talking point of your big day.
Pastel Pink and Purple Centrepieces
There's something so feminine and romantic about a colour palette of gentle pinks and purple, making it the perfect choice for a dreamy summer wedding reception. These pretty colours lend themselves to many different looks, from wild and whimsical to elegant English country garden. Try pairing Keira, with her gorgeous raspberry-ripple petals, with powder blue, soft lilac and cream flowers for a pretty pastel colour palette.
If you're having long banquet tables, beautiful flower-filled runners work well to give a feeling of summer abundance that will totally immerse your guests in the beauty of the season. Alternatively, individual compote designs dotted evenly throughout the table create more room (ideal if you're serving food family-style on sharing platters) and give each rose plenty of space to fully bloom.
For further wedding reception inspiration dive into our  Pinterest board and start saving your favourites.