If classic Parisian elegance is your idea of a dream wedding, you're going to be head over heels for this chic city wedding editorial at the fashionable Hôtel Plaza Athénée in Paris.
There's nowhere quite like the famous City of Light for a dreamy destination wedding. The French capital exudes old-fashioned romance at every turn, with spectacular views and iconic backdrops throughout the city that are just made for stylish wedding portraits.                             
Located on Avenue Montaigne, the tree-lined boulevard of French fashion, Plaza Athénée is the ideal venue for this luxury city wedding in Paris. Neighboured by major haute-couture brands including Chanel, Dior, Louis Vuitton, Chloé, Céline, Saint Laurent, Prada, Gucci and many more, the opulent hotel fuses old-world grandeur with modern elegance, making it the venue for a luxury wedding in Paris.
David Austin Wedding Roses are the obvious choice to decorate Le Salon Organza – the elegant reception space that overlooks a beautiful courtyard and the hotel's iconic red canopies. Our creamy roses bring unrivalled elegance to the wedding celebration, thanks to their glorious colour, character and scent. International fine art wedding designer and floral stylist Janna Brown used a rose selection that is classic and timeless in equal measure – Bessie, Keira, Leonora, Purity, Eugenie and Patience – to create a garden-inspired floral centrepiece to contrast with the gilded, glamorous setting of the salon.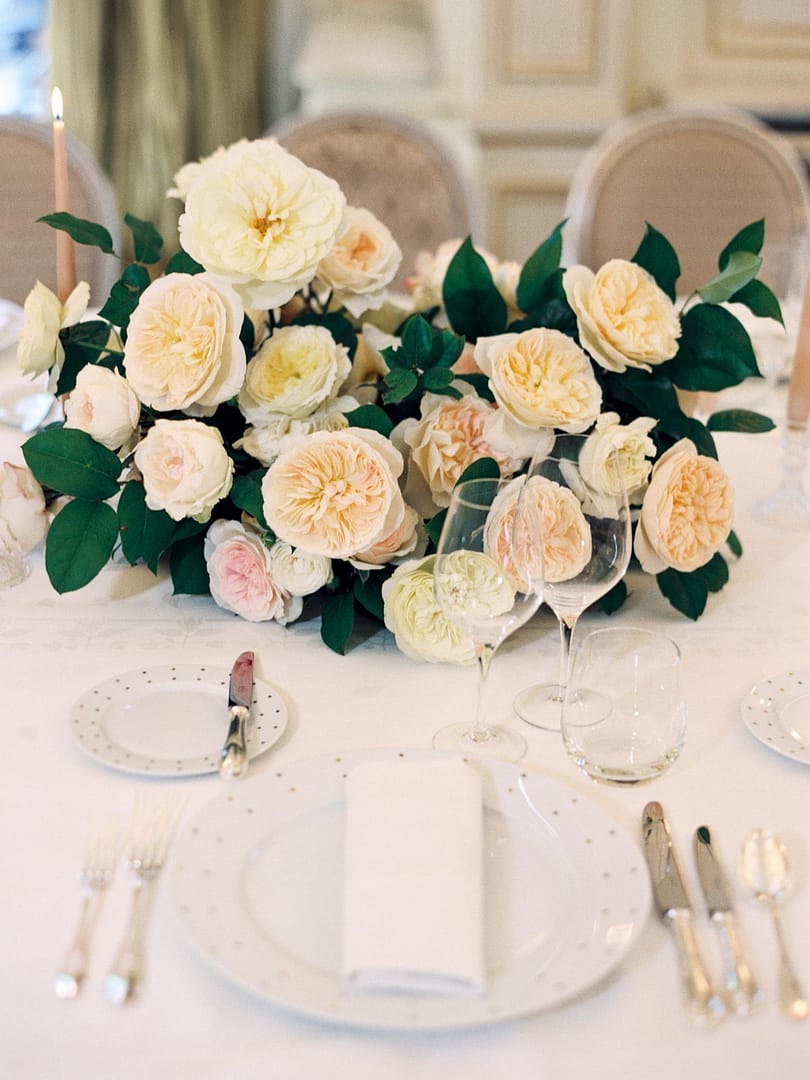 The bride, wearing an incredible Leah Da Gloria gown, carries a cluster bouquet of blush and ivory roses that is stunning in its simplicity. From an exclusive suite at Plaza Athénée, the newlyweds enjoy a glass of champagne on a balcony overlooking the Eiffel Tower, before exploring iconic city sights for their bridal portraits, including the Louvre, Tuileries Garden and Alexandre III Bridge.