Yellow roses are often overlooked in the wedding world and we're on a mission to change that. David Austin Wedding Roses in buttery sunshine shades bring a joyful elegance to modern weddings, as beautifully shown in this recent editorial at Château de Fonscolombe in Provence.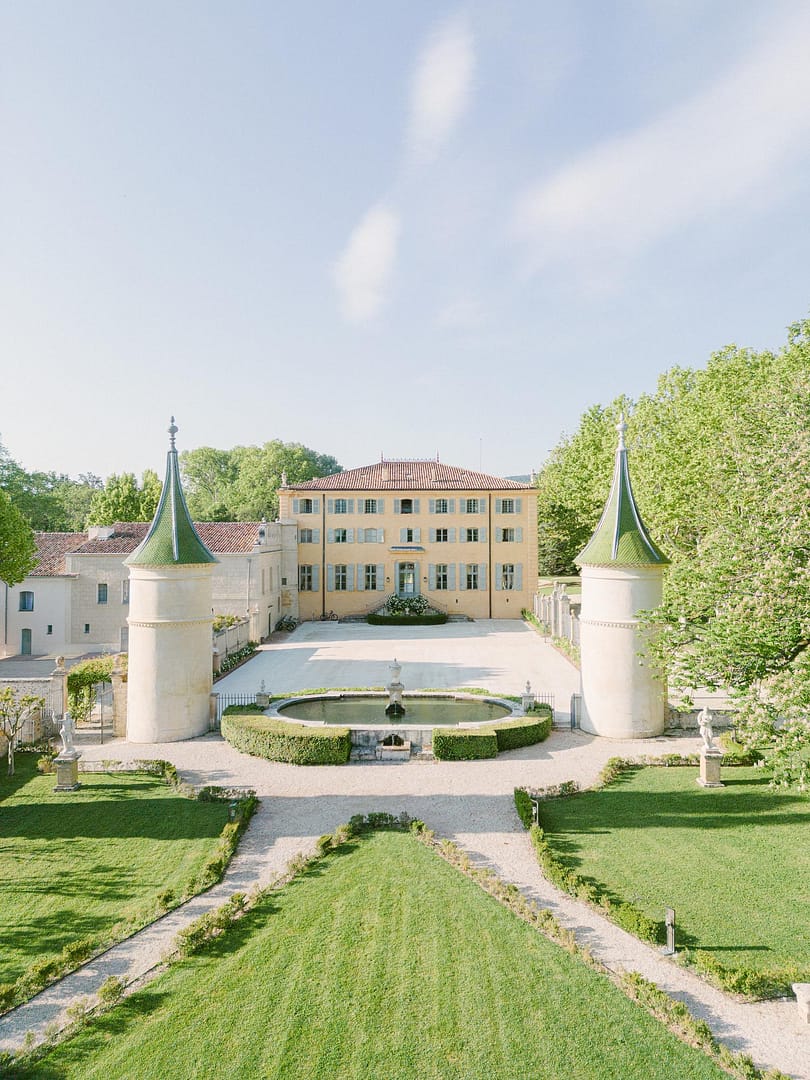 French wedding planner, Love and Provence, together with floral designer, Lettre à Elise Events, created a gorgeous spring garden-style celebration that enhanced the beautiful fairy tale château and its sprawling picturesque grounds. Effie took centre stage in the bridal bouquet and venue décor, bringing a warm glow that highlighted the blonde façade of the 18th-century castle.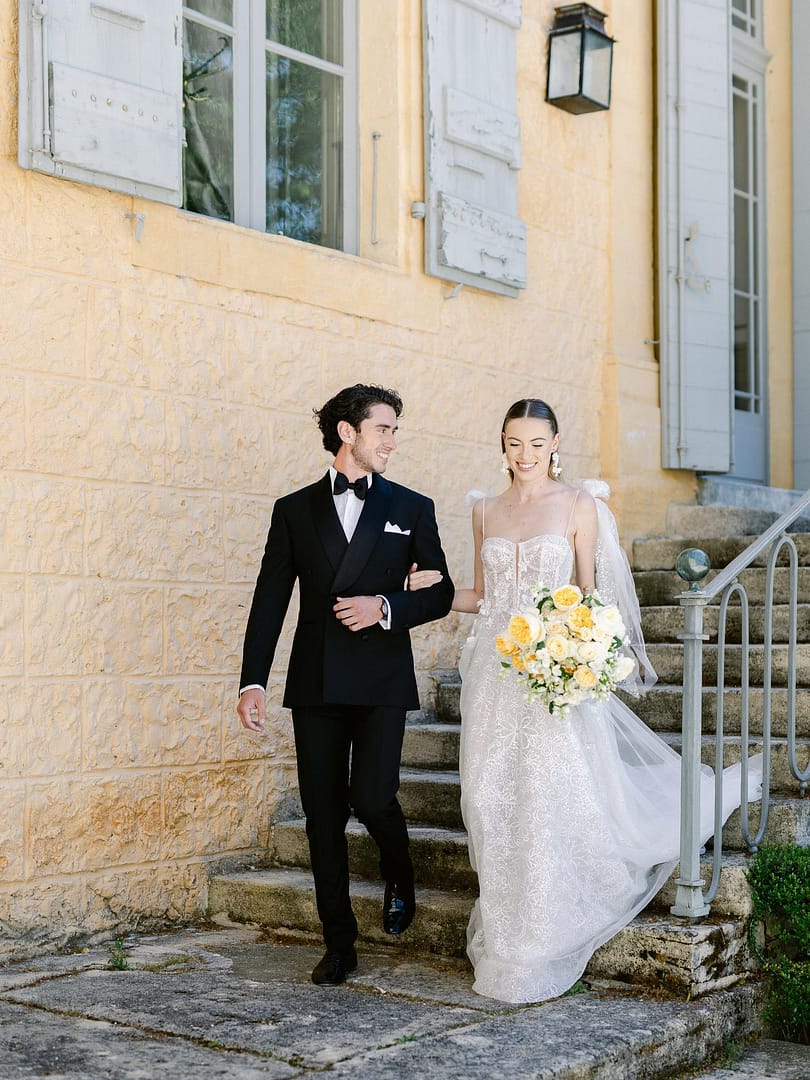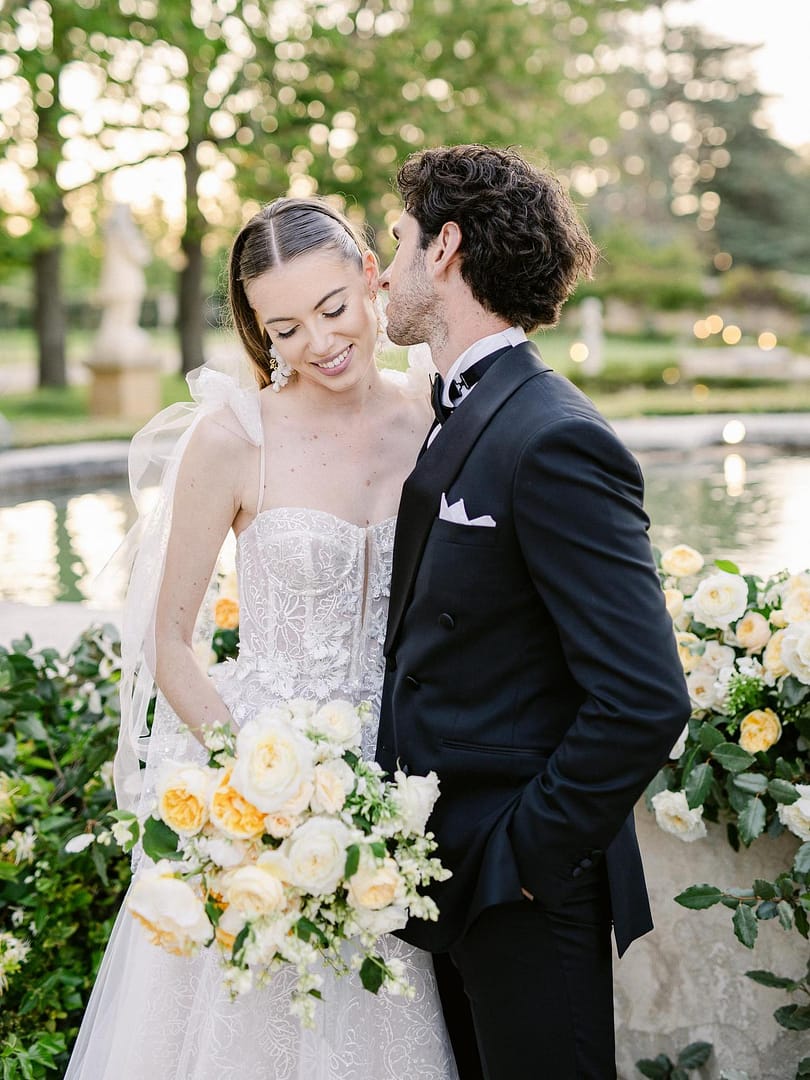 We love the elegant colour palette of zesty yellow and ivory roses made up of Effie and Patience. Complemented with cool blue and pale grey tones, which are used throughout the outdoor ceremony set-up, escort card display, and banquet-style reception table. The cool tones pick out the colours of the château shutters and wrought iron gates, seamlessly blending the wedding décor with the majestic French architecture.
A bouquet of sun-kissed blooms perfectly balances the bride's look of modern chic with a hint of whimsy. We adore how her sleek centre-parted hair and the form-fitting bodice of her Berta dress are softened with floral porcelain earrings and dramatic tulle bows trailing from her shoulders. The overall look is fresh, youthful and elegant.
How To Use Yellow In Your Wedding
The key to embracing the beauty of yellow is understanding that it doesn't have to be a bright canary shade if that's not your thing. One-dimensional shades like this can feel harsh and are very hard to work with. The nuance of colour in David Austin Wedding Roses is what makes them so appealing and versatile.
Effie, for example, develops from an unassuming creamy bud to a full luscious bloom filled with amber, apricot and zesty yellow-orange tones, framed by a halo of pale cream petals. She captures the warmth of summer as well as the rich glow of autumn. A light aromatic scent of tea adds the finishing touches to Effie's vibrant personality.
Pairing yellow with ivory and green creates a fresh and verdant colour palette that's perfectly suited to late spring and early summer weddings when the landscape is awash with new life. For added vibrancy, consider sister sorbet shades like peach, raspberry and lavender for a mouth watering palette that's vibrant, fun and ideal for summer weddings.