While your wedding ceremony is the most significant and emotional part of the day, the reception is what many of us look forward to the most. That precious time to celebrate your union and gather with loved ones to eat and drink is always special and memorable.
Decorating your wedding reception is exciting too and a chance to create a beautiful setting to share your first meal as a married couple. We love seeing the creative ways that couples and wedding planners design stunning tablescapes with David Austin Wedding Roses. Here are five of our favourite wedding receptions to inspire your own.
1. Modern White Rose Wedding Reception
Roses are often considered to be a traditional flower choice, but they work well in modern settings too. We love the minimal compote designs displayed with our leading lady Leonora down the middle of this banquet table in the airy light-filled reception space, which looks super chic with the gilt-edged table and chairs. This design was inspired around a city wedding theme which you can read about here: A City Wedding.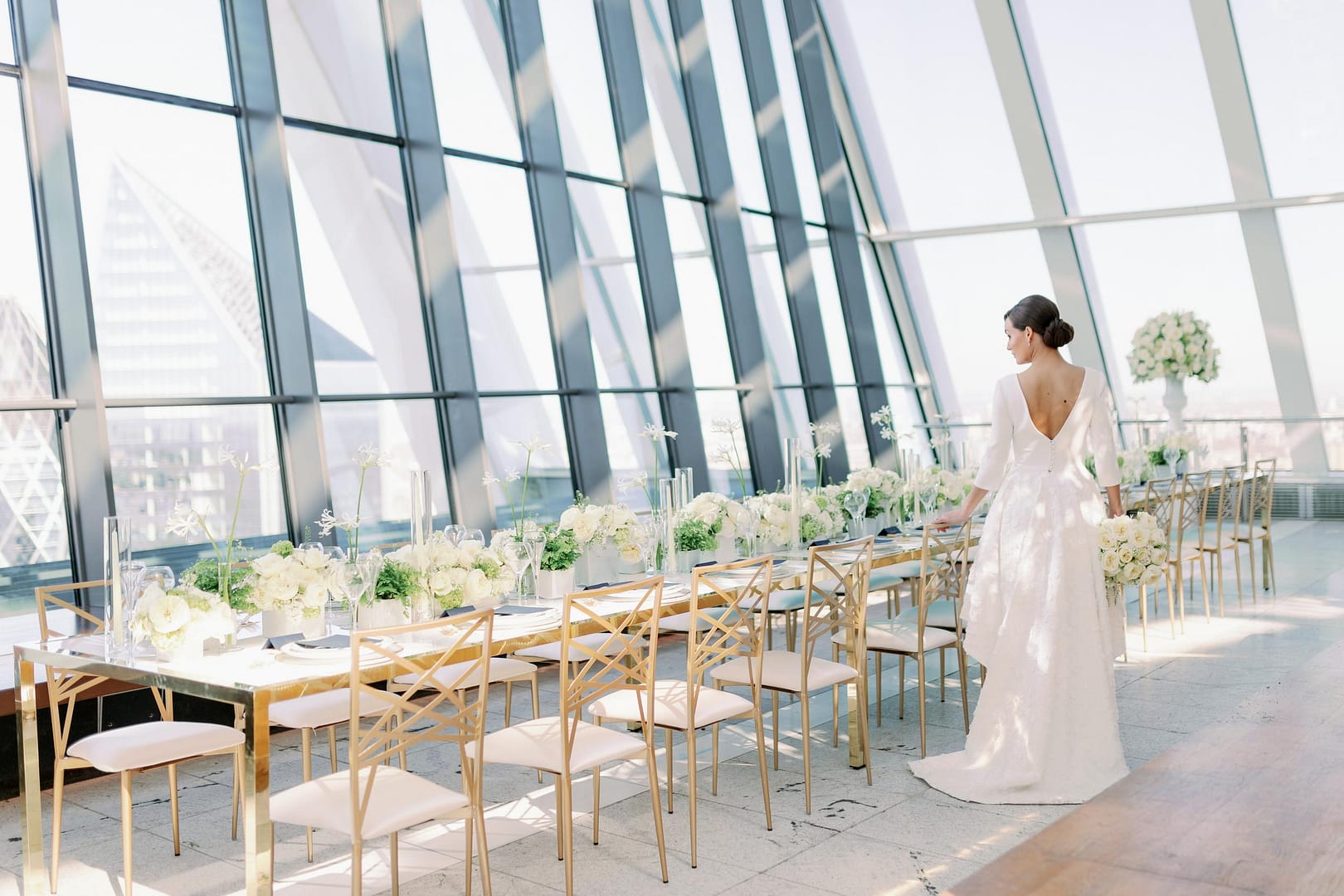 2. Pink and Blue Indoor Wedding Reception
Here we see roses in a more classic wedding setting, decorating round tables and elegant chandeliers. Mixing unexpected colours and flowers can be tricky to achieve so we have created this unexpected look for a more vibrant setting to help inspire. Pinks mostly shine through but are supported by touches of blues and peaches for a unique look that feels delightfully eclectic. These hand-painted candles from @nadiaandco finish off the overall look and feel. If you love this style then we have a whole blog dedicated to this stunning design: Pink Indoor Reception.
3. Woodland Wedding Reception
We love to see weddings that celebrate the landscape, like this stunning woodland set-up in Virginia, USA. Stylist Joy Proctor cleverly highlights the colours of the changing landscape in these table designs, with golden sandy tones and muted greige. The ivory of Leonora and Eugenie; and golden Beatrice and Effie bring an elegance to this rustic setting, with touches of bright blue for a light whimsical touch. 
4. Mexican Bright Pink Wedding Reception
If you're getting married somewhere hot, consider a vibrant tropical vibe like this Mexican-themed wedding. Here Gilberto from Dogwood and Fir gave our beloved pink roses Miranda, Constance and Keira an exotic spin with interesting flower varieties in tonal shades, including pink nerine and butterfly ranunculus. Bright fruit scattered throughout the tablescape gives the feeling of lush abundance, while the patterned plates and terracotta pots bring a relaxed celebratory feel. You can view this look in more detail on our previous blog: Mexican Summer Wedding Inspiration.
5. Neutral Wedding Reception With Floral Chandelier
A neutral green and white colour palette works well in any season but we particularly love it in winter, when you can recreate the magic of Narnia with heaps of fluffy white roses and deliciously scented spruce. Indoor wedding receptions can be given a wintery touch by bringing the outside in – minus the temperature! In the California wedding at Sunstone Winery featured here, this stunning rose-filled floral chandelier creates a dramatic centrepiece for the top table, which looks incredibly chic with the soft beige tablecloth and bleached wooden chairs. The best roses to achieve this sensational colour theme are Leonora, Purity and Eugenie. Take a look at our White Winter Wedding blog which features this stunning design.
For further wedding reception inspiration dive into our  Pinterest board and start saving your favourites.