Flower chandeliers are having a huge moment in the wedding world and we're totally here for it. These hanging installations are suspended from above and create a feeling of lush abundance, adding interest and drama wherever they are installed. Displaying a flower chandelier in your wedding ceremony or reception space will draw the gaze upward, and add colour and texture to high-ceiling spaces.
Floral chandeliers come in many styles, from huge dramatic designs heaving with greenery to minimalist contemporary styles with structural bare branches. Of course, here at David Austin, we believe that roses are a key ingredient as nothing says romance quite like these fluffy, heavenly-scented blooms. So today we're sharing four hanging installations with roses to inspire your own wedding floral chandelier.
Pink Rose Floral Chandelier
Working with existing chandeliers at your venue is a great way to get this look without a huge amount of floral material (and cost). Here our vibrant blousy roses Constance, Miranda and Juliet – in sunset colours are displayed alongside ranunculus in complementary shades, replicating the centrepiece design on the table below.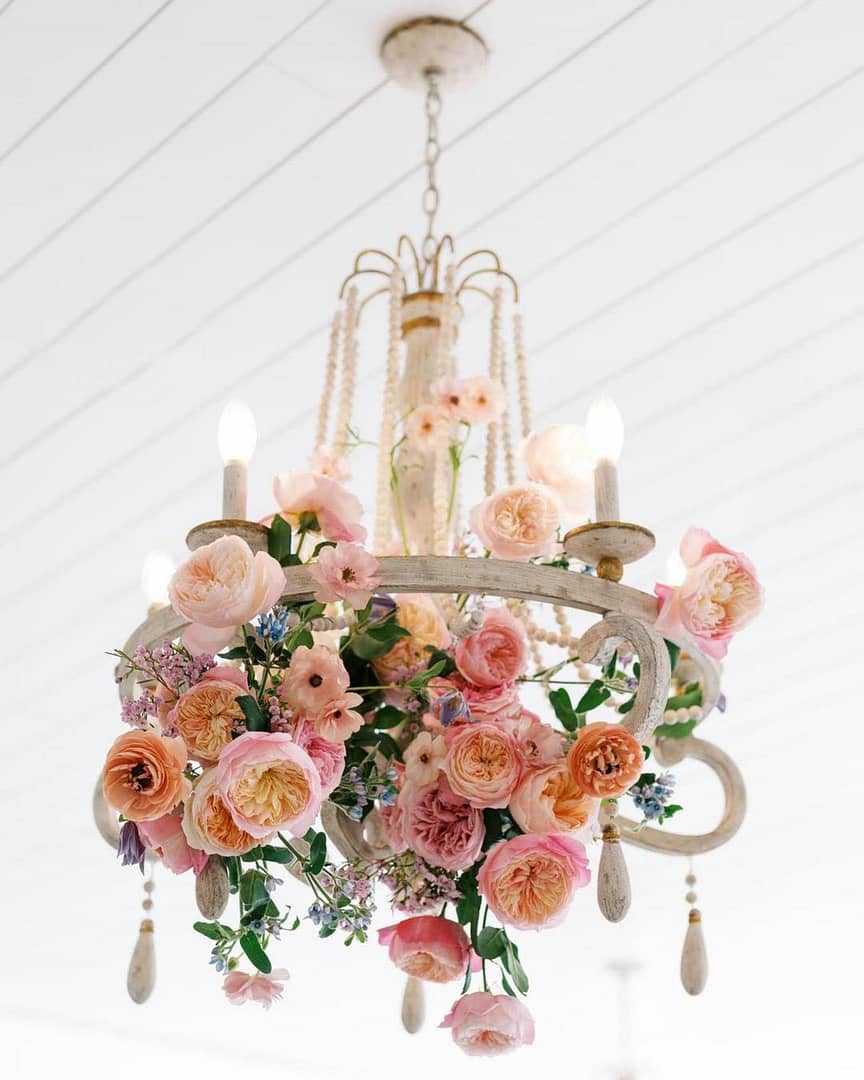 White Rose Floral Chandelier
Eternally chic and luxurious, fluffy white roses are the ideal choice for couples who favour a classic wedding style. This stunning floral chandelier is created on a custom-made two-tier metal structure, with twinkling tea lights dotted amongst a collection of white David Austin Wedding Roses, including Leonora, Eugenie, Patience and Purity. The neutral colour palette layered with different shades of white and ecru adds warmth and depth to the reception space at Sunstone Winery, California.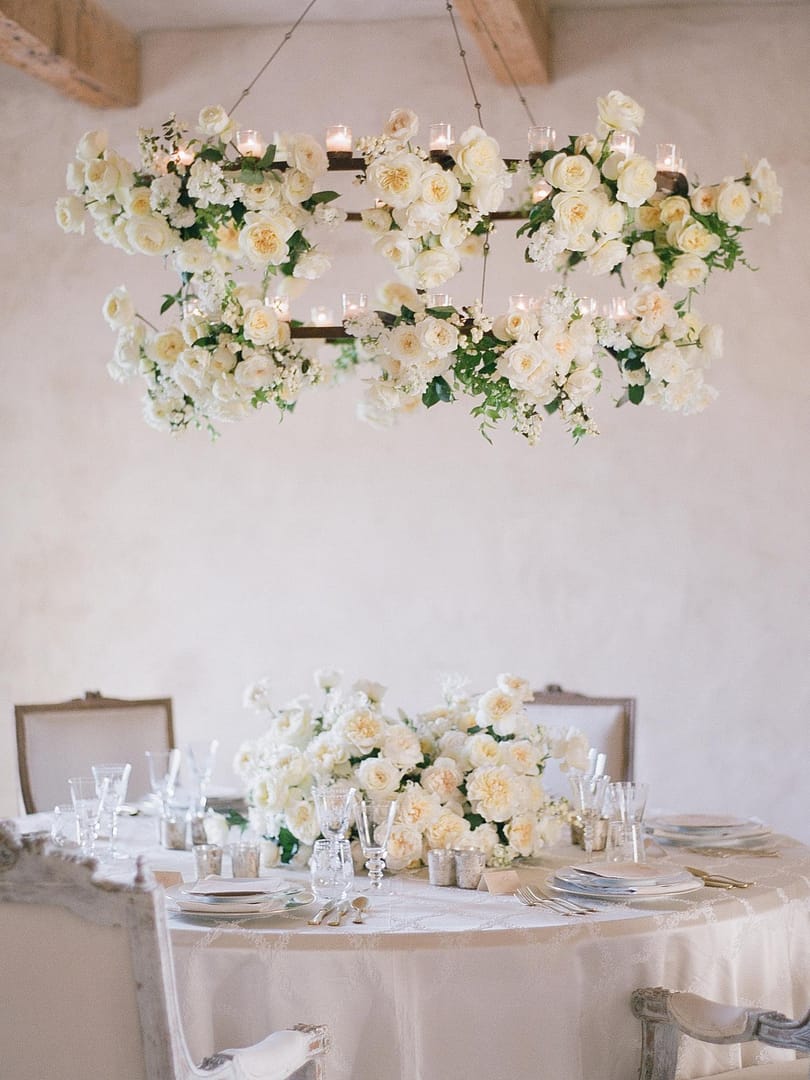 Foliage Hanging Installations
If your wedding ceremony or reception space is particularly large, go for several or large hanging installations to fill the space. Adding textural foliage will help as a filler and you can layer your flowers and roses throughout. Your florist or venue may already have the metal hanging chandelier structures available for you to hire. If you love this style then we have a whole blog dedicated to this stunning real wedding set in Palm Springs.
Yellow Rose Floral Chandeliers
Hanging floral installations are perfect for adding the wow factor to open spaces like glass houses, conservatories and barns with tall, vaulted ceilings. Here at The Ivy Rose Barn, Virgina we see an English garden theme with Juliet, Beatrice and Purity featured on a two-tier display with lush foliage that echoes the changing landscape outside. Ask your venue if they have a pulley system that will allow your florist to decorate the chandelier at a low level then hoist it up into place.