Move over blush, magenta is the new pink in town! Pink is a forever favourite wedding colour and this season it's going to get bolder and brighter than ever. With 'Viva Magenta' named the Pantone Colour of the Year for 2023 and the Barbie movie starring Margot Robbie and Ryan Gosling set to hit cinemas in July, we're seeing pink absolutely everywhere and it's set to be the colour for weddings in 2023.
We adore all shades of pink and our collection of pink David Austin roses are among our most popular blooms. So how can you create a pink-themed wedding reception that's timeless and sophisticated? Read on for our top tips and ideas to use pink David Austin roses in your wedding, plus inspiration from our pink indoor reception shoot at The Ivy Rose Barn in Virginia, USA.
Choose Your Perfect Pink Wedding Roses
Our collection of exquisite pink wedding roses will bring style and elegance to your wedding like no other flowers. From light blush to vivid fuchsia, we have Charity, Keira, Constance, Miranda, and Capability. Each rose has her own personality and scent, and you really can't go wrong with whichever one you choose.
But why stop at one? Layering roses in different hues of pink creates an interesting multi-layered effect that feels more natural and modern than a single shade. Here you'll see florist Bows and Arrows  introduce our peach rose – Juliet – to bring richness and warmth to the designs.
Create A Unique Colour Palette For Your Pink Indoor Reception
The colours you choose to pair with your pink roses are crucial to take your event in the right style direction. We're aiming for artful and sophisticated, not too twee, girly nor overly sweet.
Here you'll see how stylist Joy Proctor highlighted the delicate blue flowers in the arrangements with soft blue tablecloths, napkins and hand panted candles to temper the bold pink roses. She also incorporated natural materials with wooden candlesticks and chairs, and whitewashed rattan chargers and vases, to bring an organic summery vibe to the tablescape. The finishing touch is with pretty stationery by Arabella June which reflected the table's floral arrangements.
Less Is More... Key For A Chic Pink Indoor Reception
Pink may be your wedding colour but that doesn't mean splashing it everywhere you turn. Restraint is key when using bold colours and sampling trends, so don't go overboard. Barbiecore may be big for 2023, but we're not suggesting the 'dreamhouse' as your wedding reception style goal!
Sporadic touches of pink are more subtle and chic, and less likely to feel dated when you look back on your wedding in 20 years' time. For example, if your bridesmaids are carrying bouquets of pink roses, consider dresses in a complementary shade, such as pale blue, grey or green, so the overall look feels more balanced in photos.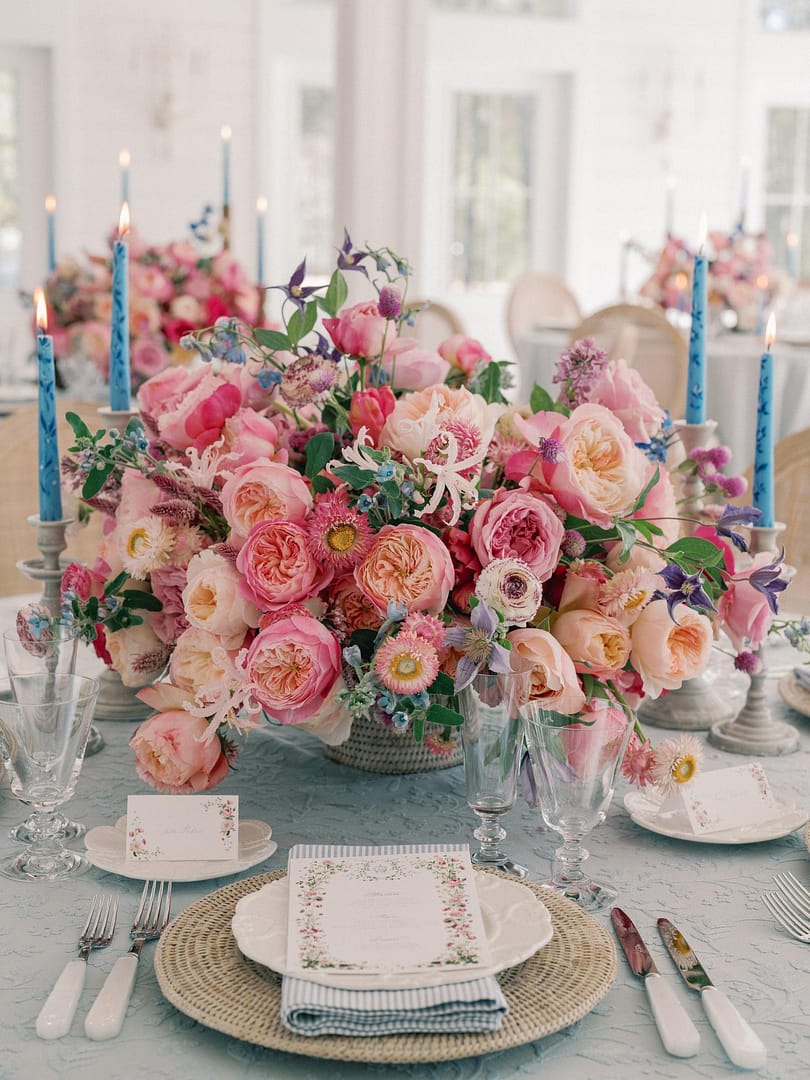 For further wedding reception inspiration dive into our  Pinterest board and start saving your favourites.