Nothing marks a classic wedding celebration quite like a beautifully rustic stone urn overflowing with roses and seasonal blooms. It is an immediate eye-catcher that shows off everything we love about flowers and adds a touch of luxe elegance to your wedding day.
Typically used for formal occasions, floral urns now work wonderfully for any celebration. Your selection of flowers together with the skill of your florist can take it in any style direction, like wild and wonderful or neater and more refined. Let's find out more about how to incorporate these traditional wedding flower displays into your big day.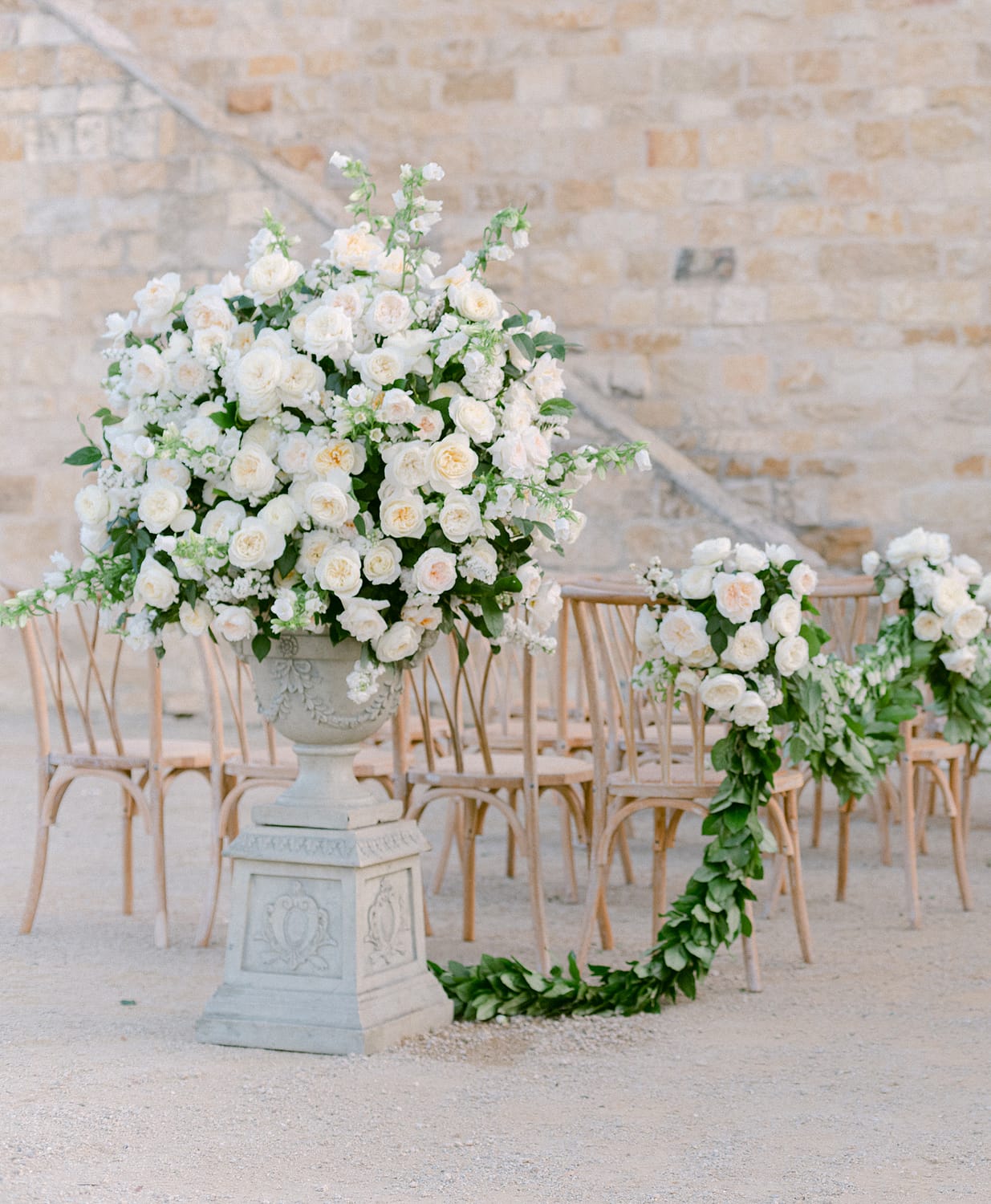 Floral urns create a feeling of elegance and grandeur, especially when filled with classic wedding flowers like blousy wedding roses and lots of fresh green foliage to compliment. They are a great way to create a dramatic display for your guests to enjoy – think of them as incredible works of art!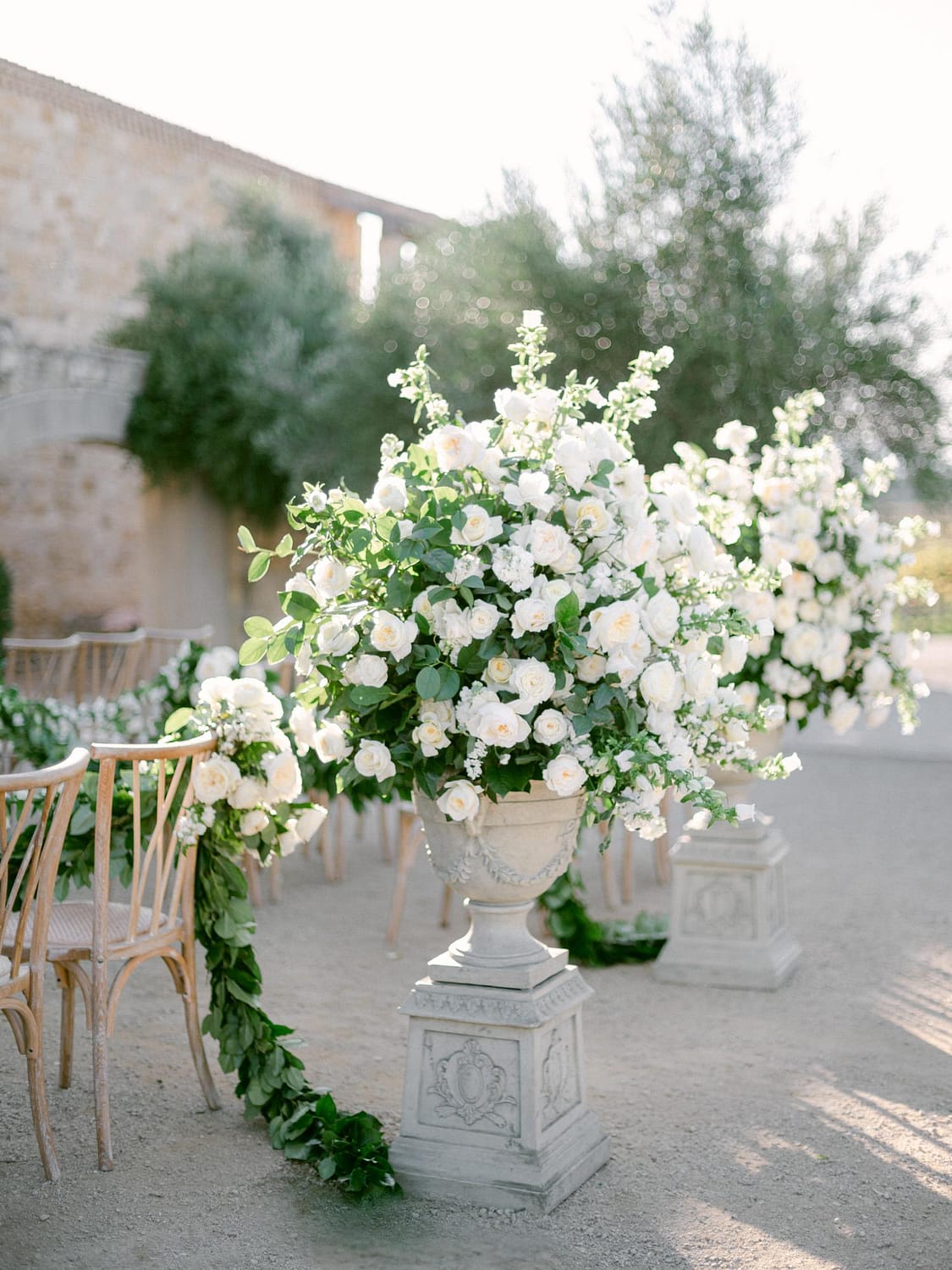 What flowers to use in urns?
Traditional large flower urns are made from stone although replicas made from plaster and resin are commonly used as they are much lighter and easier to transport. Urns require lots of flowers and foliage to make an impact. Your florist will generally choose large-headed flowers that are in proportion to the size of the urn, which is why our roses are the perfect choice for urn arrangements. For supporting flowers and foliage we love to work with tall spires like stocks, campanula and delphiniums for height and a sprinkling of delicate flowers such as sweetpeas, hellebores and butterfly ranunculus for detail. We tend to favour lighter foliage as sometimes dark foliage can detract and create black holes but that's just our preference.
If you're confused over your wedding colour palette, you can't go wrong with ivory and green for a fresh timeless look that elevates any classic wedding. Use Patience, Purity or Leonora roses (or a mixture) as your focal flower as their perfectly formed heads and fluttery petals work perfectly in the grand setting of an urn with heaps of wayward foliage and trailing brambles for a gorgeous secret garden look. Continue the look and use the same wedding roses for your personal flowers, creating a chic white bridal bouquet and posies of white roses for your bridesmaids to carry.
Church wedding displays typically feature a large floral urn or two atop a plinth, either flanking the porch entrance, internal doorway or altar. However they are styled, they lend a certain formality and sense of occasion that's just perfect for a wedding. Similarly at a civil ceremony they look gorgeous on plinths at the end of the aisle to frame you as you share vows.
Onto the reception where floral urns can be displayed in the alcoves of a country house or perhaps on an entrance table where you might also have a guest book and card box. Choose a florist who is familiar with your venue so they can suggest the best locations for a fabulous urn arrangement.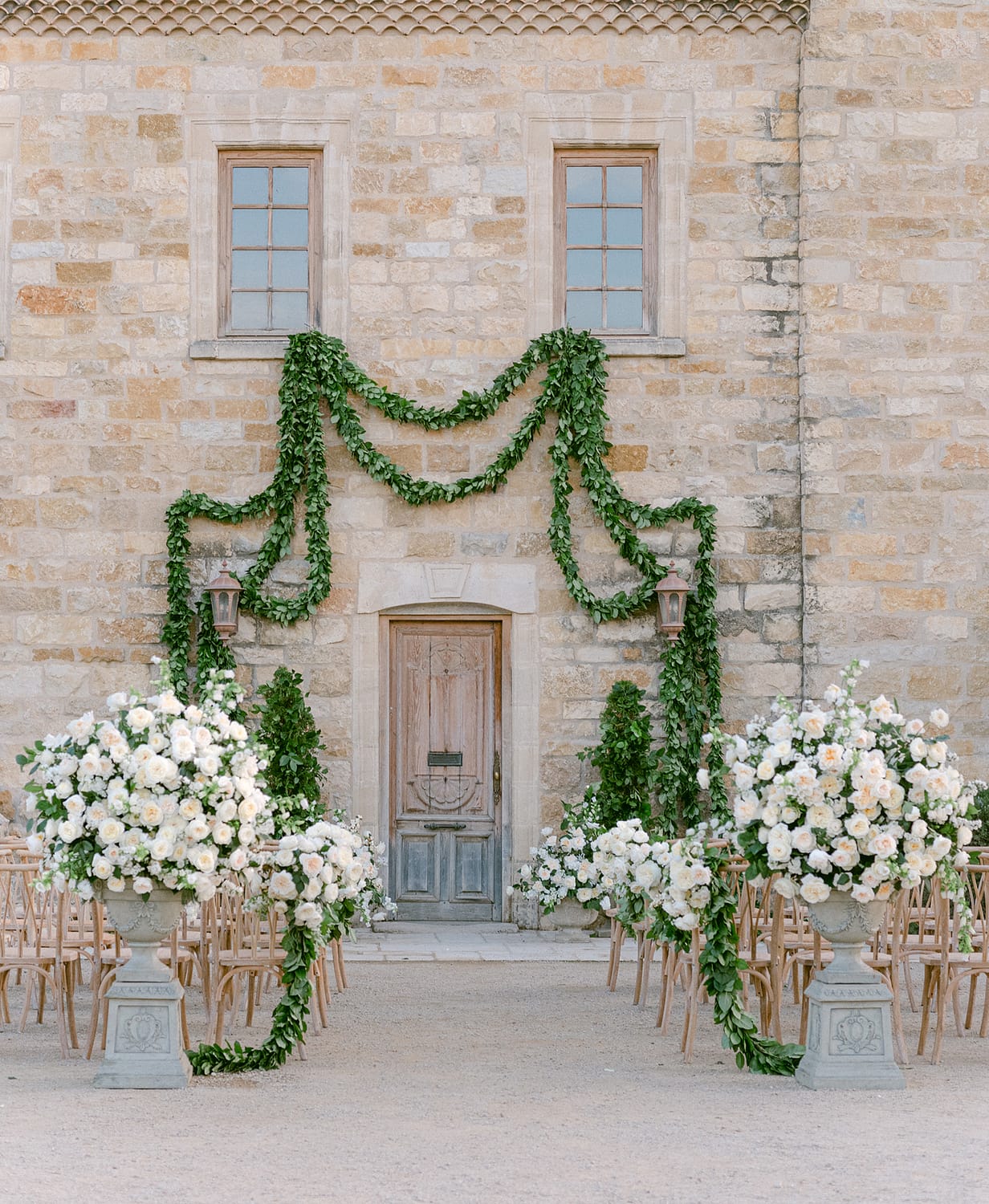 Can I use urns anywhere else?
Urns are typically large but smaller styles are available, which give more opportunity to display flowers on mantelpieces and console tables around your venue. Miniature metal urns can be used to create loose freeform table centrepieces low enough for guests to chat across the table without obstruction. We love the idea of creating mini Dutch-masters inspired works of art full of gorgeous roses for your loved ones to enjoy over dinner.