If you're looking for a wedding rose as beautifully unique as you are, look no further than our darling Beatrice. The colour of long hazy summer days and golden sunsets, this warm yellow wedding rose brings a joyful grace to bridal bouquets and floral displays. She's the unsung hero of David Austin wedding roses and a wonderful choice for couples looking for something truly different.
The Latin meaning of her name accurately defines her character: she who brings happiness; blessed. With a rosette of golden buttery yellow swirls surrounded by outer petals of cool blonde and vanilla, her radiance invites you in to appreciate her fragrance of myrrh with hints of fruit and almond. Heavenly! So what settings does Beatrice shine in and how can you enjoy her joyful character in your wedding flowers? Let's find out.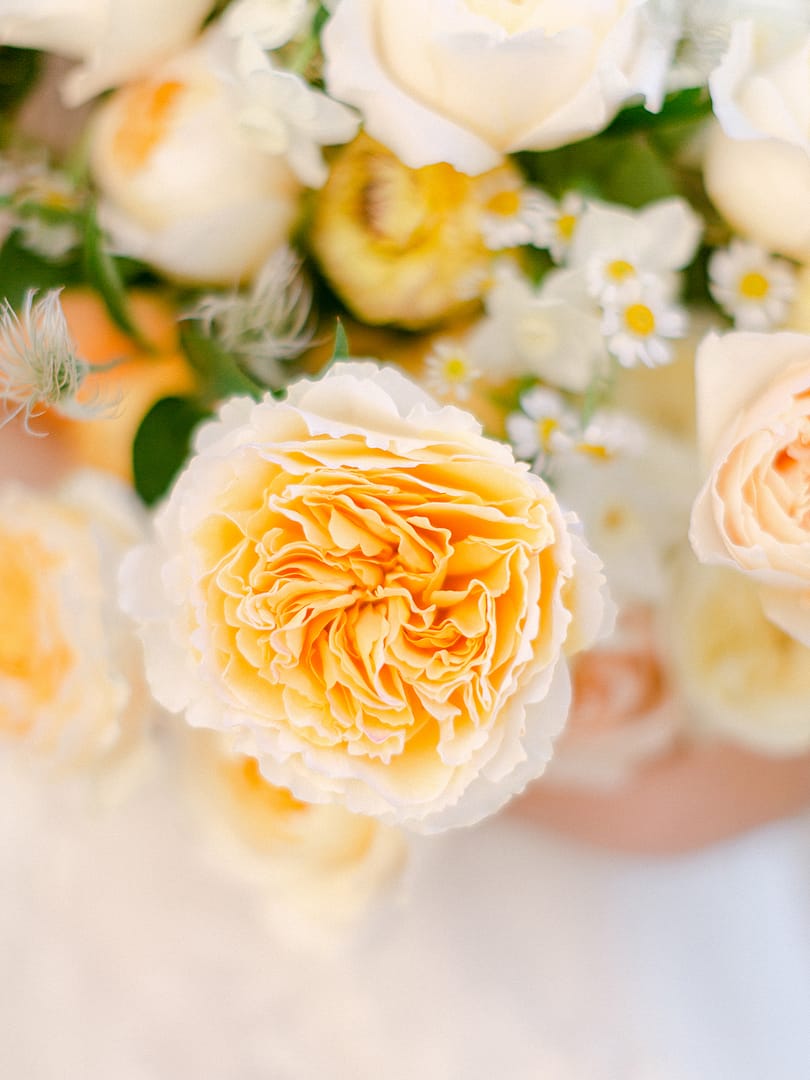 What other flowers complement Beatrice?
Beatrice is a rose that keeps on giving. Whilst opening, her petals move around playfully until they find their place to create a perfect rosette. With her striking hue and large blousy form, Beatrice brings a relaxed joyful feel to a classic rose bridal bouquet, with buttery toned ranunculus; papery scabious; scented sweet peas and zesty thlaspi green bell.
However, pairing her with the creamy ivory tones of Patience and Purity adds depth and refinement, or you can really turn up the heat with fiery Edith for an explosion of character and colour.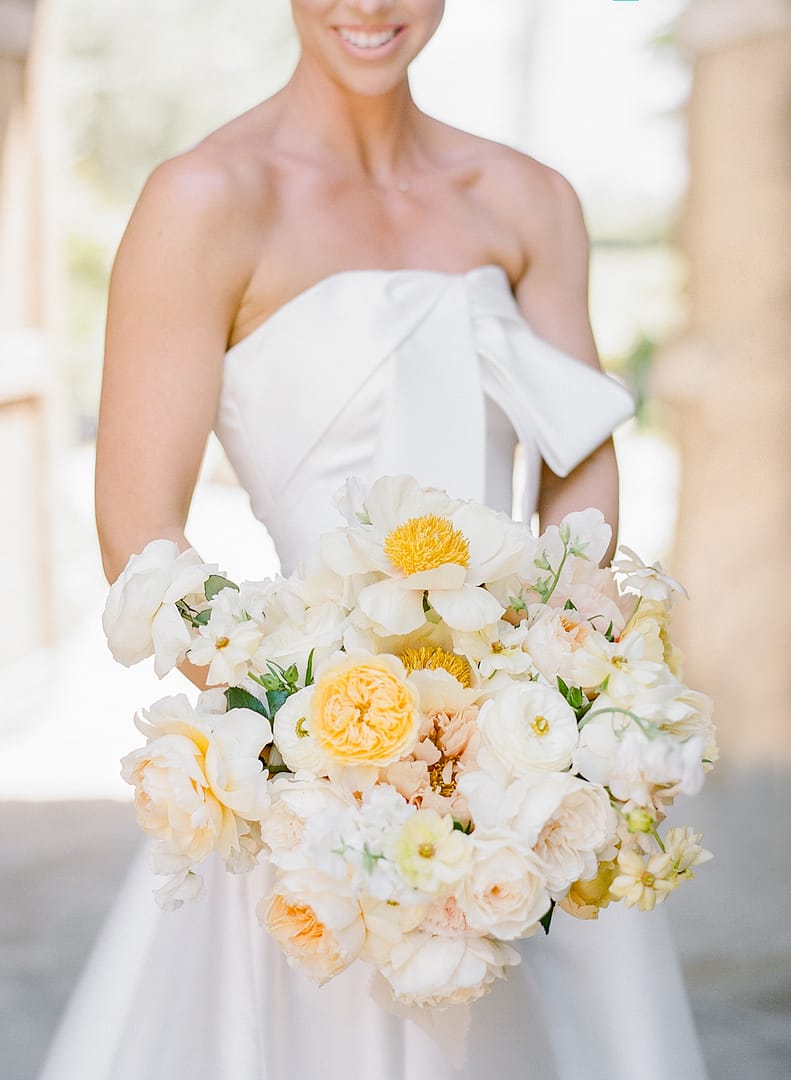 What season does Beatrice shine in?
Beatrice is a laid-back beauty and gorgeously understated. The warm sunshiny hue immediately lends her to informal summer weddings in the country or by the sea, with rambling foliage or breezy grasses that add gorgeous texture and movement. But Beatrice isn't limited to summer soirées. Oh no! We love her paired with ivory roses and delicate paper whites for a fresh spring wedding, as well as rich chocolate cosmos and coppery toned foliage for an elegant autumnal celebration.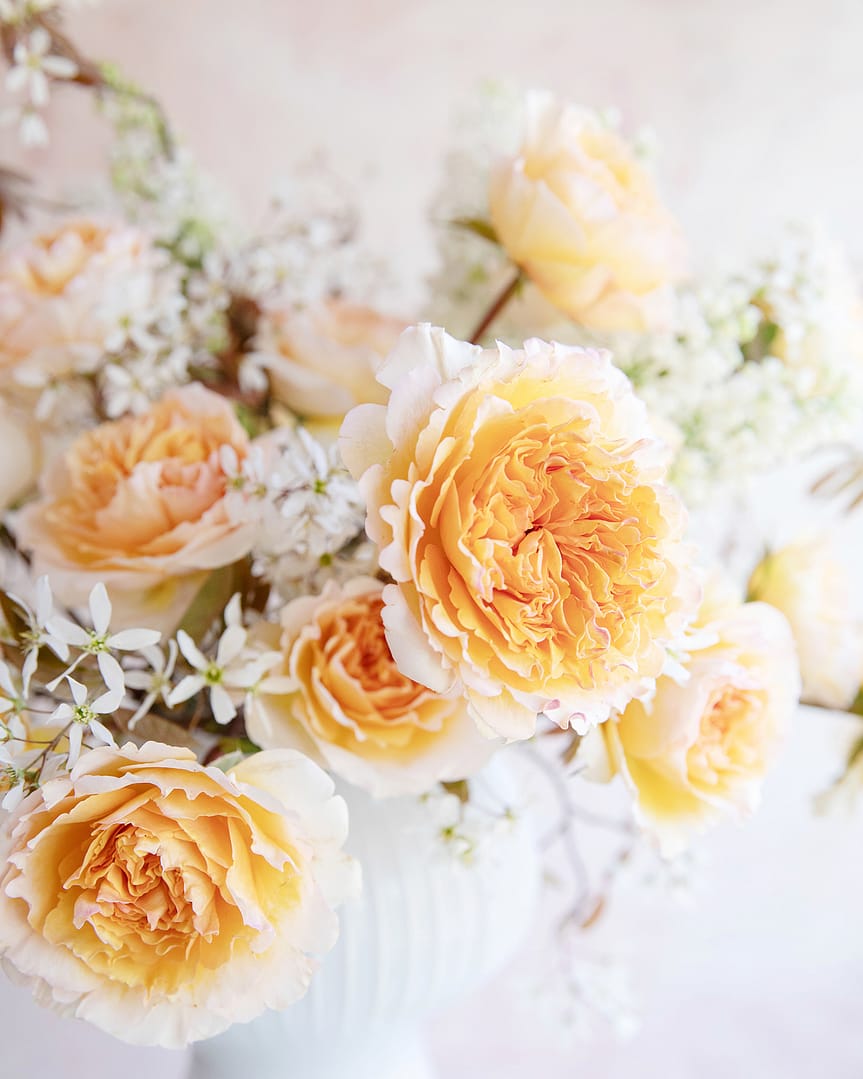 What style of wedding does Beatrice work in?
Beatrice exudes a feeling of laid back luxe that really sings in a refined rustic setting. Think Cotswold barn wedding venues in the UK; crisp white marquees in the grounds of country houses or gorgeous glass houses, which are an increasingly popular choice for creating a sense of the outdoors without the risk of rain spoiling your day.
Compliment her breezy vibe with relaxed fabric accents on your wedding breakfast tables and elsewhere in your decor, such as hessian, crumpled linen or raw silk. However you style her and whatever the weather, Beatrice is sure to bring a sense of sunshine to your wedding day.