When 90's supermodel Linda Evangelista graced the cover of Vogue last year adorned in florals for a show-stopping editorial moment, we knew this trend revival of wearable florals was hitting the headlines for all the right reasons. From John Galliano's elegant floral headdresses to Virgil Abloh's fragrant harness for Louis Vuitton, nature is the greatest, or at least the most enduring, influence upon many fashion designers and it was also one of the central themes of romanticism. Many artists of the romantic movement presented nature itself as a work of art so when US celebrity wedding stylist Joy Proctor used David Austin's wedding roses to get creative recently, we were enamoured with the way our cut roses were able to transcend into a completely new creative space, showing each rose from a different perspective.  
Fashion Influence For Your Wedding
Drawing on nature and sensuality in equal measure, the dominance that florals have on your wedding day aren't simply about aesthetics. The layers of scent and texture can also add to your experience and influence which wedding roses you choose. Capturing the character of each of our roses means that you're able to add a fourth layer of experience to your wedding flower display so here are some couture inspirations from stylist Joy for you to take influence from…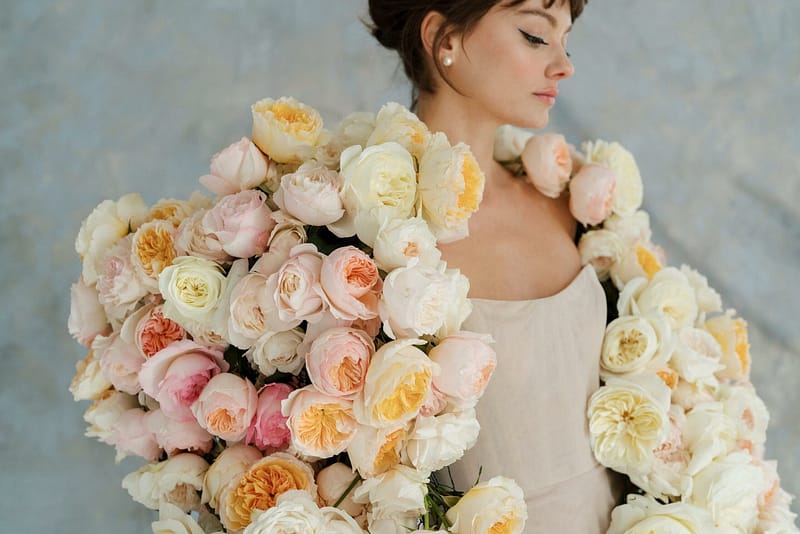 Inspired by fashion designer Alexander McQueen, romantic naturalism burst onto the scene back in the early 2000's and it's still just as relevant now thanks to his timeless yet shocking 'Savage Beauty' retrospective. In his own words, McQueen used roses in his designs because "things rot… I used flowers because they die. My mood was darkly romantic at the time." Whilst macabre in inspiration, the use of tangible flowers within the wedding outfit itself is something we are in awe of. Joy used the David Austin romantic rose 'Tess' bursting out of the corsetry showcasing abundance with a classic red rose for all the romantics out there. Full of edgy character but still with a juxtaposition of her gentle romance, Tess is a multi-faceted red wedding rose perfect for a modern or traditional wedding.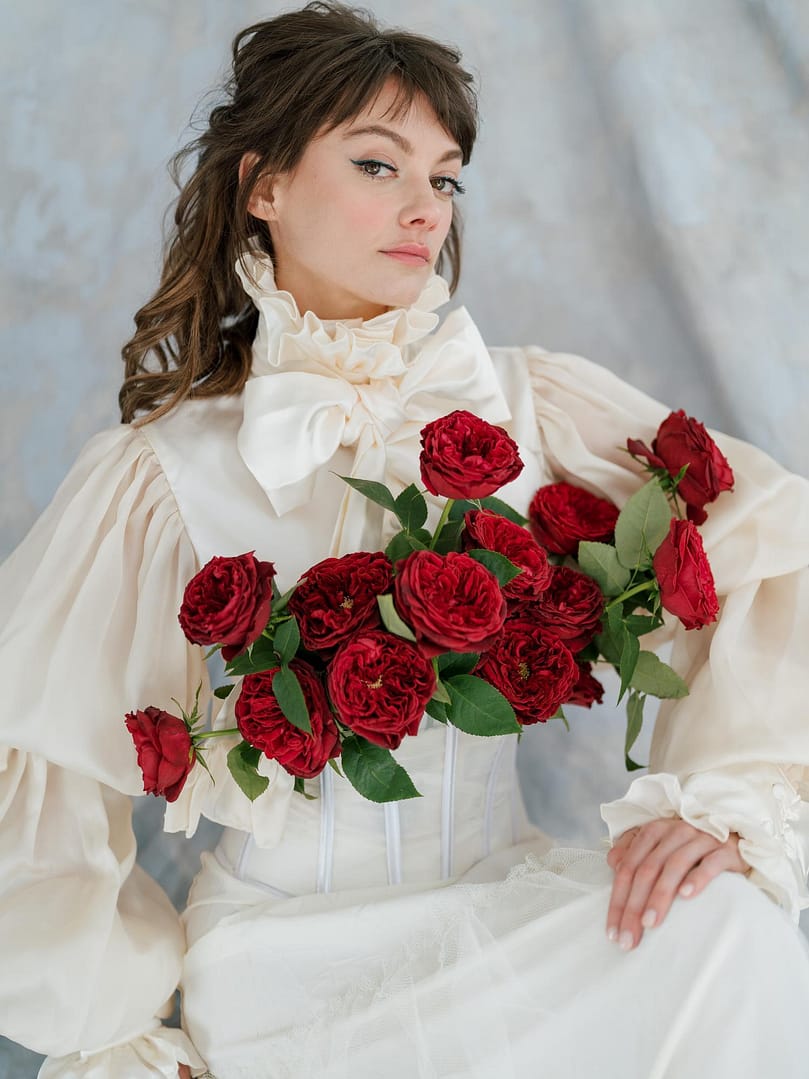 Our magazine cover worthy floral shawl hits the headlines for all the right reasons. A blend of our classic wedding rose varieties including Juliet, Leonora, Purity and Keira with pops of yellow Beatrice, this scent-filled display is worn over the shoulders and draped in a regal manner. Grandeur and style means these wearable florals are unexpected and dramatic yet delicate and dreamy. The complementary tones of peach, pink and ivory makes this a wedding flower arrangement that would wow in the warmer months and evoke the scents of lemon, almond, marzipan and vanilla.
You can read more here about this fresh take on the swinging sixties' look headdress made from our golden toned rose, Beatrice. ​​Yellow roses are uplifting and joyful so they're the perfect choice for this modern spin on the bridal headpiece, inspired by early 20th century cloche hats and the iconic swim caps of the 1950s and 1960s.
Femininity and masculinity are in equal balance here thanks to the delicate ruffles of Juliet and the formality of the top hat Joy has used. Juliet's peach tone lends itself well to this visual feast as we appreciate the influence of natural form and the use of raw materials in these designs. The lace skirt and cape combination exudes a fun girlish style that our bridal favourite rose Juliet looks so good with, whilst the mix of textures throughout adds a heaviness that juxtaposes her delicate petals.