If you read our previous post on wedding trends for 2023 you'll know the coming year is all about avant-garde creativity and over-the-top abundance in the world of weddings and flowers. We're talking extravagant ball gowns, luxurious bridal bouquets and artistic wearable florals.  
This wedding season it's all about taking inspiration from fashions of the past and present and pushing the boundaries of what is expected in the wedding industry. More than ever, it is about treading your own path of style and individuality; the traditional expectations associated with weddings, have been blurred. As a bride, you're free to embrace the traditions you love, do away with ones you don't, and create your very own customs to totally personalise your wedding day style.
Embracing The Avant-Garde
The gamut of iconic fashion designers from Coco Chanel to Alexander McQueen didn't make their names by following the crowd. They went against the grain and took risks to bring a new wave of fashion to the fore, which was often met with scepticism before being embraced by the mainstream. A strong sense of conviction is key to pulling off an avant-garde look and confidence and a smile are always the most important accessories!
Of course, fashion is sociocultural and you only have to look at the history of hemlines to see how much fashion infiltrates society, when the raising and lowering of women's skirts made headlines, sparked protest marches, and served as a symbol of revolution.
Modern Vintage Wedding Style
Here creative stylist extraordinaire Joy Proctor channelled a fresh take on the swinging sixties' look for our model Shelby, with a flick of black liquid eyeliner, feathered shift mini dress by OUMA Bridal and an incredible floral headdress made from our golden toned rose, Beatrice. ​​Yellow roses are uplifting and joyful so they're the perfect choice for this modern spin on the bridal headpiece, inspired by early 20th century cloche hats and the iconic swim caps of the 1950s and 1960s.
Often called flapper hats, cloche hats grew in popularity during the jazz age of the 1920s and into the 1930s due to the introduction of the Eton Crop hairstyle, which was a short, cropped cut that was worn slicked-down. The cloche hat perfectly emphasised this new, clipped hairstyle that stood as a symbol of feminine independence.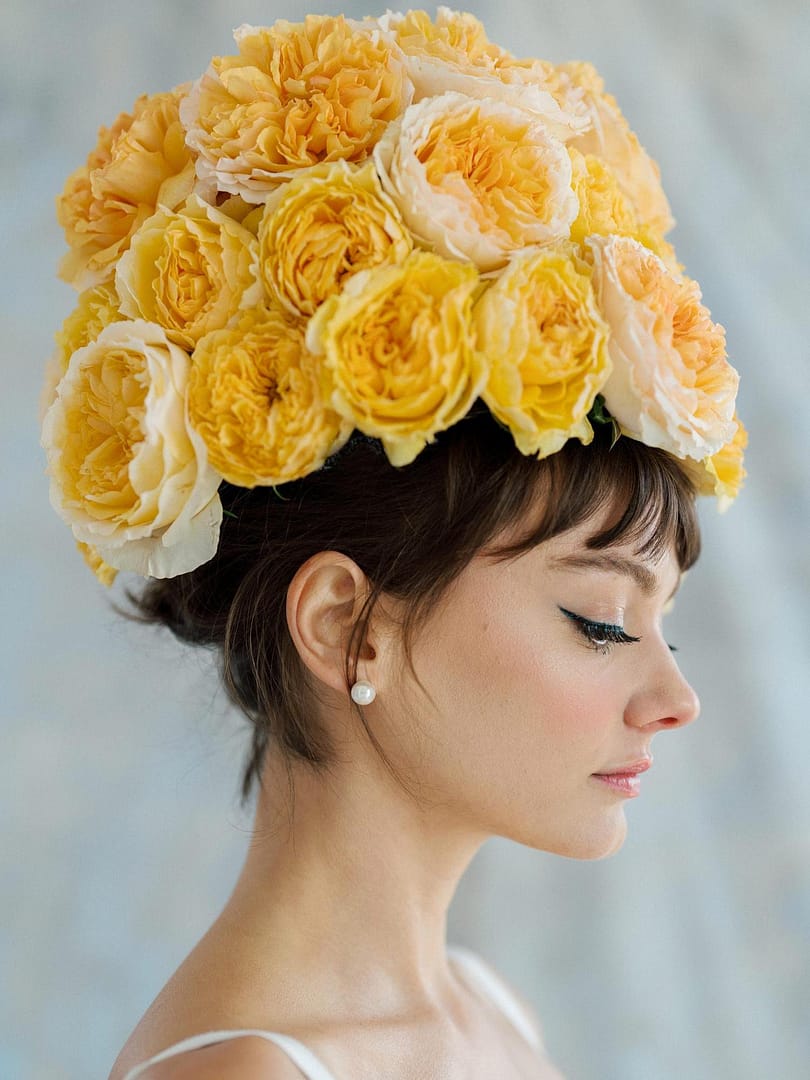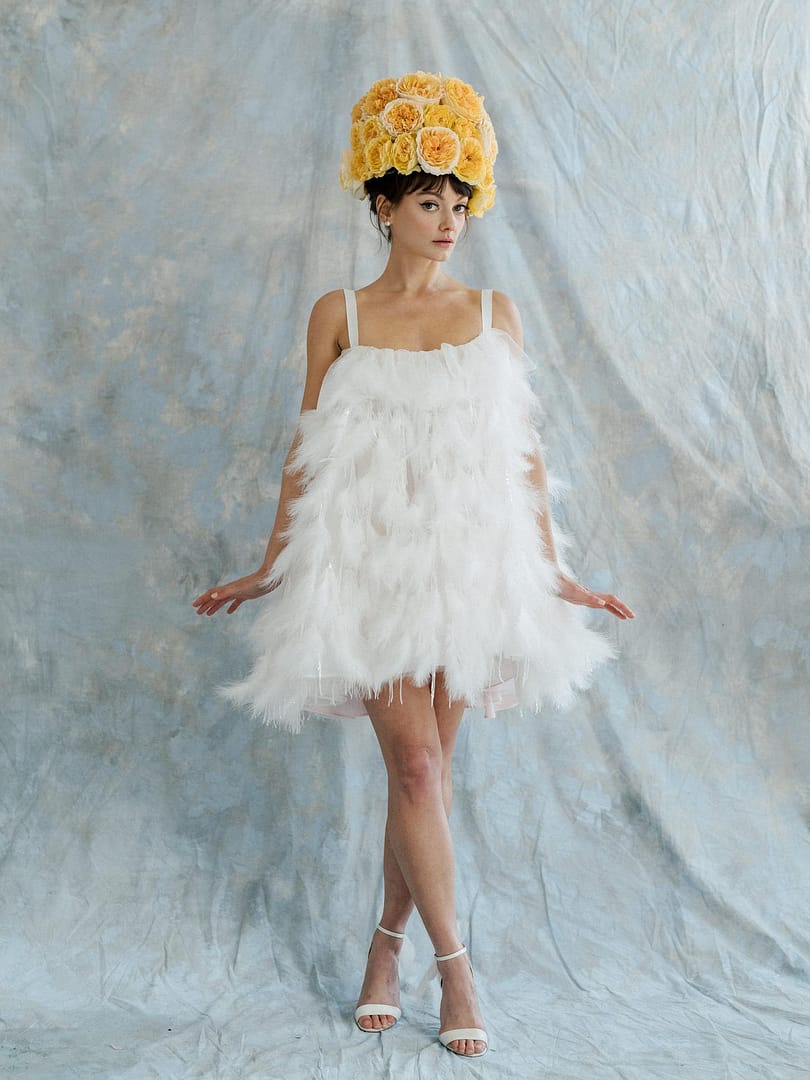 Turning heads has taken on a whole new meaning and personally, we're simply captivated. Is this because it channels the Audrey Hepburn vibe?  We know how unabridged creativity can influence trends of today and the future – we wonder how the Beatrice headpiece will be interpreted?  Watch this space.