Looking for the perfect pink wedding rose? Well look no further because Miranda is it! Extravagant and sumptuous, with rippled petals and a delicate fruity scent, Miranda is the girly girl rose of the David Austin family and the perfect focal flower in a dreamy pink bridal bouquet.
Legally Blonde's Elle Woods is Miranda in human form; pretty and feminine with a sassy edge that's not to be underestimated! Once you meet her, you're sure to fall for her ladylike charm. So how do you style Miranda in your wedding flowers to celebrate her true beauty? Read on for our expert floral design tips.
Miranda has a large and shapely candy pink bloom with countless soft wavy petals. The outer plumage petals are flecked with natural streaks of green that gradually unfurl and fold back to reveal the beauty within. Each open rosette graduates in colour from a vibrant flamingo pink in the centre to the softer blush hue of sugared almonds at the edge.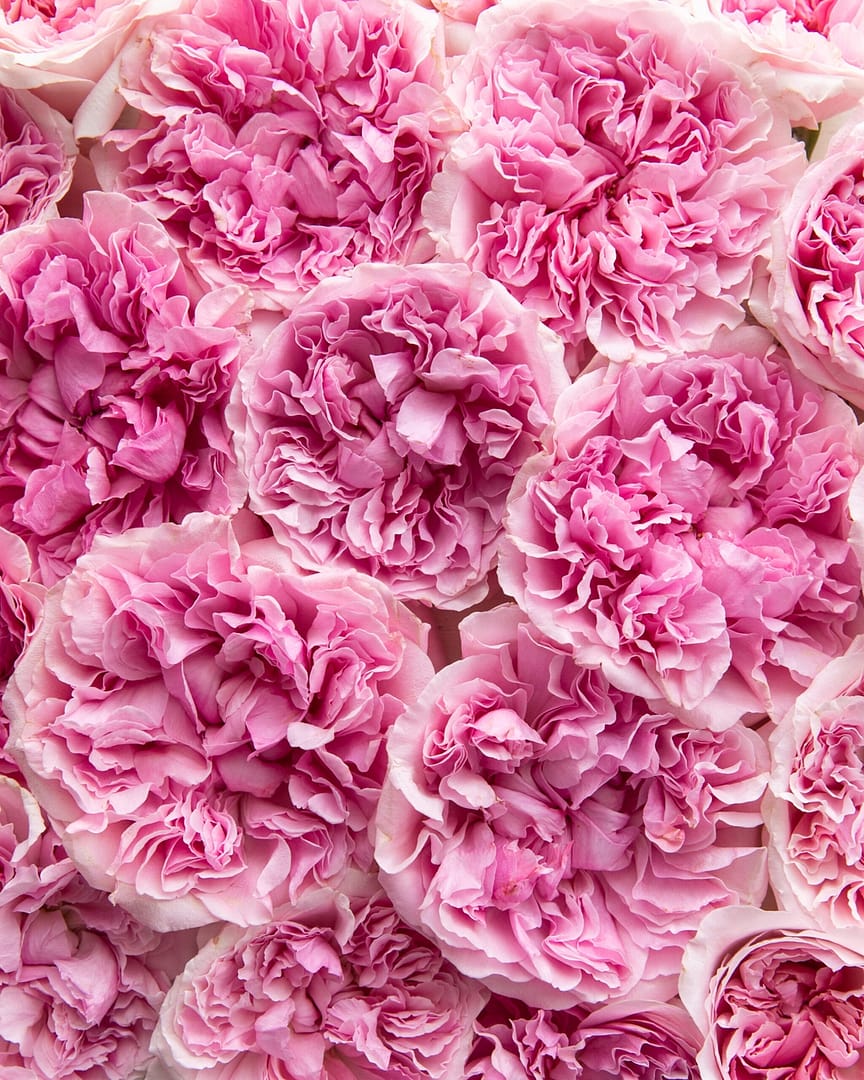 What other roses work with Miranda?
If you'd like a dramatic all-pink wedding bouquet, pair Miranda with her bright sisters Capability and Kate and paler pink roses like Keira and Constance for a stunning ombré effect that's stylish and modern. If you prefer just touches of pink, consider pairing Miranda with soft neutral roses with a blush undertone, like Eugenie or Purity, and other frothy white flowers for a delicate monochrome look.
What other colours complement Miranda?
Pink is a surprisingly versatile colour and although the first thought is often a youthful feminine vibe, Miranda can be taken in many different style directions depending on what colours you pair her with. For example, charcoal grey or inky black gives pink a chic Chanel-esque style that would perfectly complement a stylish black-tie event in a formal venue.
Meanwhile, pink paired with dusty lilacs and cool greyish greens creates a softer country vibe that would suit a summer garden wedding or beautifully rustic barn wedding venue. Remember that pink doesn't have to be the main colour of your wedding to be able to use pink roses in your design. Keeping this in mind gives you so much more flexibility in devising your colour palette and planning the overall aesthetic of your wedding.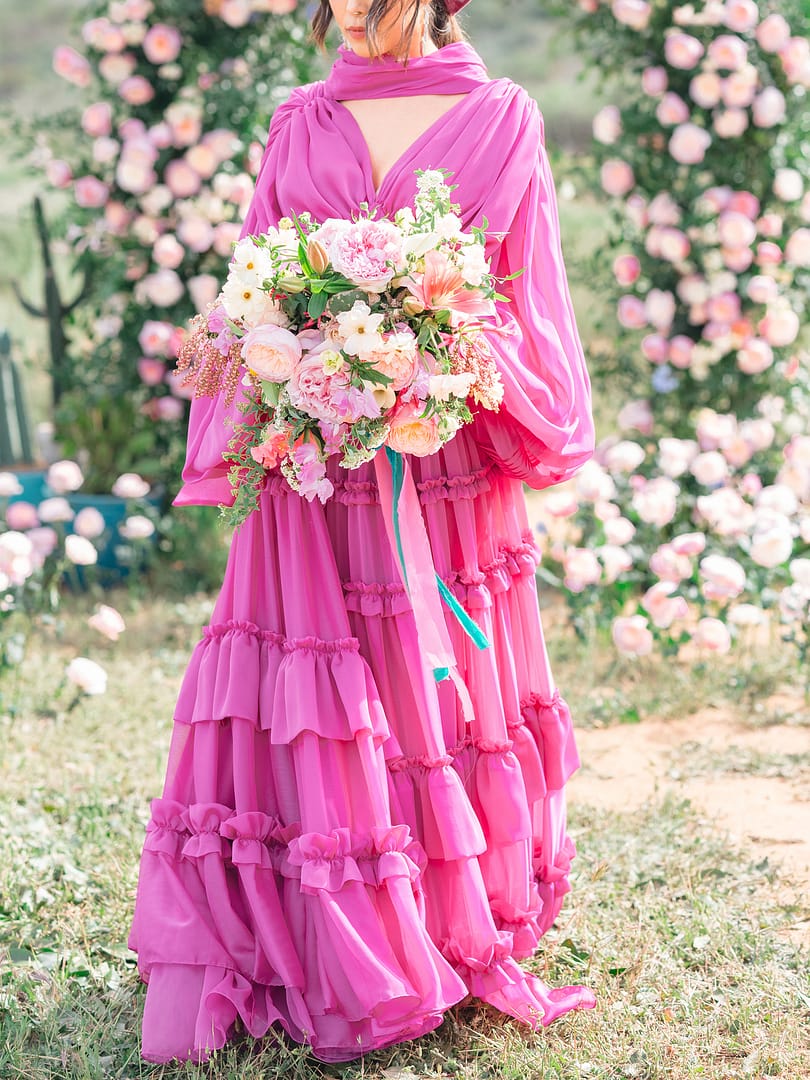 Summer wedding receptions
Miranda is the perfect addition to outdoor summer weddings; her oversized exuberant personality is just right for the season.
Miranda is a cool pink, so works particularly well styled with silver and grey details. For a glamorous touch, think mercury glass vases and votives; silver-plated candelabra and crystal or pearl accents that shimmer in the sunlight. If you're going in a more relaxed and rustic direction, think crumpled grey linen table runners and soft gauzy napkins, vintage pewter candlesticks and heaps of grey-toned eucalyptus. Whatever style of wedding you're dreaming of, Miranda is sure to be the cherry on top.