We've been lucky enough to see our wedding roses in the hands of some very talented floral designers like Gilberto Espinoza from Dogwood & Fir, the California based wedding floral designer, who creates high end luxury wedding installations and displays.
We're so grateful to have Gilberto here on the blog today to answer some questions we've always wanted to ask! From his favourite David Austin rose, to his guide on inspiration in this saturated market, scroll down to not only read Gilberto's interview but also get a look on some recent work Dogwood & Fir created with the pink wedding roses Miranda, Keira and Constance.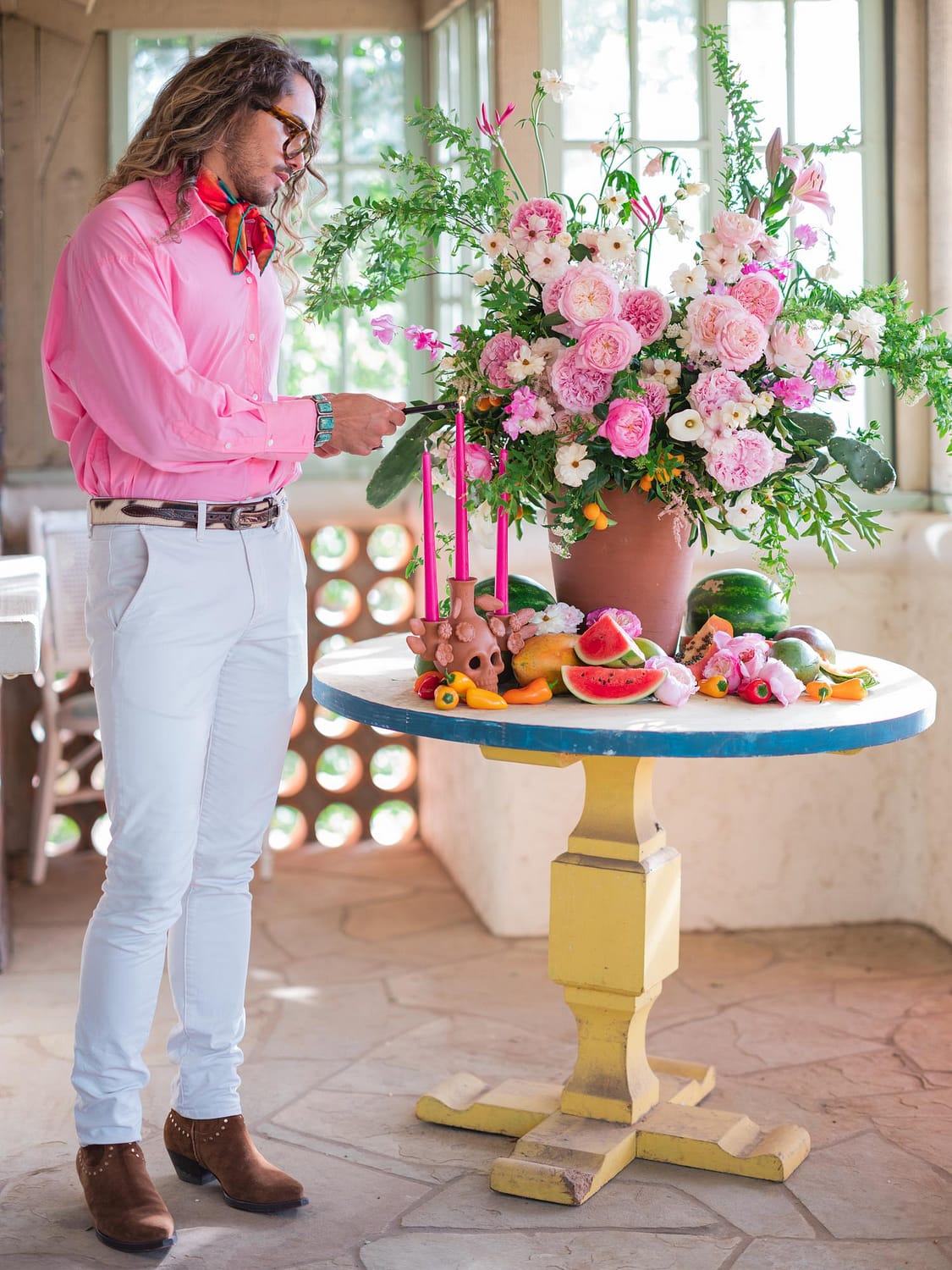 How did you get started in the floral industry?
I always loved flowers and my journey in florals started when I moved to California, USA. After moving from Mexico,  I started to look for a new beginning in my life and a career that allows me to create beauty and bring joy. My first attempt to get a job in a flower shop was unsuccessful due to my lack of experience in the field. I looked for flower schools and I found a job training program in floral design and the floral industry at the San Ysidro adult school in southern California. After completing the 2-year certification program, getting my certification and freelancing for other floral designers, I met my husband and we decided to create our company Dogwood & Fir.
How would you describe David Austin Roses? Do you have a favourite?
I have three adjectives to describe David Austin roses: Sophisticated, Timeless and Elegant. I always find David Austin roses enigmatic because the usage of a stem elevates your designs in an effortless and gracious way. My forever favourite David Austin rose is Tess because I love bold and rich colours and textures, and she has velvet looking, textured petals that drive me crazy.
How did you develop your signature style?
Before becoming a floral designer, I went to school to study film and the arts. With my previous education in that field and the new knowledge in floral design, I combined them both to develop my style. To me, beyond creating a piece, I want to tell a story which requires an immersion of research to connect all the human senses, and to live and breathe the story itself.
Where do you look for inspiration?
Inspiration is everywhere. I can get inspired by nature, history, a country or regional legends, textures, scents, you name it. The key to my source of inspiration is to observe and keep my eyes wide open to analyze what's around me.
What was your inspiration behind this Mexican-inspired editorial full of colour?
I was born and raised in Guadalajara, Mexico and for a huge part of my life I've been around colour. Mexican folklore is rich and bold, full of life and tradition. I wanted to share that part of me to the world, so I decided to use this as inspiration to tell a story where you can feel the passion and romanticism of Mexican Folklore and admire the elegance and sophistication of Miranda, Keira and Constance David Austin wedding roses.