Looking for a pretty blush wedding rose with a little something extra special? Charity (Auswasher) is your new BFF. Think delicate peach-pink petals offset by a delightful botanical twist – a lime green stamen that adds a touch of drama to this unique playful rose.
Charity's distinctive character is enhanced by her complex perfume of sweet violet, musk and vanilla. Her stand out stamen and truly heavenly scent really sets Charity apart from her David Austin rose sisters. She's a total individual who doesn't follow the crowd! So how can you style this beautiful blush beauty in your wedding flowers? Here are our top tips.
Classic Wedding Rose with a Twist
Roses are the classic flower for weddings and Charity is the perfect choice to add a twist of something different. Romantic and soft, unique and whimsical, this stunning rose can be styled in myriad different ways depending on your preferred wedding style.
Charity shines in any setting but we particularly love to see her in venues that celebrate botanical study, such as glasshouses, orangeries and lush gardens. The uniqueness of Charity encourages adventurous styling combinations with textural foliage and garden greens to accentuate her botanical vibe. Conversely, when accompanied by delicate florals Charity radiates romance and a softer, more relaxed style.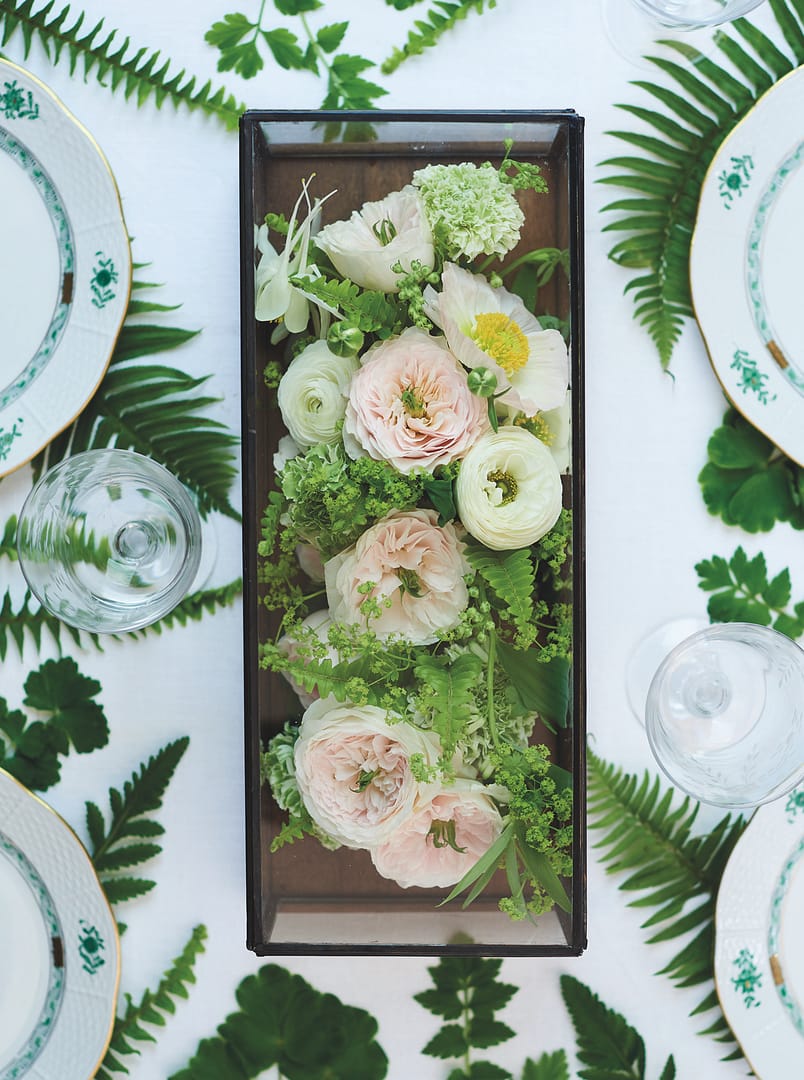 What other flowers work with Charity?
Charity is so unique that she really shines alone and delicate meadow-style flowers or simple sculptural stems enhance her beauty more than other roses. Think white scabiosa and crispy scabiosa pods, Queen Anne's Lace, Phlox and sweetpeas for a quintessential English country garden feel. For a more unique botanical garden-inspired vibe, consider using ferns such as maidenhair, frothy ammi visnaga or soft ornamental grasses that sway in the breeze.
What other colours complement Charity?
Green and white are all Charity needs to look her best. Lime green accent flowers like guelder-rose (Viburnum opulus), thlaspi, hellebore and bupleurum wonderfully compliment Charity's statement stamen, and white flowers add to the fresh youthful feel.
Lace-cap hydrangea or syringa are ideal to complement Charity in larger arrangements, such as urns and floral arches.
If you like the idea of adding more dramatic contrast to your wedding flowers, consider an inky mulberry shade and delicate flowers such as chocolate cosmos, scabiosa, wild carrot (Daucus carota) and great burnet (Sanguisorba).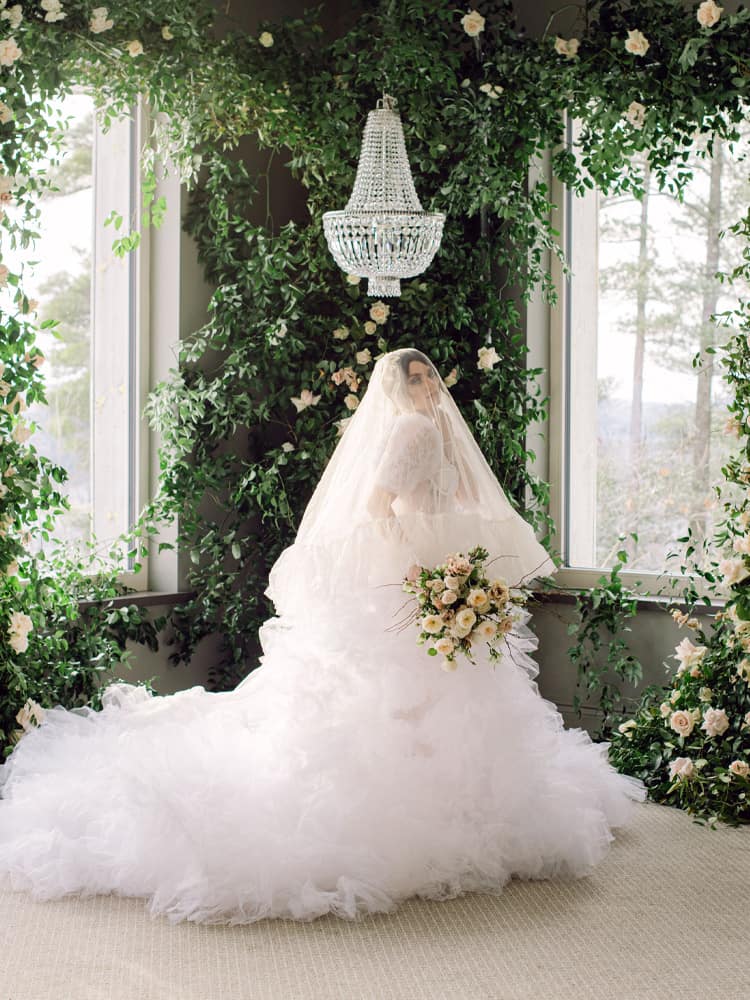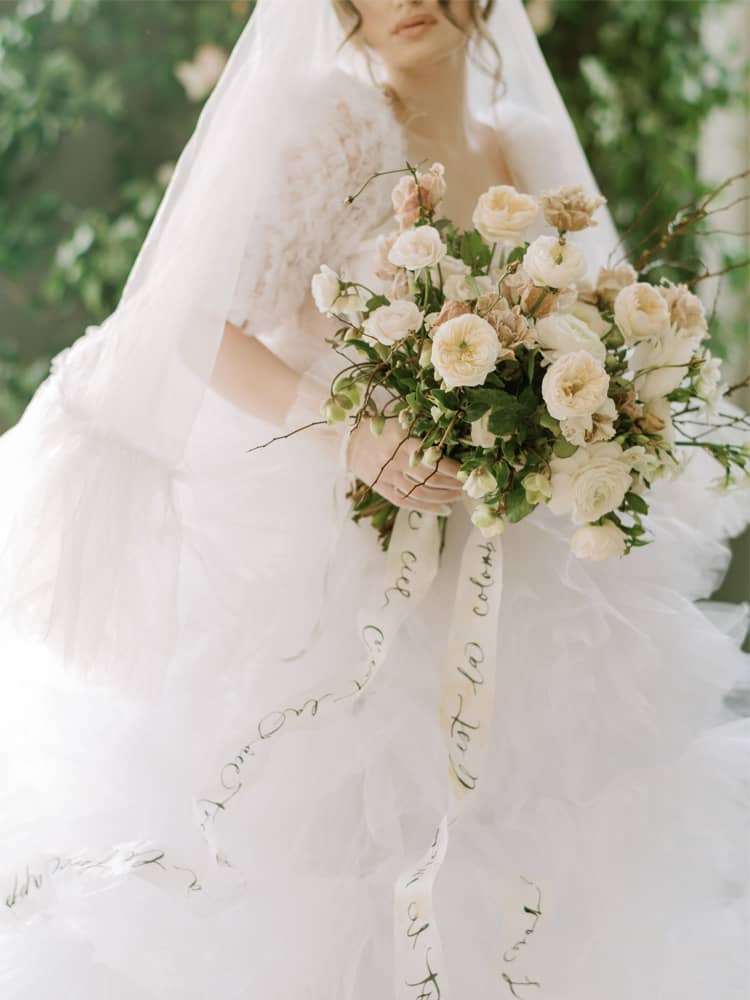 What season does Charity shine in?
Charity exudes a fresh sprightly feel that really shines in spring and early summer. For tabletop styling, think simple glass vessels, crisp white linens and green taper candles, paired with stationery inspired by classic botanical prints. In a spring bridal bouquet, we love to see Charity styled with textured foliages and architectural stems, with flowing plant-dyed silk ribbons. Less is more when it comes to this distinctive blush wedding rose.