When it comes to classic wedding roses, Eugenie has it all. Frothy petals, a flamboyant rosette and a gorgeous soft ivory hue that transforms into delicate blushed peach in full bloom.
Eugenie rose evokes a young and carefree charm yet is also incredibly graceful, all at once captivating, playful and flamboyant. She undergoes a graceful transformation over four days or so, opening from a tight unassuming bud to reveal countless ruffled petals and a heavenly aroma. She is a great alternative to a peony, with the advantage of being available 12 months of the year as well as having an incredible scent.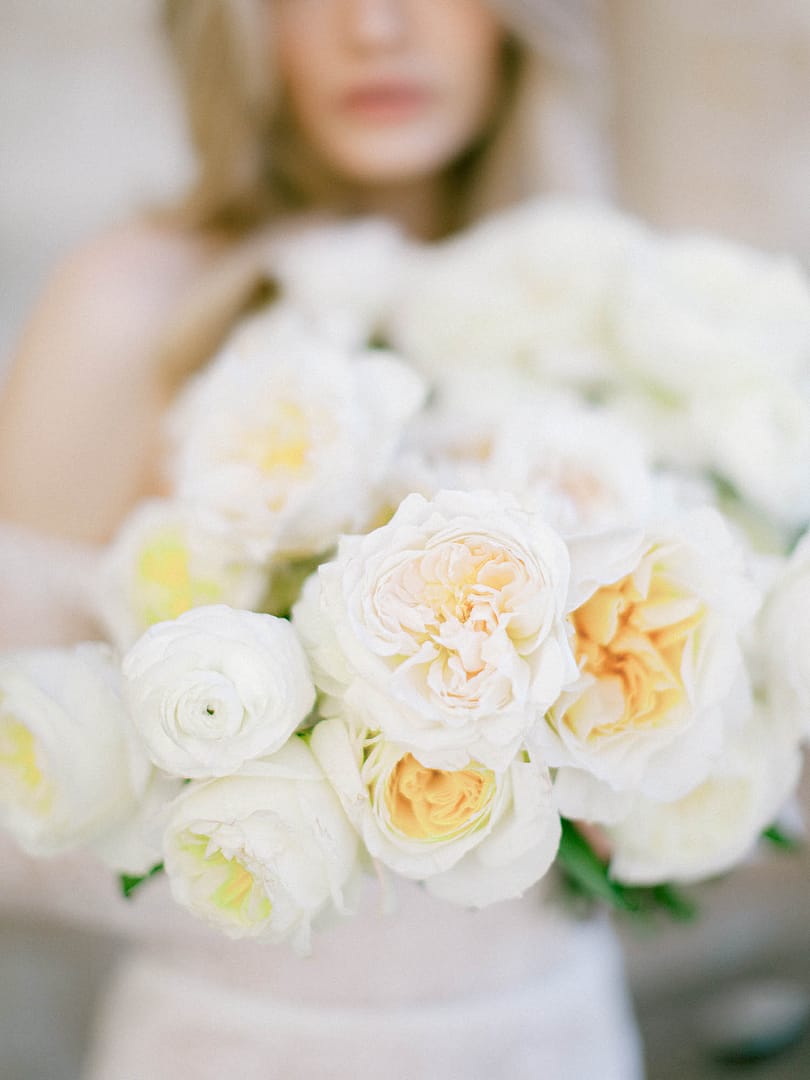 Like several of our David Austin wedding roses, Eugenie's final shade has subtle variations, which is what makes her so special. The ivory outer petals graduate to pale blush, soft peach or even a mellow golden centre. Eugenie is a beautifully versatile rose, adding warmth and depth for brides looking for white bridal bouquets with a hint of blush.
What season does Eugenie shine in?
We particularly love Eugenie in winter weddings, where her gossamer petals echo the pale winter morning sky. We love her styled with seasonal favourites including hellebore, snowberry and anemone, and winter foliages of eucalyptus and mimosa. Eugenie's captivating scent also evokes feelings of winter, with warm notes of myrrh and aniseed.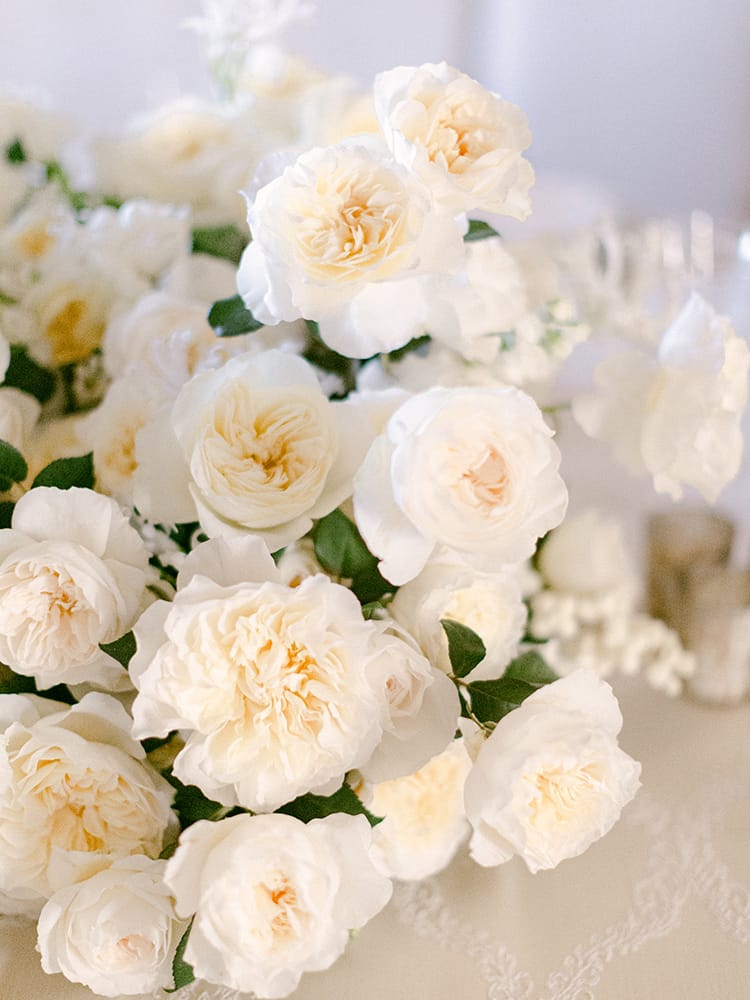 What other roses does Eugenie work well with?
Eugenie can stand alone as the star focal flower or pair beautifully with other David Austin roses – Juliet, Keira, Constance and Leonora. We love Eugenie in a monochrome bridal bouquet with varying shades of white and contrasting foliage that graduates from soft sage to rich emerald. A statement in stylish simplicity.  Whatever your wedding style, whether classic or contemporary; bohemian or beachy, Eugenie makes for an unforgettable and very special bridal bouquet.
How can I use Eugenie roses in my wedding flowers?
As well as the perfect addition to bridal bouquets, Eugenie brings beauty to floral displays for weddings ceremonies and receptions too. We love to see her overflowing from a stone urn with hydrangea, and trailing foliage at the entrance to a church or country home for a traditional wedding look, however she shines in contemporary settings too. Whether suspended from the ceiling in a cloud-like chandelier or as part of an open archway for a statement ceremony backdrop, Eugenie always delivers style and elegance.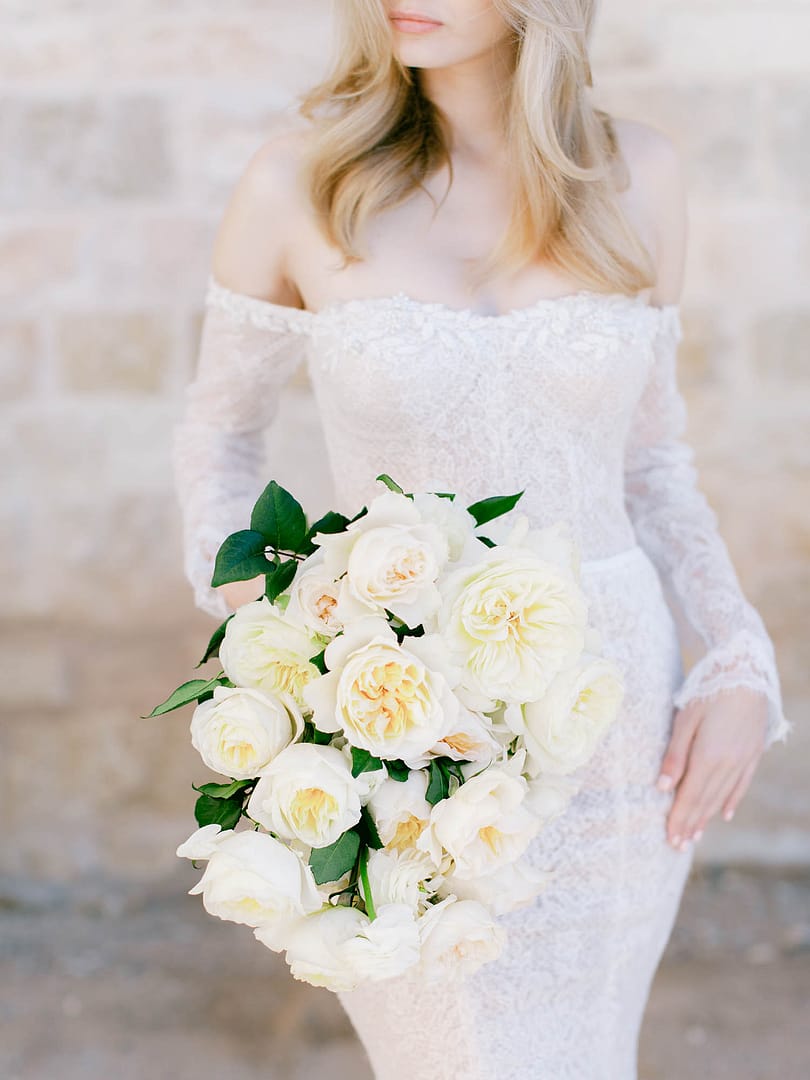 How can I incorporate Eugenie into my table flowers?
When planning your wedding tablescapes, consider adding Eugenie to floral centrepieces so your wedding guests can enjoy her beauty and aroma up close. They'll no doubt be reaching out to touch her petals to check whether she is real! Eugenie looks equally stunning in low compote designs in a naturally gathered garden style, or as part of a formal display surrounding tall candelabra. Don't crowd her, let her shine with space to breathe, and you really can't go wrong with this breathtaking David Austin rose.