If you want to give your wedding reception the ultimate wow factor, look no further than rose trees overflowing with soft fluffy blooms and lush trailing foliage. There's nothing quite like a tree made of roses to elevate your event to a whole other level of style and beauty. So how can you incorporate rose trees into your wedding reception table design? Read on for our inspiration and top tips.
Outdoor Wedding Reception Ideas
Based on the traditional style of a round topiary tree, rose trees made with David Austin roses are a breathtaking sight to behold and sure to become the talking point of your big day. They are a true statement centrepiece and give a sense of luxury to your event thanks to the sheer scale and abundance of soft fluffy blooms. Guests will catch the heavenly aroma of the roses each time they pass, making your wedding reception a total delight for the senses.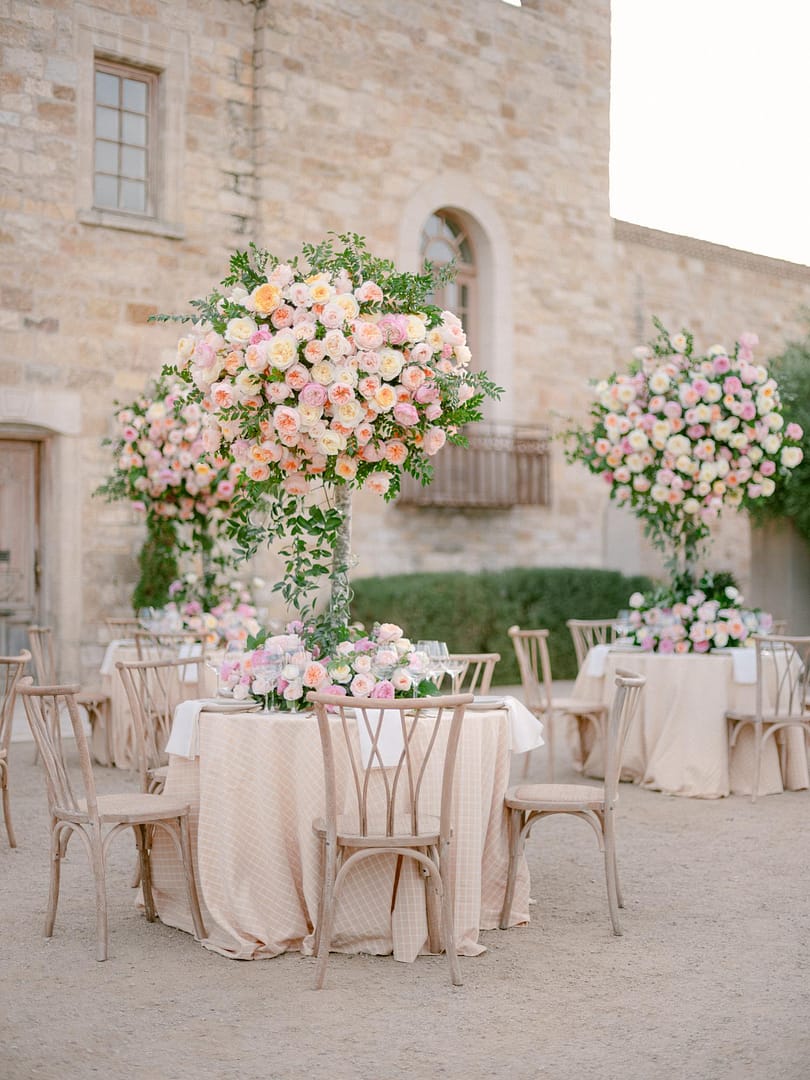 Create a Spectacular Display
Rose trees are a great way to add a sense of grandeur to your wedding decor. Interior designers know that a great design scheme encourages the eye to travel and linger, and you can achieve this by adding height to your floral displays. Rather than keeping all of your flowers at eye level, adding tall displays such as rose trees will encourage guests to look up and feel totally immersed in the atmosphere of your day. Height is key when planning your table centrepieces and tall designs are ideal as they allow your guests to chat across the table without obstruction.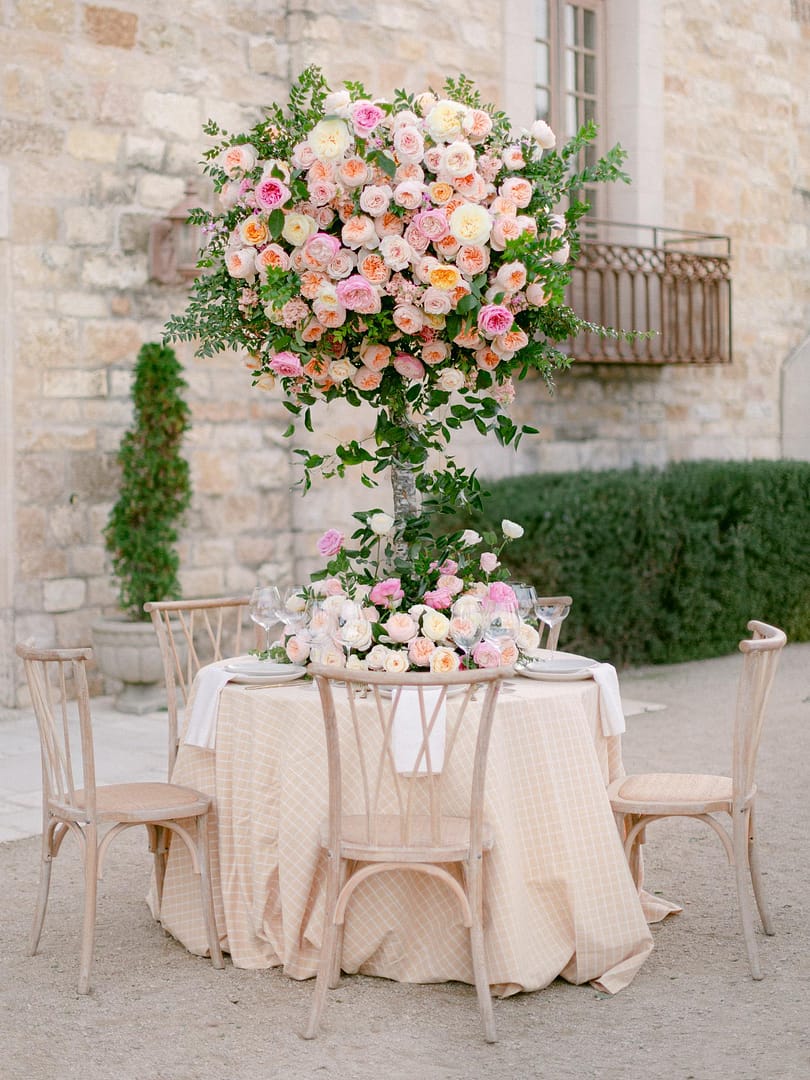 Rose trees can be designed to suit your wedding colour palette, or you could work with your florist to design your flowers first to form the basis of a colour scheme that everything else can follow. The stunning trees at this outdoor wedding reception in California feature peachy Juliet, blush Keira and pink Constance with Miranda, which glow gorgeously in the late Santa Barbara sun. You can see how the different tones of soft golden yellow of Beatrice and creamy tones of Leonora add another dimension to the pink rose wedding flowers, which can feel too sugary sweet without any variation in tone.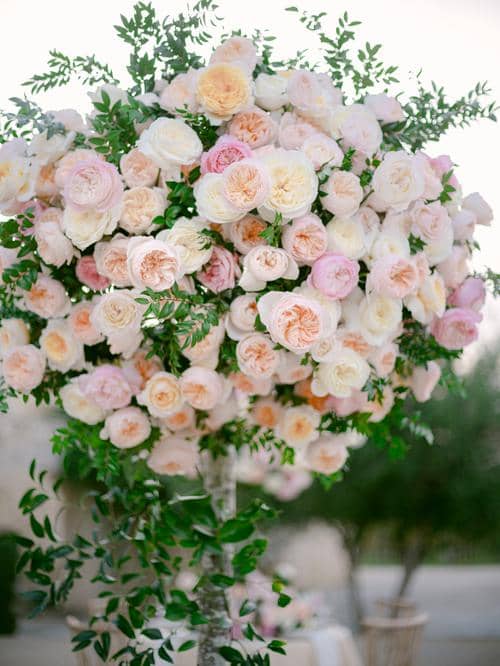 While many of us love the idea of an outdoor wedding, the reality of weather and seasons means it's often just not practical (at least not without a back-up plan) but you can still create an outdoor feel inside. Orangeries and glass houses are increasingly popular wedding venues to get the feeling of being close to nature without the risk of rain spoiling your plans. You can enhance the natural vibe with beautiful rose trees or lush suspended floral chandeliers full of seasonal flowers and foliage. Trail greenery across the ceiling and hang delicate glass votives full of tealights for a gorgeously cosy candlelit dinner as dusk falls.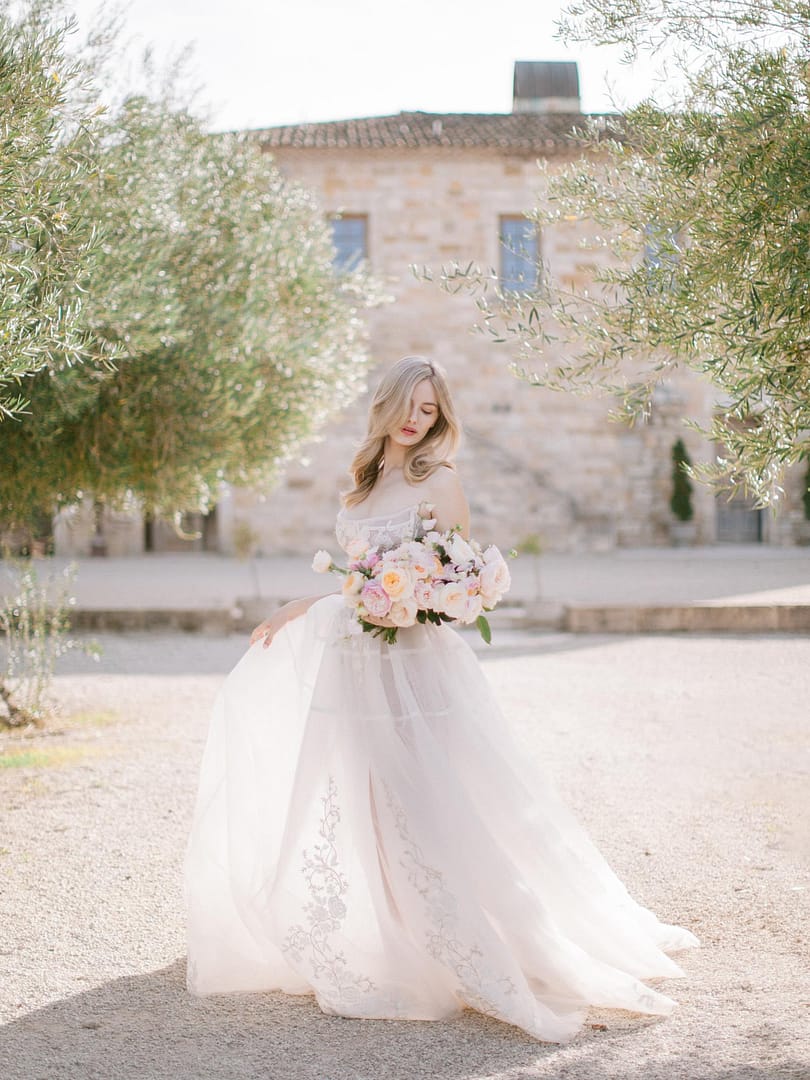 Wedding reception installations
If you don't fancy a rose tree on every table or budget doesn't allow it, consider displaying one or two elsewhere in your wedding ceremony or reception. Consider placing two tall statement trees at the end of the aisle to beautifully frame you as you share your vows or create an eye-catching display in your reception space where guests find their escort cards and welcome drinks.
As the sun sets, and your guests turn to conversation and dancing, your rose trees can be transformed into colourful moons draped in twinkling lights. A magical finale to your day.