Juliet is one of our most popular wedding roses and it's easy to see why. She is all at once youthful, ethereal and elegant. With her luminous peach colour, countless ombre petals and deeply cupped shape, Juliet is a firm favourite with couples and florists alike. You have probably spotted Juliet in many beautiful peach wedding bouquets on Pinterest so let's find out how to use this delightful rose in your own wedding flowers.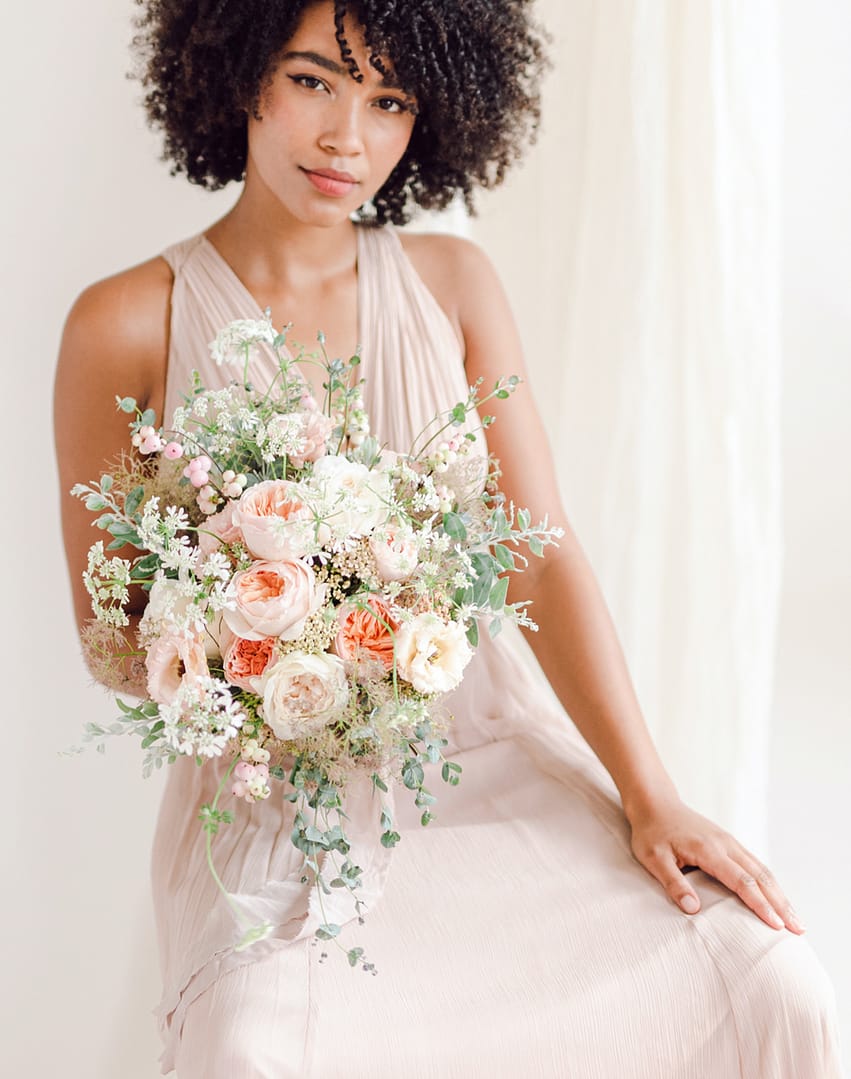 The Perfect Peach Wedding Rose
No other rose really compares to Juliet when it comes to creating the perfect peach bouquet. She has become one of David Austin's most instantly recognisable roses and no other peach wedding flowers come close. Juliet is a distinctive full cupped rose with voluminous petals that graduate beautifully from soft peach to warm apricot. She has a light scent with the softest hint of tea.
What style of wedding does Juliet suit?
Juliet is quite the style chameleon, complimenting a wide range of wedding styles from classic to contemporary. She looks beautiful paired with soft blues, greys and greens for cool Scandi-inspired style, which focuses on soft textures and subtle shades for a chic understated look. We also love her paired with a tangle of wildflowers in an eclectic mix of colours for a rustic meadow-style aesthetic that's right at home in a Cotswold barn wedding venue.
If you prefer a more polished look, you'll find Juliet also works well alone in a classic peach rose wedding bouquet and around your venue in large stone urns styled with fluffy ivory flowers and touches of green foliage. You really can't go wrong with featuring Juliet whatever style of wedding you choose.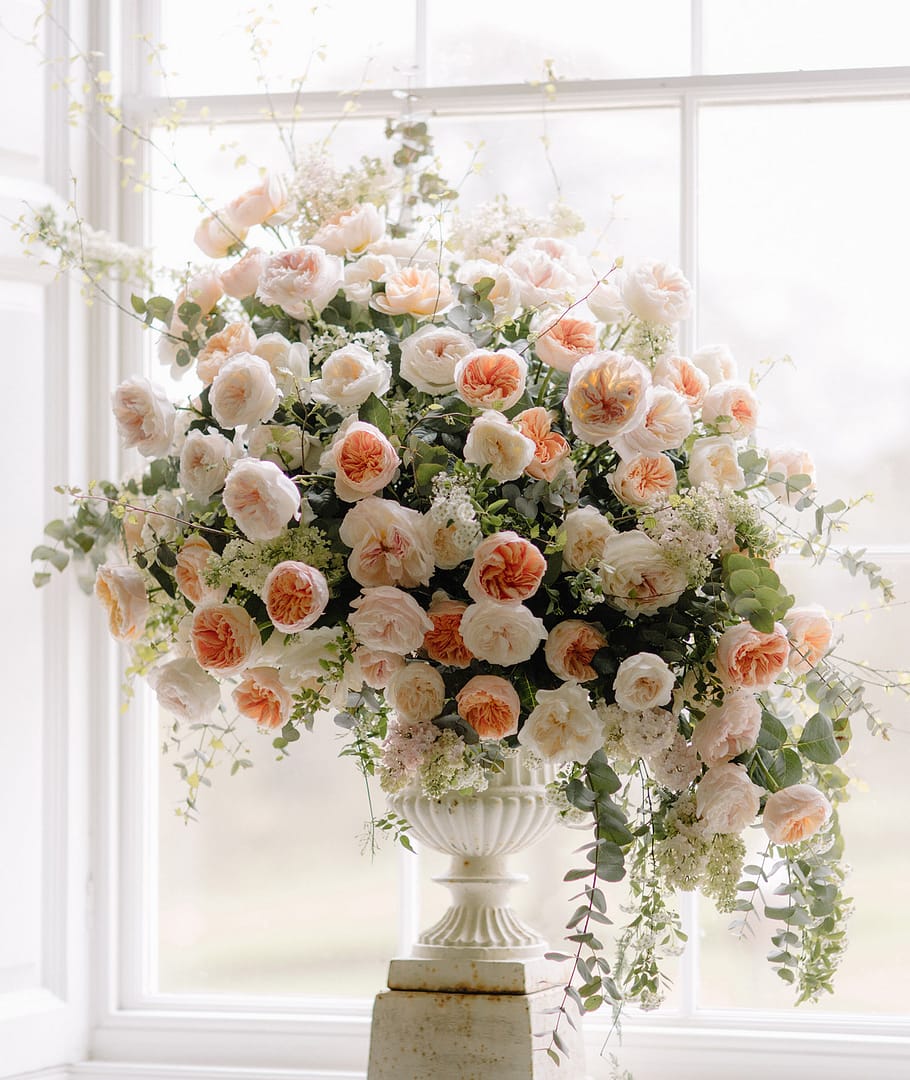 What other flowers compliment Juliet?
We may be biased, but there's nothing quite like seeing Juliet with her David Austin sisters. ln these stunning arrangements recently created in California, Juliet is paired with Miranda, Constance and Leonora, creating a pretty cloud of blooms in an explosion of mouth-watering sorbet shades that feels both modern yet classic.
If your budget doesn't allow for a full rose wedding or you just prefer some variety, you can take your pick of seasonal bounty since Juliet is so versatile. For a soft feminine look, try pairing Juliet with white hydrangea, delicate blush sweetpeas, feathery pink astilbe and sage green eucalyptus. For a more relaxed, rustic feel, we love her styled with waxflower, succulents, scabious flowers and pods, and thlaspi green bell.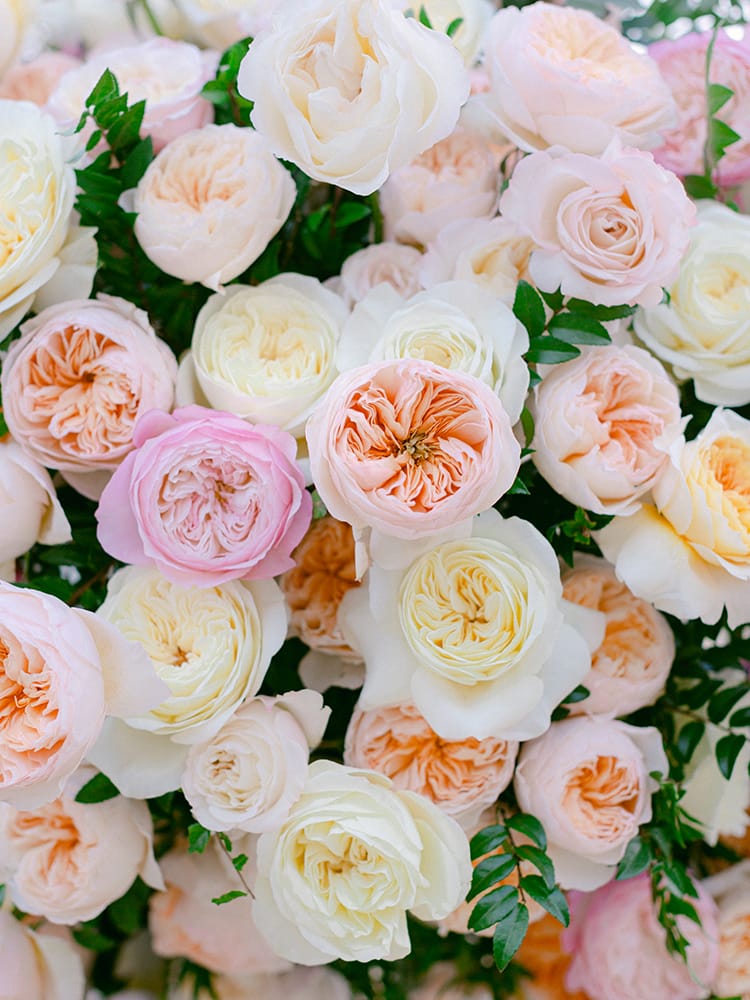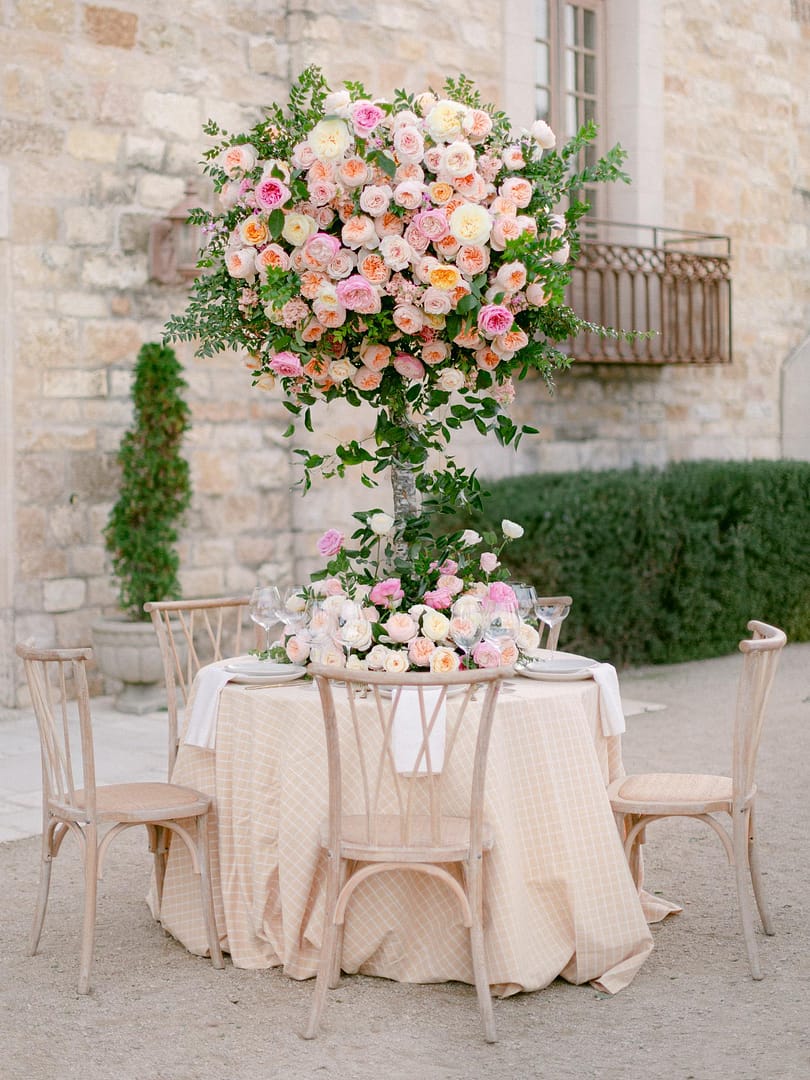 What season does Juliet shine in?
Juliet is such a versatile rose that she looks stunning in any season, it's just a case of creating a seasonal color palette to compliment her distinctive peach hue. In springtime, we love her paired with soft pastel tones like pale pinks, purples, blues or yellows for a fresh and youthful look. As the temperature rises, increase the heat of the colours, bringing in hot pinks, corals and zesty greens for an eye-catching monochromatic scheme.
In autumn, we love highlighting the warm tone of Juliet with burnt orange and umbre, toffee and nude tones to echo the changing landscape. In winter, Juliet looks stunning with jewel tones like burgundy, plum and garnet with grey-green foliage like eucalyptus and mimosa. Juliet really is a rose for all seasons.