We love seeing how professional wedding florists style David Austin Wedding Roses and we can always rely on international fine art wedding designer and floral stylist Janna Brown Design to take our blooms to the next level of style and sophistication. Today we're travelling to the idyllic shores of glistening Lake Como in Italy for this stunning white rose wedding inspiration shoot, created by Janna with an abundance of fluffy ivory blooms, including Leonora, Patience and Purity.
Our luxury roses are the ideal choice for decorating weddings with the majestic mountain backdrop of Lake Como, enhancing the serene luxury of this special place. A stunning flower-lined aisle leads to a sumptuous floral arch, which frames the tranquil lake beyond. Our ivory wedding roses complement both the bride's elegant off-the-shoulder Ines Di Santo gown and the stately façade of the historic Villa Balbiano, located on the western shore of the lake.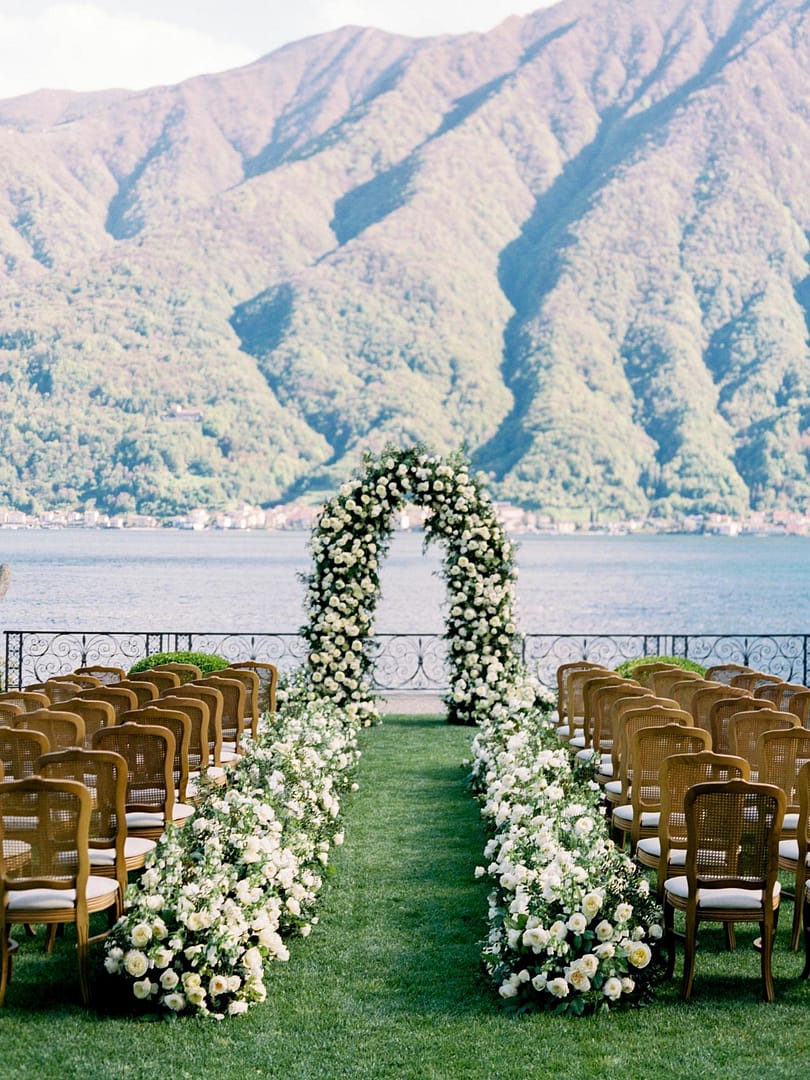 Over to planner, designer and florist Janna Brown Design to tell us more about it: "Nestled on the shores of Lake Como, the luxurious Villa Balbiano played host to this most exquisite day. The design infused the venue with thousands of garden roses from David Austin Roses, resulting in a mesmerizing display of flowers that transformed the villa into a wedding wonderland. The floral arch, aisle, and centerpieces were all a testament to the luxurious aesthetic of these unmatched roses.
"The tablescape, with its classic palette of cream, adorned with rose-filled floral arrangements, created an ambiance of luxury and sophistication. Each element was meticulously crafted to create an unforgettable experience for the couple and their guests. As the sun set over Lake Como, the villa came alive and the scent of the roses, and gentle lake breeze, created a sensory experience that left us spellbound."
If you are planning a destination wedding whether it be on a small or grand scale then speak to your floral designer and wedding planner early on to see what is possible.  Maximise your venue, the surrounding landscape and architectural style to inspire your theme. If you're still not sure which roses to choose get in touch and we can guide you through our collection.
You can also continue browsing lots of lovely floral ideas via our pinterest boards, including one dedicated to destination weddings.