How to create an English summer garden wedding
There's nothing quite like a country garden wedding in the height of summer. David Austin Roses are the perfect flower to give your wedding the quintessential English country garden style, wherever you live in the world. So what defines this romantic and timeless look, and how can you achieve it for your own wedding? Read on for our top tips.
How to give your wedding flowers the summer garden look
Whether your wedding is out in the open or inside a beautiful venue, it's possible to create a gorgeous summery feel reminiscent of an English country garden. This look is all about a loose freeform style, just like you've stumbled upon a forgotten secret garden. Nothing is tightly formed or symmetrical, it's all about embracing the shape of each flower and letting each stem shine in the way nature intended. However, just like barely there make-up and effortless beachy hair, an expert eye and experienced hand is required to make this look work in practice.
The luxury of David Austin roses is that this style can be achieved at any time because our wedding roses are available 12 months of the year. A great florist will be able to create bouquets and floral designs that look like they have been gathered from a traditional Regency walled garden, when in fact they have been carefully sourced from expert cut flower growers to ensure exceptional quality and vase-life.
Start by choosing your favourite roses
It's helpful to pick your favourite rose, our beautiful blush-toned Keira is the star of this summer wedding editorial, and base your wedding colour palette and floral designs around it. Pairing our roses with other seasonal varieties will help to create a ceremony set-up and reception space that fully immerses your guests in the vibe of a heady scented summer garden.
A great wedding is all about guest experience, giving an element of escapism to encourage everyone to fully relax and enjoy themselves. Therefore, whether you're celebrating indoors or outside, think about delighting all of the senses with summer-inspired food, drinks and music alongside your flowers and decor. What could be more perfect than sipping rose and elderflower cocktails while a string quartet plays Vivaldi's Summer?
What flowers are in season in summer?
There is so much choice in the summer flower garden, it's useful to categorise varieties based on what they bring to floral design. For example, for delicate wispy textures, there's love-in-a-mist (aka Nigella); cornflowers, borage flowers and astrantia, while papery blooms like cosmos, scabious and poppies bring a light and airy feel to your summer bridal bouquet. Here we've used baby blue sweetpeas and butterfly ranunculi to accompany Keira, emulating cabbage white butterflies fluttering amongst her fragrant rose blooms along the length of the table centrepiece. Finally, let's not forget herbs like rosemary, mint and lavender for infusing your flowers with yet more delicious scents.
Large rounded flowers like roses and dahlias are statement summer focal flowers, while tall grasses bring movement and spires like larkspur, foxgloves and delphiniums bring much-needed height to large designs like flower urn arrangements. For lacy textures, we love ammi, dill flowers and wild carrot (daucus carota), while climbing varieties like clematis, jasmine, passionflower and honeysuckle bring a beautiful trailing quality to floral designs. There's certainly no shortage of choice in summer and your florist will be able to help you refine your options based on your colour palette and wedding style.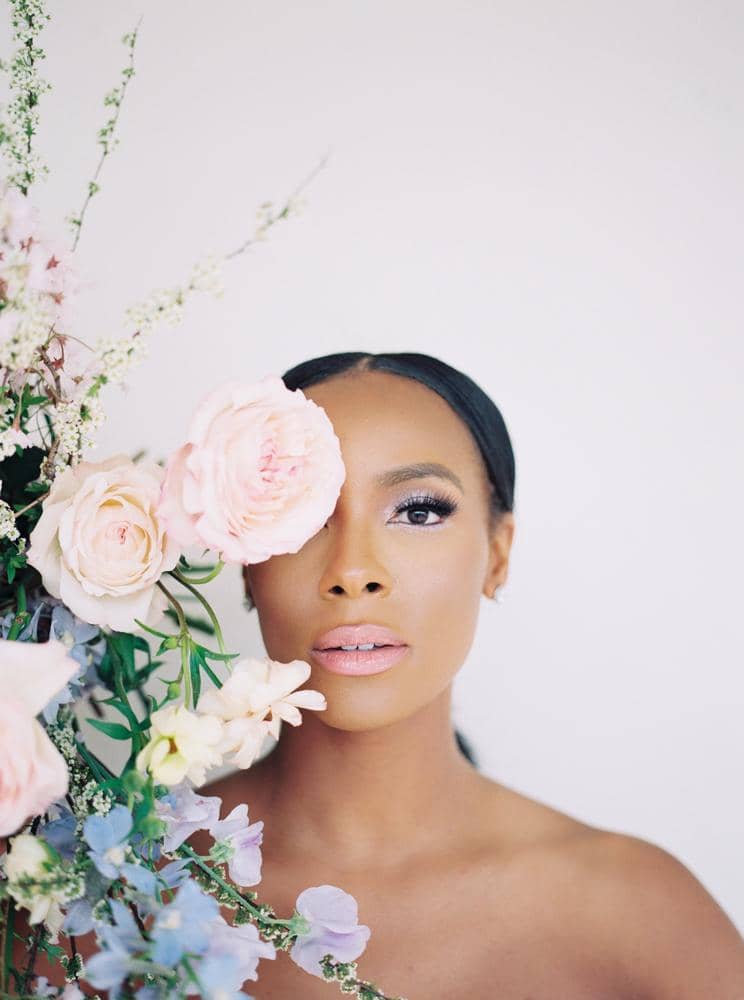 What colours work well for summer weddings?
Despite what you may have been led to believe, there are few rules when it comes to combining flower colours so go with what feels right for you. Summer is a great time to embrace colour though so don't be afraid to express yourselves on your wedding day. If bold and bright is your style, go for warm eye-popping roses like Capability, Edith or Darcey, paired with a rainbow or ombre effect of complimentary flowers. However, if you prefer a more muted look, you can still embrace colour with a more pastel toned palette as you see here.
Keira, with her gorgeous raspberry-ripple petals, is paired with powder blue, soft lilac and cream flowers for a pretty and eclectic look that perfectly suits a country garden wedding. In fact, it's giving us total Jane Austen vibes! The tablescape is beautifully tied together with lilac and blue taper candles and napkins, and mother of pearl-handle cutlery for a considered and stylish summer wedding look.  Add a touch of modernity by keeping the table details simple and sleek, allowing the flowers to create the perfect frame and backdrop to your special day.