Discovering the beauty of David Austin roses is the start of a lifetime love affair and you'll no doubt be dreaming up all the different ways you can incorporate them into your wedding. There's certainly no shortage of options and today we're sharing 20 creative ways to use roses in your wedding décor. Which ones will you choose?
Nothing marks a wedding quite like a glorious flower arch full of gorgeous scented roses. Floral arches are the perfect backdrop to sharing your vows and are ideal for providing a focal point in outdoor wedding ceremonies. Just think how beautiful your ceremony photos will be!
As you walk down the aisle to meet your beau, imagine wafting past displays of fragrant fluffy roses… pretty dreamy right? Roses can be used to create elaborate displays at the end of each chair row (or pew, if you're in a church) or simple posies tied to the chairs with silk ribbons that billow in the breeze.
If you want a real statement piece for your wedding décor, how about asking your florist to create an entire wall of roses? It can be used as a dramatic table plan or romantic backdrop for your wedding portraits and guests to take selfies.
Fresh rose petal confetti is increasingly popular and many wedding venues now specify it must be used instead of dried flowers or paper. You can pile loose rose petals into vintage baskets or paper cones, or even create a dramatic rose petal carpet for the aisle.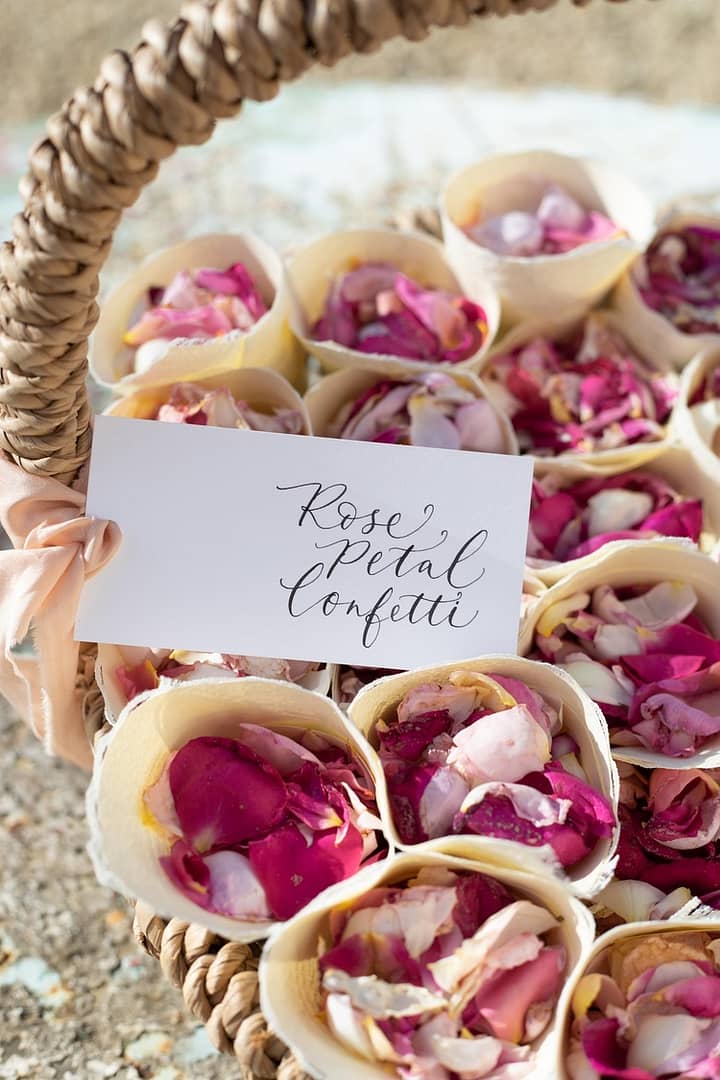 What a treat for each guest to find a beautiful rose marking their place at the table? Choose roses that compliment your colour scheme and they can double up as favours.
Want to give your wedding reception the ultimate wow factor? Enter rose trees. There's nothing quite like a tree made of roses to elevate your event to another level of style and elegance.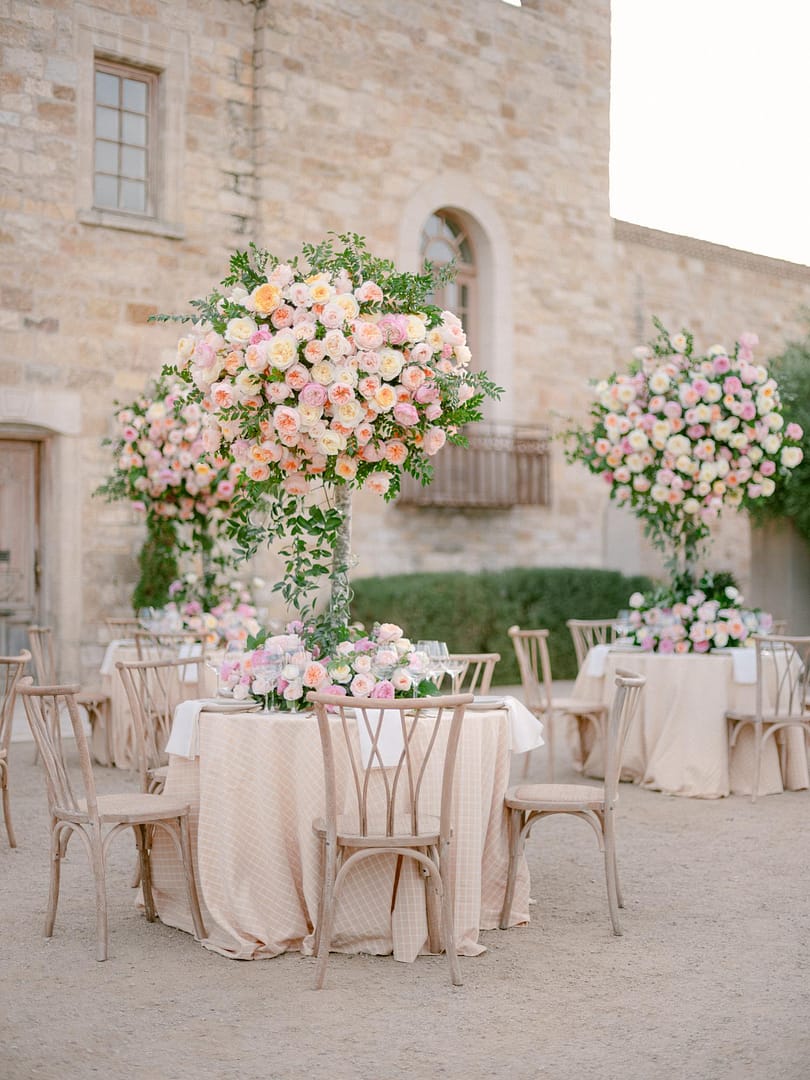 How about keeping the table flowers low and creating elevated designs as an additional element? Rose-filled floral chandeliers make the ultimate dramatic centrepieces that are sure to get your guests talking.
Decorate chiffon chair covers with roses and foliage to give a romantic touch to your table décor.
Set the scene for your rose-filled wedding by incorporating roses into your stationery design. Let your stationery designer know which David Austin roses you are using and they can weave illustrations into your invitation suite and vow books, plus on-the-day stationery, such as order of service and menu.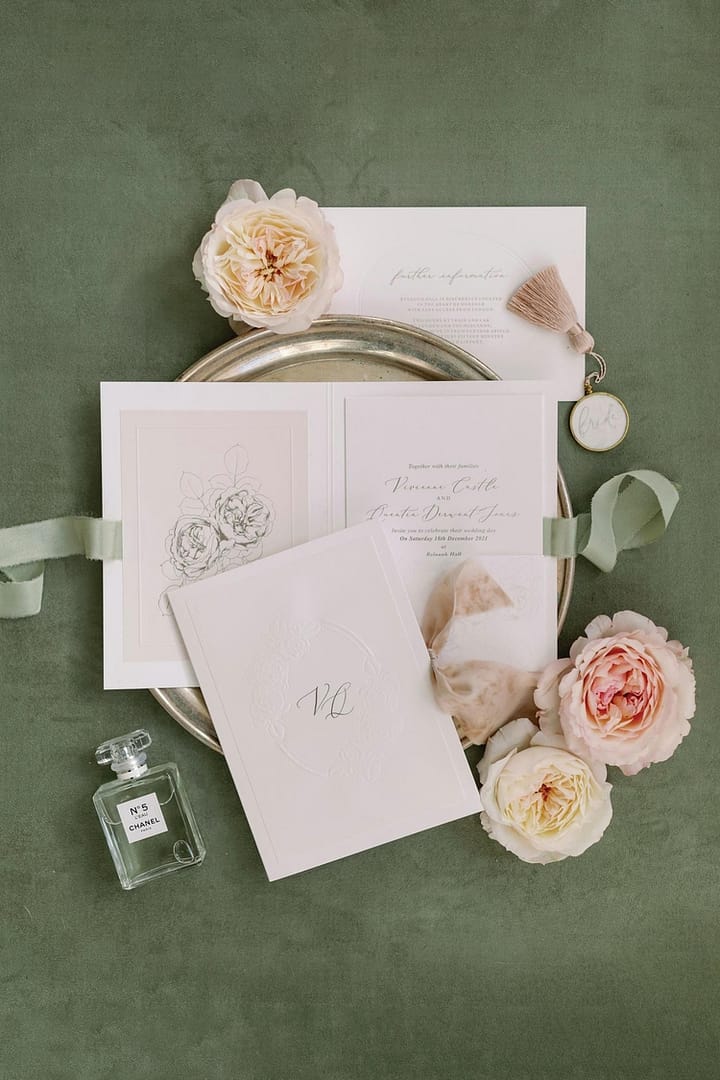 We love seeing flower bars at weddings where guests can request corsages, flower crowns, boutonnieres or even small posies to take home. Ask your florist if they offer this service as it's such a nice unexpected treat for your guests.
There's something old school romantic about a wedding car adorned with roses and it makes for some gorgeous couple photos.
We love anything that's beautiful and useful so floral escort cards are the ideal double-duty décor. A collection of bud vases with single rose stems and cute labels look pretty and are the perfect way to show guests to their seats.
Lush garlands of roses and foliage help to bring the outside in and bring a feeling of wild romance to your wedding venue. Think staircases, balconies, mantelpieces, windowsills and table plans…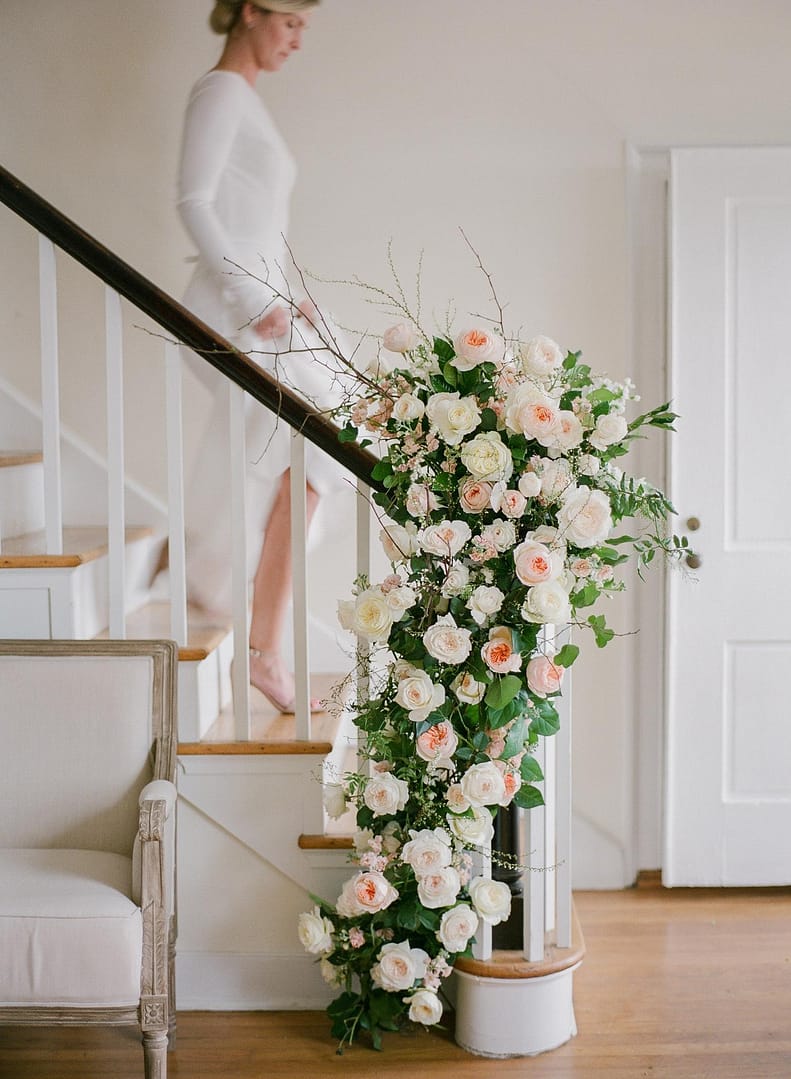 Why not extend your love of roses to cocktail hour? Request your bar team to devise cocktails with rosé wine, rose water or rose liqueur like Lanique. Add the finishing touch of roses to your cocktail serving trays.
15) Rose Cloud Centrepiece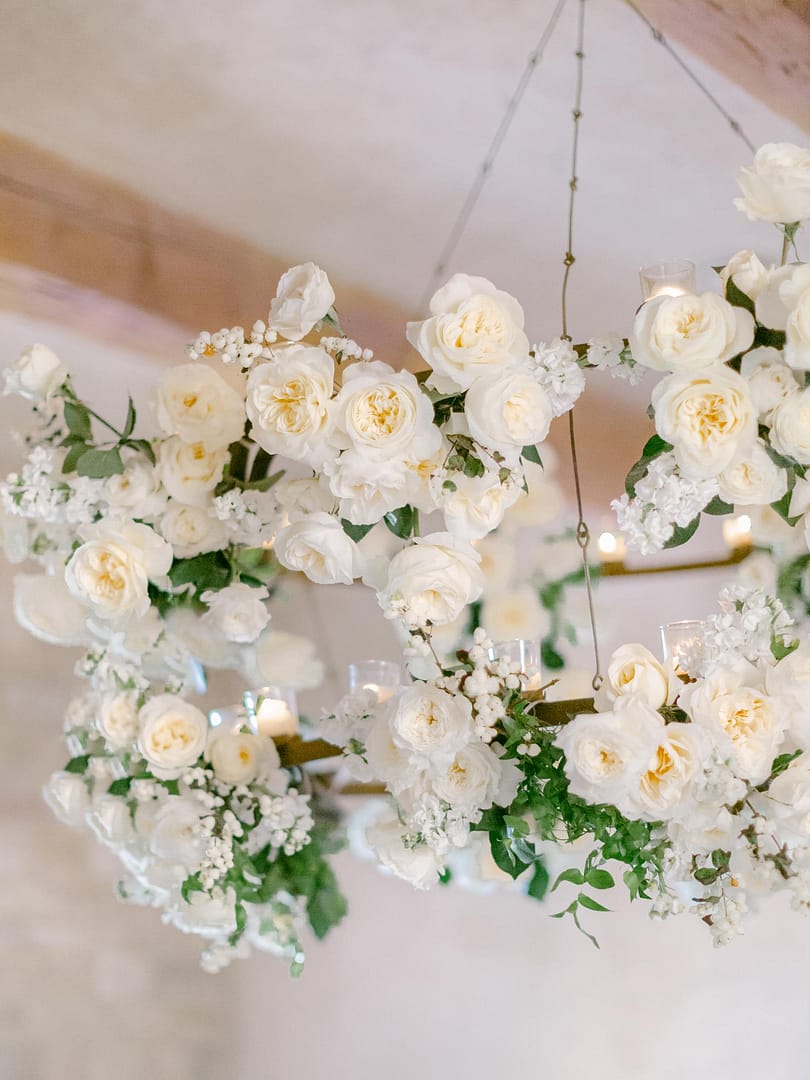 A canopy of flowers is the ultimate décor to create an immersive dining experience for your guests. What could be more beautiful and memorable?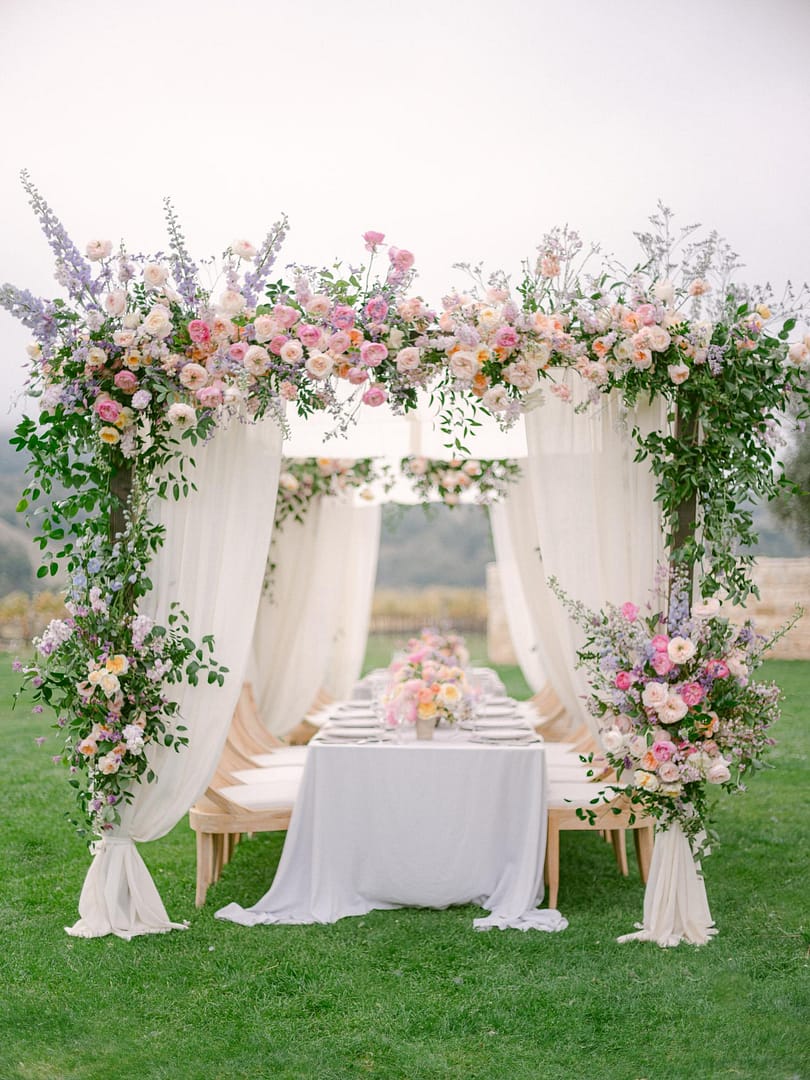 17) Rose Cake Decorations
Roses are ideal to decorate your wedding cake. Whether you choose a dramatic ombré cascade of roses on a statement five-tier cake or small cluster on a simple understated design, you simply can't go wrong.
A beautifully rustic stone urn overflowing with roses and seasonal blooms is the perfect choice for a classic wedding.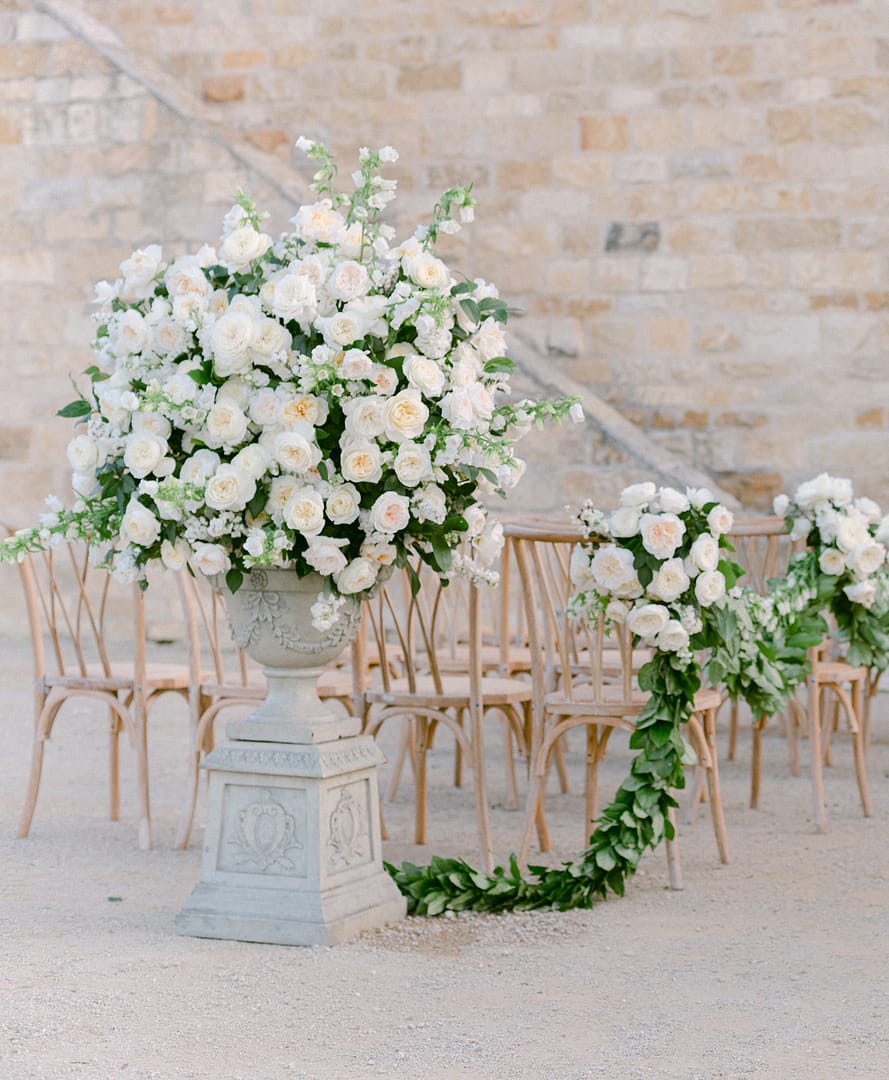 If your venue has a pretty water feature like a fountain or pond, why not float rose heads on the surface for a unique and romantic touch?
Floral runners are the ideal décor for banquet tables, as they're low enough not to obstruct guests' conversation across the table. Just be sure to measure the tables to get the right length and ensure there's adequate space for all the tableware and glasses.