There's nothing quite like getting married amid nature in the great outdoors. If you're lucky enough to get the weather for it, an outdoor space is the perfect blank canvas for a wedding ceremony of any size. From woodlands and beaches to gardens and vineyards, getting married outside gives you so much scope to style your wedding, your way. So how do you create a perfect outside ceremony spot to share your vows? Read on for our favourite outdoor wedding ceremony styles to inspire you.
1. Classic Green and White Wedding Ceremony
Timeless and elegant, green and white is always a stylish choice for a classic outdoor wedding ceremony. Go for stone urns full of roses and rambling foliage, and lush floral swags to decorate the chairs and make your walk down the aisle extra special.
Obviously, we adore roses and they're the quintessential wedding flower, but foliage can be just as beautiful and effective in adding drama to your ceremony space. Think of verdant greenery like ruscus, salal and bay for a fresh vibrant look, or go softer greens like eucalyptus, olive and mimosa foliage for a more muted look.
2. Dramatic Pink Rose Wedding Ceremony
Picking a single colour and exploring its variances is a sure-fire way to create an impact. If your ceremony space doesn't have a natural focal point such as a doorway or fountain for example, it's a good idea to create your own as a backdrop to your vows and photos. What could be more perfect than a flower arch? This spectacular ombré and pink rose ceremony arch centres the space and beautifully frames the rural landscape beyond.
3. Peach Rose Wedding Ceremony
Peach is a colour brides return to time and time again as it's elegant soft and feminine. It is the ideal balance of warm and cool, making it a surprisingly versatile choice for wedding flowers that work in a variety of different settings and seasons.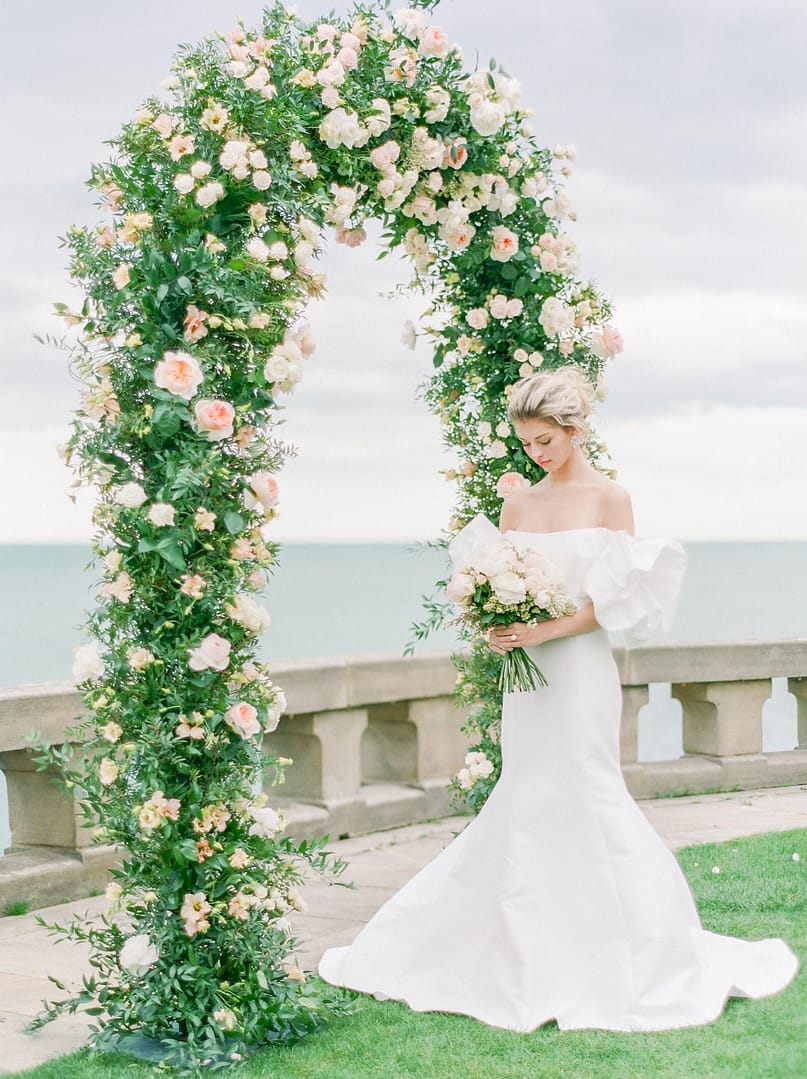 4. Autumn Country Garden Wedding Ceremony
The warm fiery shades of Beatrice and Edith are perfect to bring sunshine to a grey day, which we certainly have to be prepared for here in the UK! We love the rich tones and abundance of roses draped in this naturalistically styled arch which feels perfectly at home in this English country garden wedding ceremony.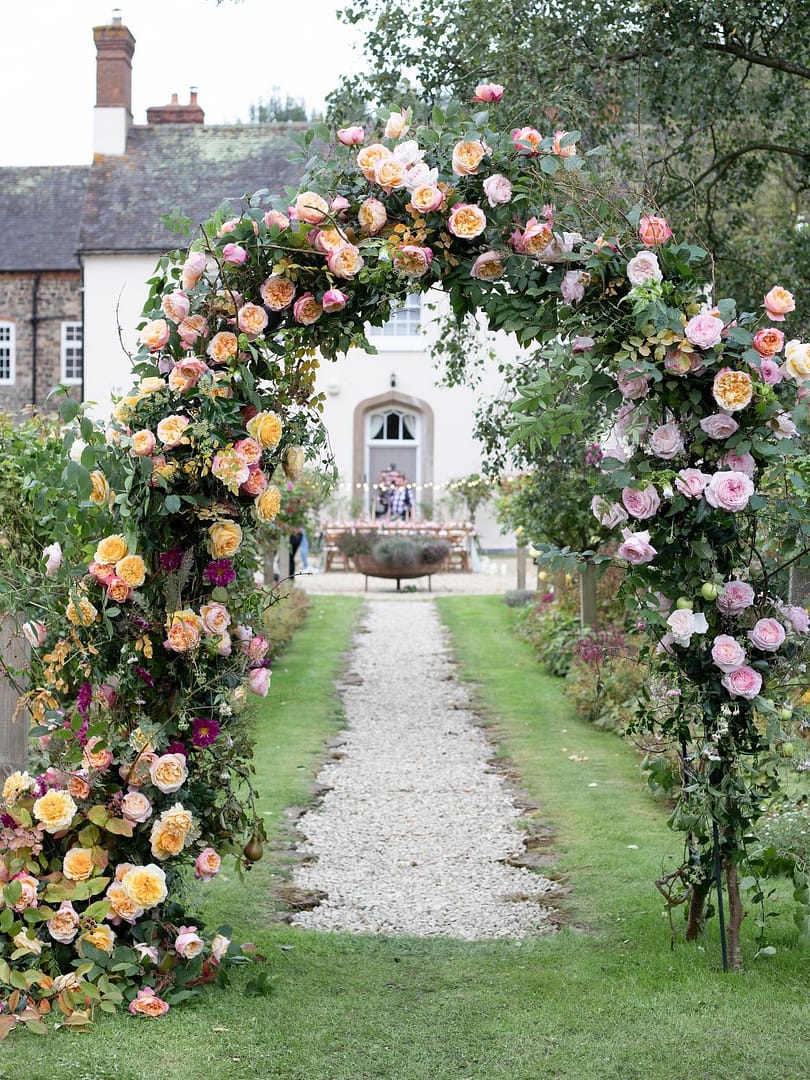 5. Neutral Garden Wedding Ceremony
An alternative to rose arches, floral pillars add style and drama to your ceremony space yet feel more organic and contemporary. We love this undone, slightly asymmetrical design created with the blush rose Purity that feels just right in this country garden setting. Remember to arrange a plan B with your venue, planner and florist so you can seamlessly switch your ceremony location to an indoor back-up option in the event of bad weather. 
6. Striking Pink Rose Floral Arch
We adore shades of pink for wedding flowers as the colour is super versatile and can be styled in so many ways. We also have the perfect pink roses of varying shades to allow your creative ideas to be brought to life.  Here, the floral styling by Dogwood & Fir is filled with Mexican design influences, embracing the shades of Constance, Miranda and Keira roses layered together to complement the dramatic hot fuchsia pink bridal gown.  This multi-tone floral arch creates a stunning focal point against the muted tones of the landscape.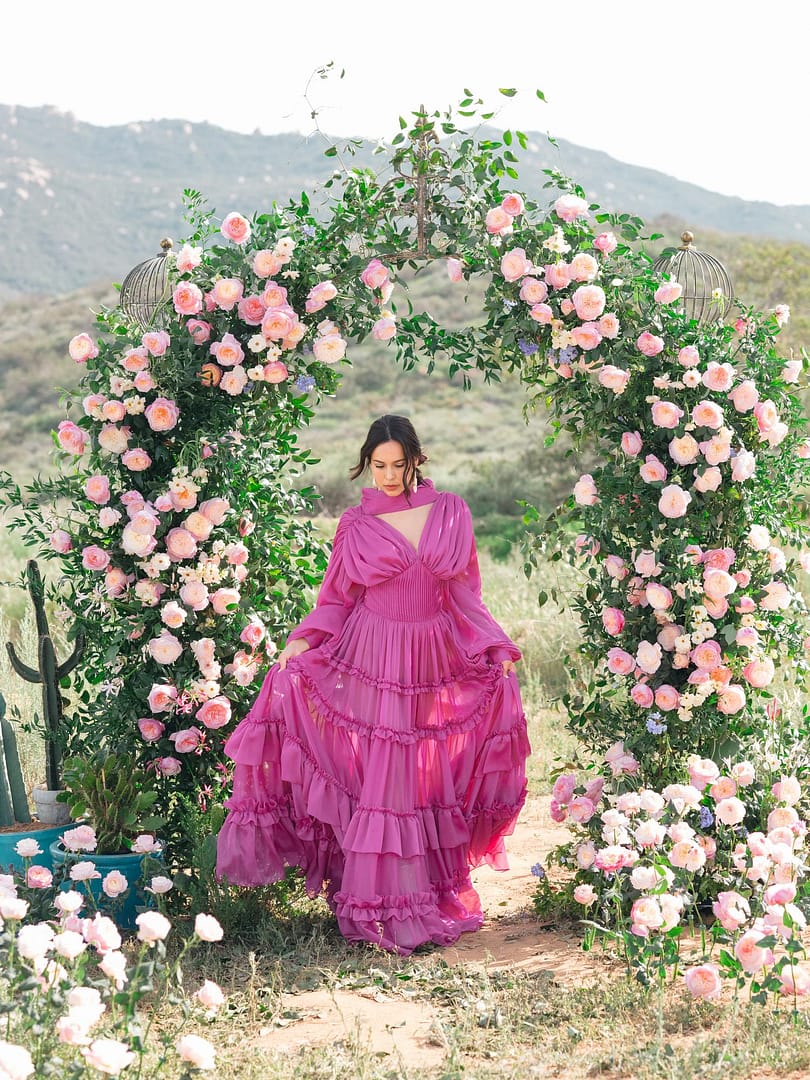 7. Classic Cream Rose Wedding Ceremony
Floral displays don't have to be big to make an impact. This simple yet understated architectural design featuring Leonora with her blousy blooms and ivory petals, needs nothing more than nature's freshly gathered foliage to complement the elegance of this country club outdoor wedding.  You can also add the personal touch to your wedding in so many ways – in this instance, the hexagon structure was beautifully crafted by the bride's father.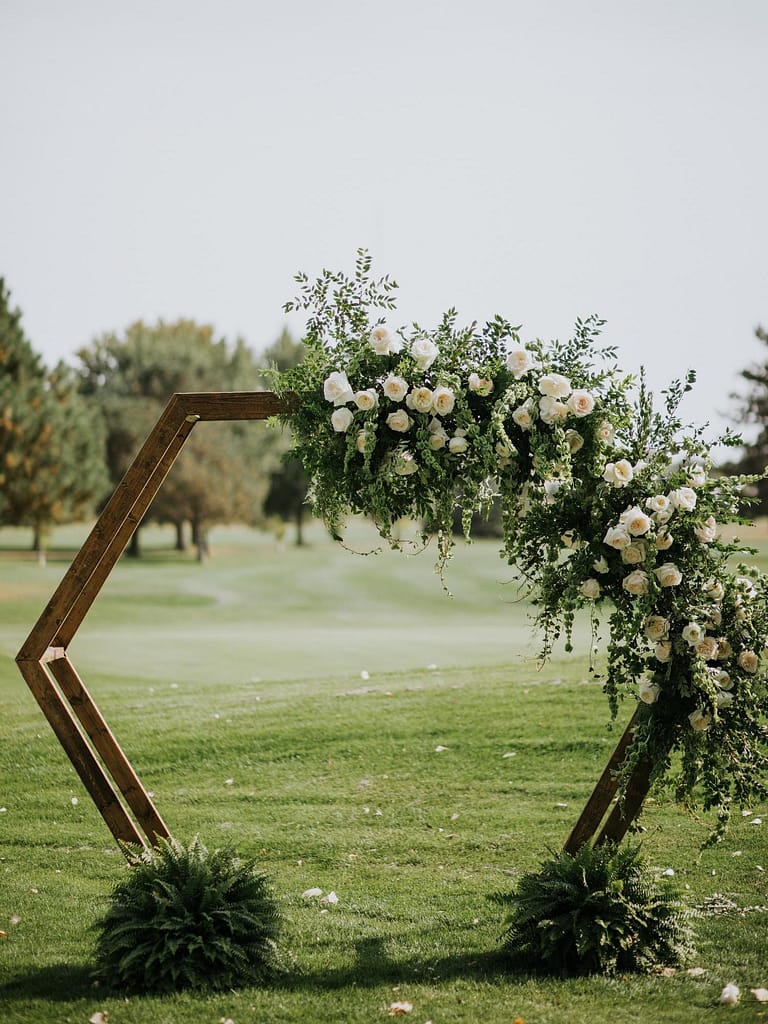 8. Pastel Rose Wedding Ceremony Flowers
Can't decide where to place your wedding ceremony flowers? Go all out and have them everywhere! David Austin rose-filled troughs and urns, floral chandeliers and foliage garlands create a dramatic ceremony space under swathes of fabric to protect guests from the Palm Springs' sun.