Classic and naturally beautiful, Patience captures our hearts with her creamy ruffled petals and distinctive clean heady scent. This quintessential ivory rose exudes simplicity and sophistication, the ideal choice for brides striving for understated elegance on their wedding day.
Patience takes white bridal bouquets to a new level of style. Charming milky buds ruffle out into ivory sculpted rosettes of papery petals, revealing a creamy coloured centre with just the palest hint of buttery yellow. She is a rose of pure perfection! Let's find out more about Patience and how this stunning white rose can bring elegance to your wedding flowers.
What fragrance does Patience have?
Patience has an intense and clean scent of old rose with a dash of lemon. She has the strongest fragrance of all the David Austin Wedding Roses and is the perfect choice for brides who adore scented flowers. Patience will seduce you with her perfume as well as her sculptural looks, but always in a demure way!
What style of wedding does Patience work best in?
Patience offers poise and timeless elegance from a bygone era. Think Grace Kelly in flower form! Her neutral colour makes her a versatile choice for different styles of weddings, but she shines brightest in classic settings with little adornment to distract from her sculptural beauty.
Historic wedding venues with interesting architecture and classic design elements like grand entrances, wide staircases and huge fireplaces can be enhanced with cascading greenery to complement Patience's milky white blooms. She is the perfect addition to table centrepieces for white wedding receptions as her heady scent will linger as your guests relax over dinner and enjoy the festivities.
What colours complement Patience?
Patience's ivory hue is a warm neutral that brings elegance to simple colour schemes as well as great versatility. Complementary colours to consider are wide ranging from earthy shades like brown and ochre, plus green, grey, black or blue through to the prettier shades of blush, peach and pinks. Patience will also be the perfect partner to sunshine apricots and yellows. And don't be afraid of white! You might think white and cream don't go together, but cream warms up white while keeping the look light and bright. Plus, Patience can also bring some subtle variation and depth to white wedding bouquets and reception centrepieces, like a fine art painting with layer upon layer of colours and tones.
Pure white is surprisingly rare in the rose world, where most varieties have a subtle tint of colour at some point in their life span, with hints of blush, peach or cream. So it's important to talk to an experienced florist who can ensure the rose you choose will complement your overall wedding colour palette.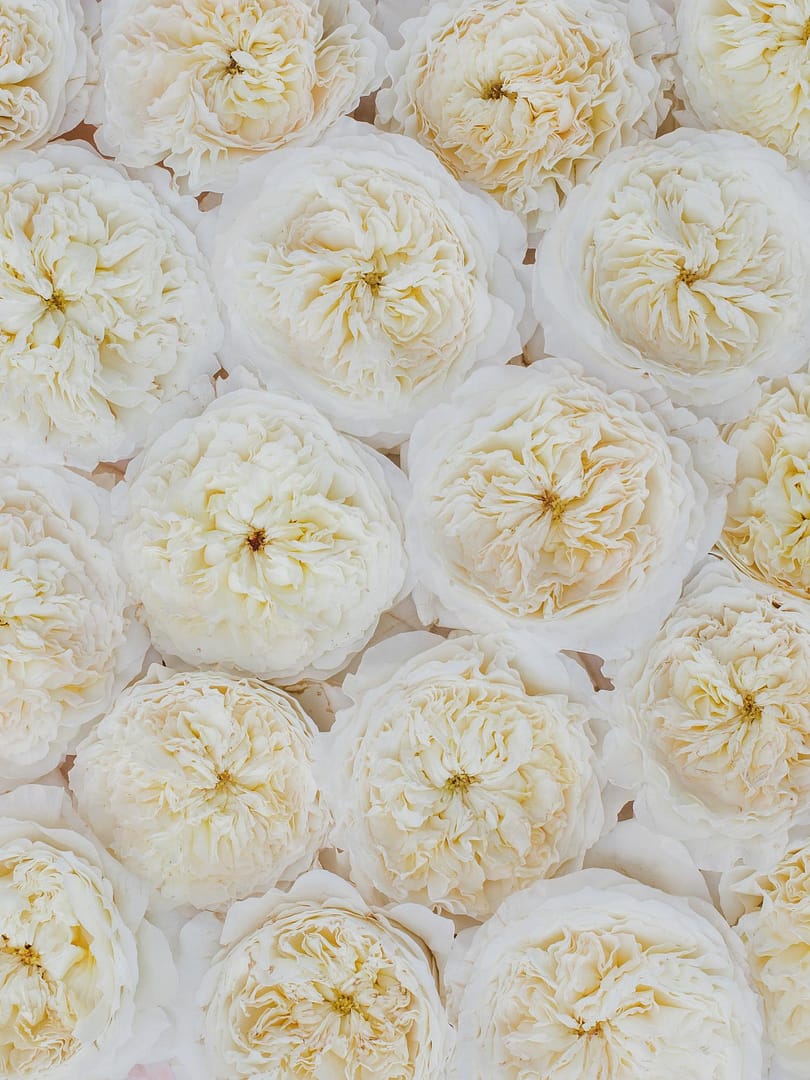 You simply can't go wrong with a classic ivory wedding bouquet. Some might call it conservative but for us, it's the timeless choice and the ultimate in less-is-more refinement. If you love classic bridal designers like Vera Wang, Justin Alexander, Susanne Neville and Emilia Wickstead, Patience is the ideal rose to complement your look of old-world glamour with a touch of modern femininity.
You could keep it simple with a bouquet of just roses and touches of glossy green foliage, or add in some variety with seasonal blooms. We adore the look of pale yellow-centred Japanese anemone, spires of white veronica, blue-grey silver foliage and delicate maidenhair fern paired with Patience in this gorgeous ivory bridal bouquet. Simply stunning!