Our wedding roses would be nothing without the talent of incredible floral designers like Bows and Arrows Flowers, the Texas based duo, Adam and Alicia Rico, who create high end luxury wedding florals and installations.
We're lucky enough to have Alicia here on the blog today to answer some questions we've always wanted to ask! From her favourite David Austin rose, to her guide on inspiration in this saturated market, scroll down to not only read Alicia's interview but also get a sneak peek on some recent work Bows and Arrows did with our wedding roses.
How did you and when did you get started in the floral industry?
I (Alicia) started working at a flower shop in NYC in 2006. I learned the trade, care and conditioning of different types of varieties and traditional floral design. Adam was a photoshoot producer at the time and we moved from NYC to Dallas Texas to start a family and business in 2009. We wanted to bring a more organic and garden style to Dallas too.
How would you describe David Austin Roses? Do you have a favourite?
Timeless and romantic are the strongest words to describe our love affair with David Austin Roses. We've worked with David Austin roses for so many years and they are so poetic and layered. My favourite roses are Beatrice (that's my daughters name and I love the variation of color) Effie and Eugenie (love their creamy shades and scent)!
How did you develop your signature style? 
I started thinking like a painter. I was playing with color more – pairing saturated and muted hues. Thinking about composition, line and shape when designing. Creating more movement within my designs. Layering in details and overlapping blooms. Seeking out the most perfect garden roses to pair with rare and delicate textures. Foraging native flora and foliage whenever I traveled to create something of the area. I work as I did with paintings, making several arrangements at once. I dance and move around a lot while designing and turn up the music!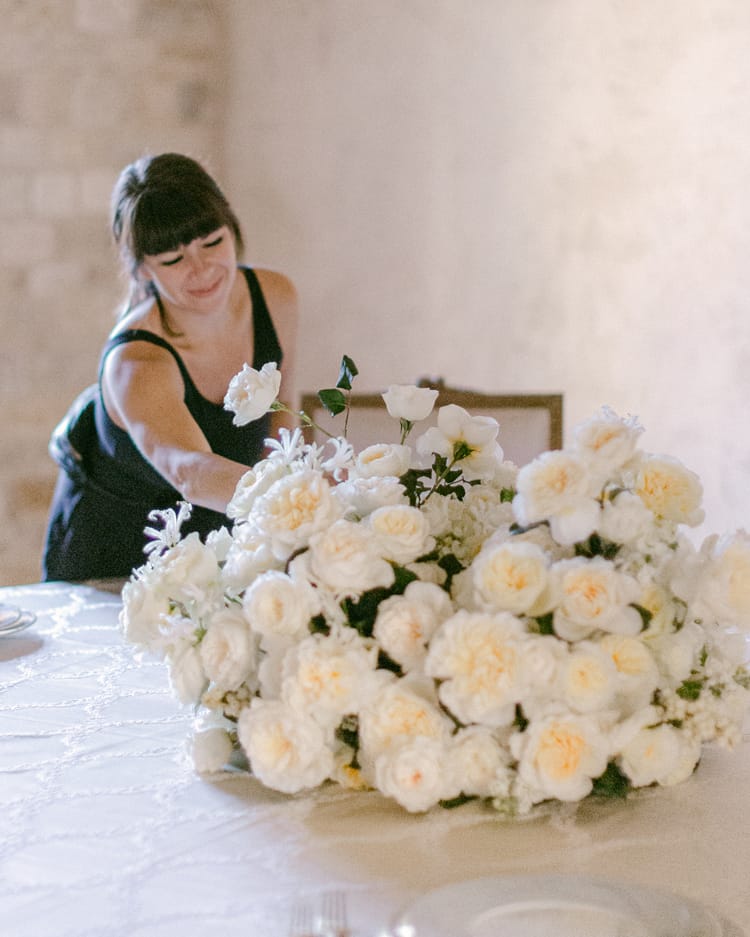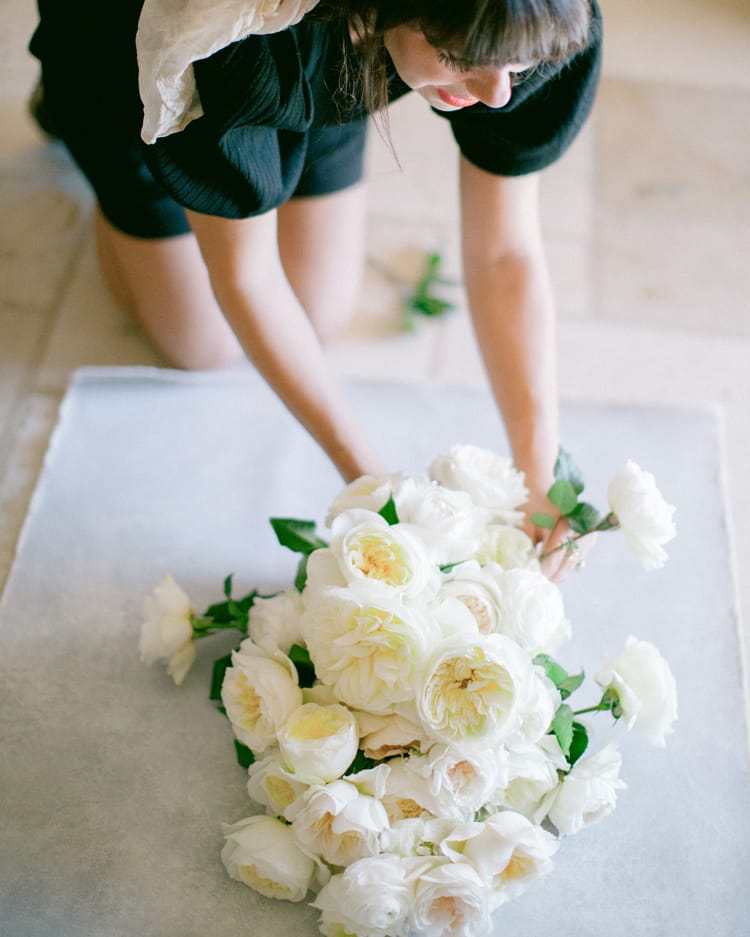 Where do you look for inspiration?
Inspiration comes mostly from travel, whether we visit an art museum, significant architectural jewel,  garden, landscape surrounding us, or craft market. We fall in love with different places we visit and bring part of them home in our designs via unique handmade vessels from markets, colors used in art we see at a museum, the shape of the land around us, architectural and design elements, etc. When not traveling we  are flipping through design books, visiting our local museums, and watching art films for inspiration.
Did You Know?
Both Alicia and Adam Rico have backgrounds in fine arts (they're both painters), something that becomes very obvious when you look at their intentional, colourful arrangements.
We simply cannot get enough of Alicia and Adam's painterly floral style, bringing many colours, tones and textures together with an exquisite eye for detail.  Bows and Arrows create floral masterpieces which is why they have been named a top florist in the world by Harper's Bazaar and Marth Stewart Weddings.