I'm going into nesting mode at home and this year in particular it feels that home is my cocoon. Suddenly I rediscover strings of twinkly lights that I pop into glass vessels; I frantically order candles of all shapes, sizes and hues and I start to feel the warm glow of colour to wrap around me. Is this part of our natural instinct in readiness for hibernation?
With the changing seasons, comes the change in nature's colour palette … and look closely it is incredibly colourful. The trees are waving their leaves to the ground in a confetti of bright colours. The fruits are ripening too – colourful hips and a harvest for the local fauna to enjoy.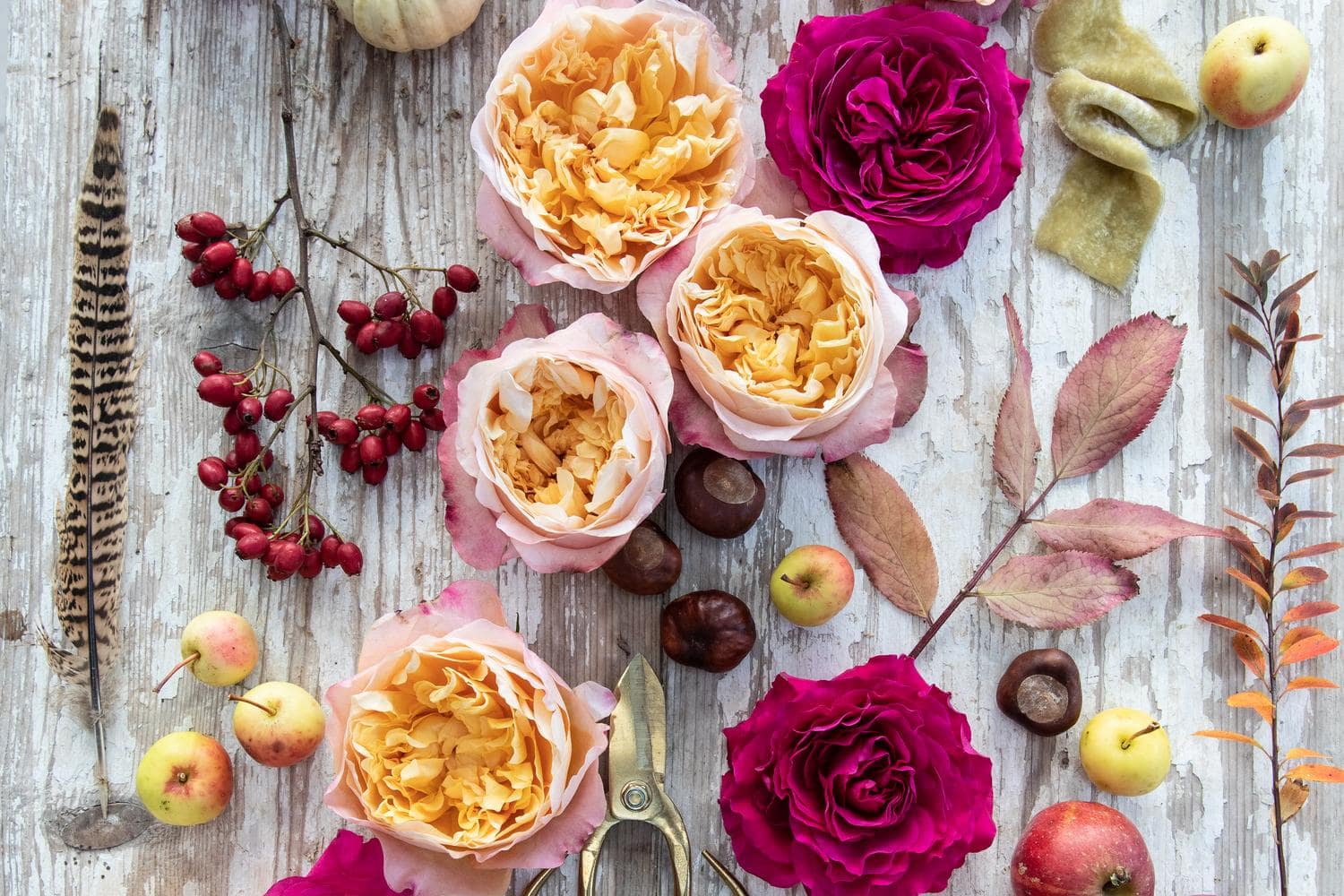 So this month we are thankful for nature's bounty, which we celebrate in glorious technicolour. Our choice of interior floral décor is perhaps bold and also a little unexpected. We were a bit apprehensive about the outcome but what can be more rewarding than playing with fragrant roses and this season's colourful foliage.
Dressing Capability (Ausapply), Edith (Auspluto) and Eugenie (Ausimage) are not your immediate pairing partners. We were unable to visualise the look on paper but as always, the roses will work their magic, adapting to their surroundings to create a new creative style. This is why we should all try the unexpected and sometimes embrace uncertainty. Janne, our friend and amazing stylist did just that … and we love the outcome. We move through the colour palette in one swoop of the brush. Pops of hot pink colour from Capability make you sit up and take notice, whilst Edith calmly pulls the whole look together. Eugenie is the pretty lady, who adds a delicate and feminine touch but still adds weight with her flurry of blousy petals.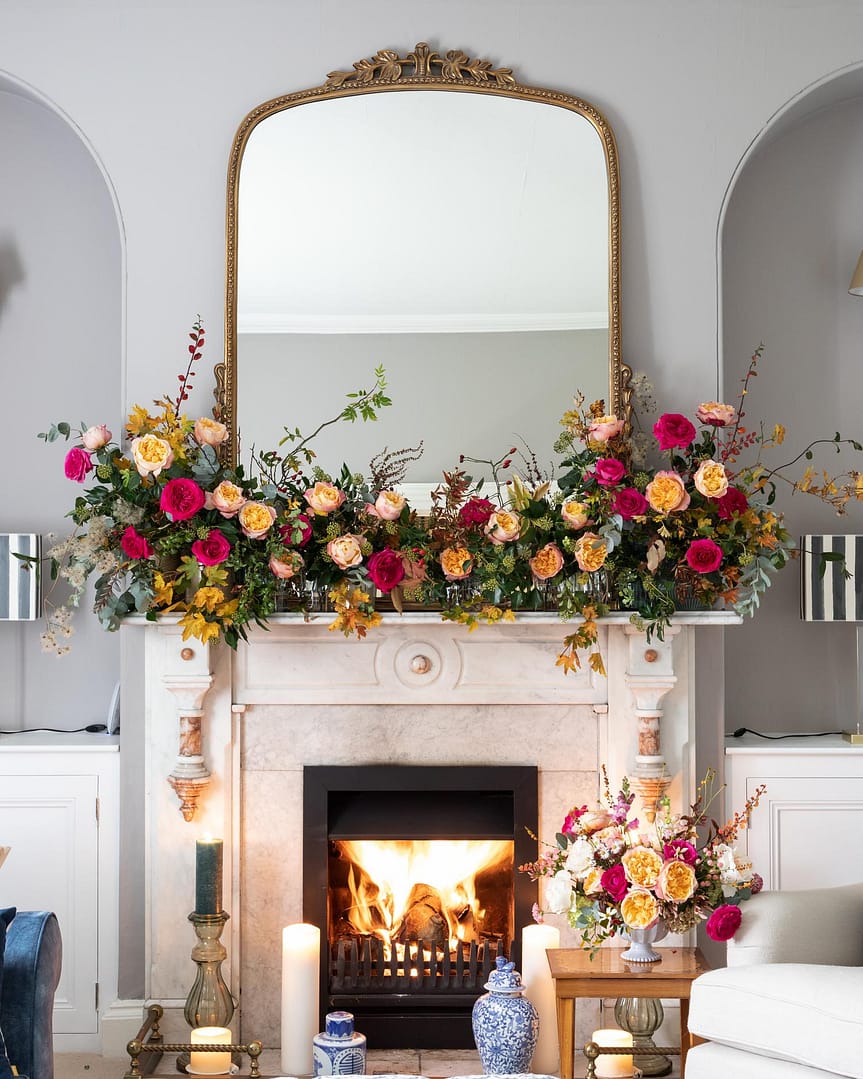 Whilst the harvest supper is celebrated in the UK I asked my American colleagues what Thanksgiving means to them. I needed a quick history lesson and learnt, in short, that it was modelled on a 1621 harvest feast shared by the English colonists, The Pilgrims, of Plymouth and the Wampanoag people. This resulted in Americans giving thanks each November. It is when families come together and is one holiday that is celebrated by all. There is even a traditional colour palette – one of browns, oranges, creams and gold tones – we hope you won't mind the addition of some rich pink too.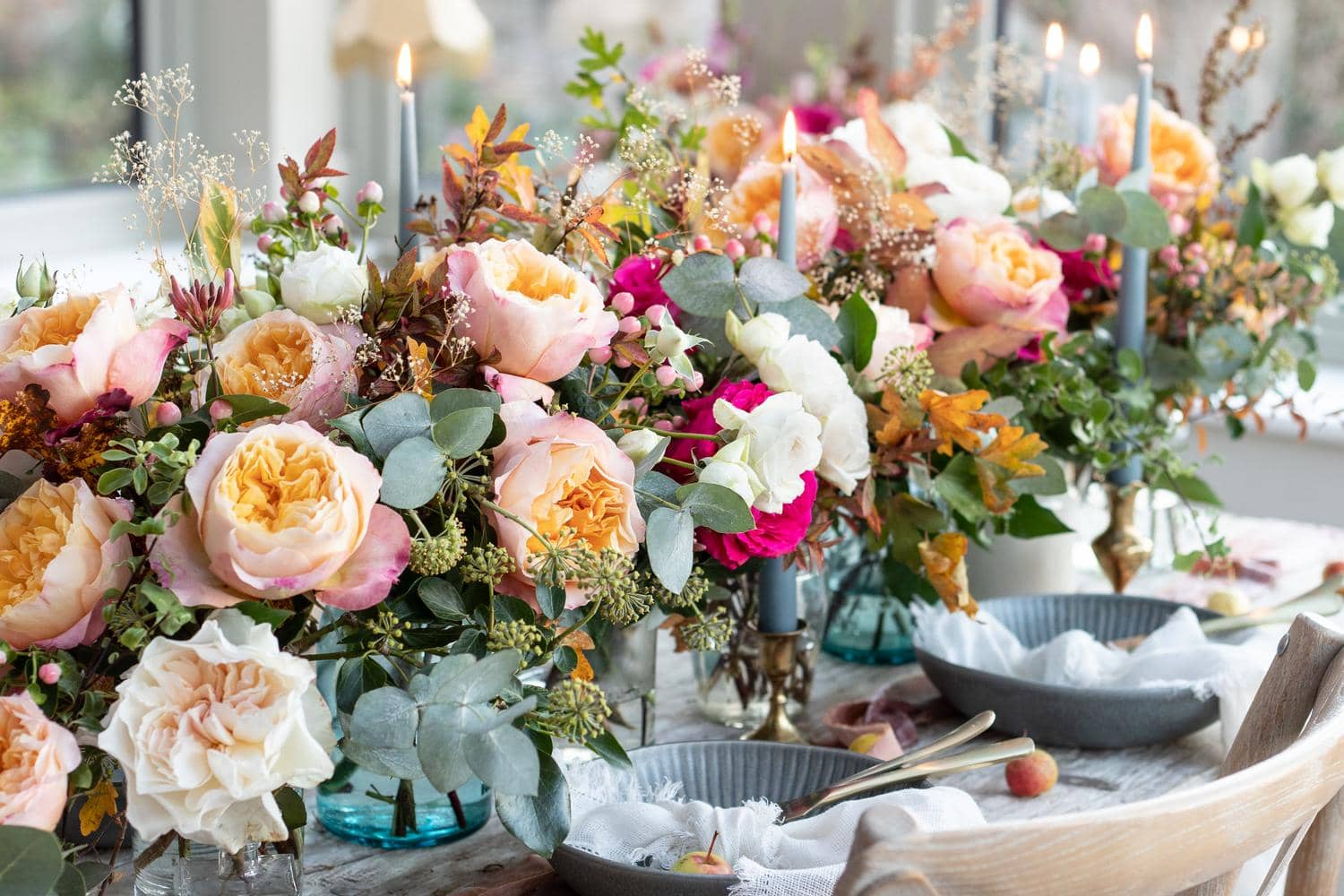 Thanksgiving decorations will always include a beautiful floral centrepiece or garland running down the centre of the festive table. Of course, candles are a must to add the finishing touches and I know that this is the time when the 'best china' is laid.
I always say that a wreath is not just for Christmas and so we love the tradition that a Thanksgiving wreath or front porch decoration are a must-have. Decorating the home is a way of welcoming friends and family as well as making this time extra special.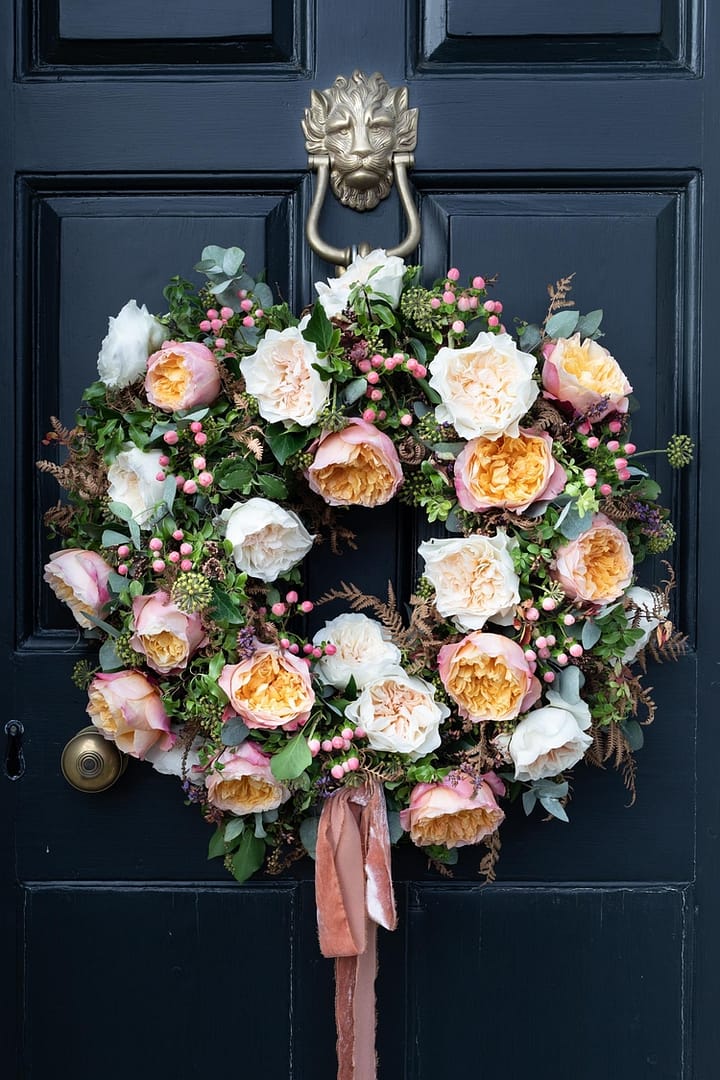 I looked up the saying 'home is where the heart is' and was surprised to learn it is a title of an Elvis Presley song … in my defence this is not my musical era! These words feel appropriate when we are thinking about our homes; our friends and family and the holiday season to come. We embrace the season, wherever we are in the world, and we are thankful for nature's colourful painting and rich harvest.
Happy Thanksgiving to one and all.
Jo xxx