Be prepared for a lot of cuteness overload within this blog post! We were overwhelmed when we came across this stunning baby photoshoot in Aspen Springs, Ontario Canada on Instagram. This photoshoot really touched our hearts and senses in so many ways and we hope it does the same for you too.
So let's introduce you to Collins Natalie Lewer, born February 22nd, 2021 and her floral friends Constance and Keira.
Now to meet the designer behind this stunning floral creation, along with the incredible photographer, Petra King, and how you can create your own floral baby photoshoot for lasting memories.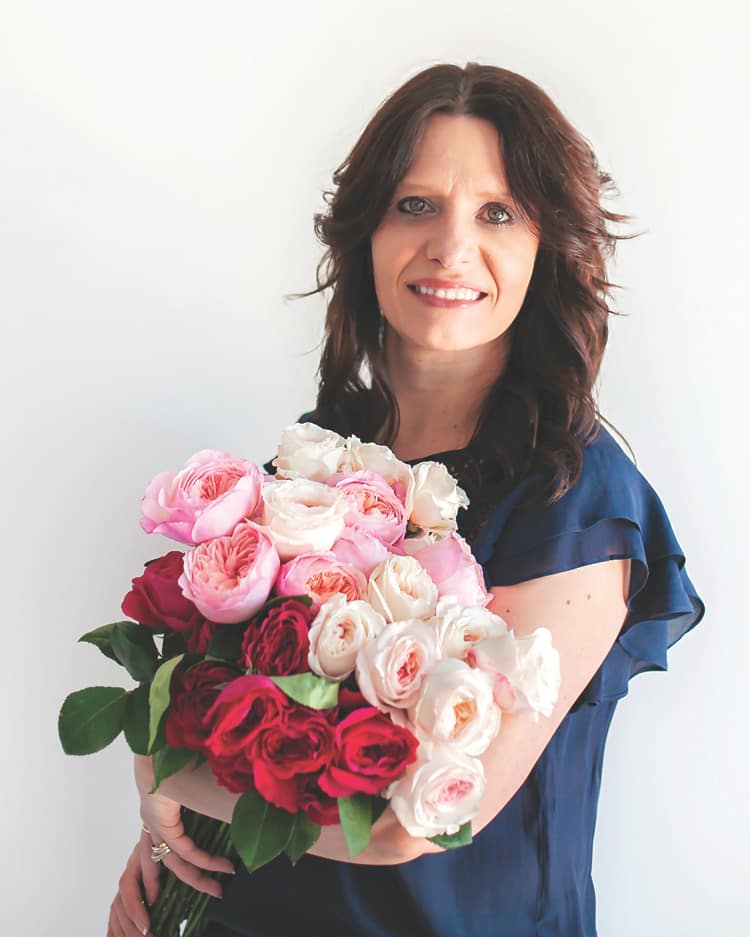 Tell us a bit about yourself Lisa
Hi there, I'm Lisa Radu, owner/creative director of a small bespoke floral studio, Aspen Florist, specializing in weddings as well as styled baby and maternity events.
I fell in love with David Austin Wedding & Event Roses after my first 3 day intensive workshop with Holly Heider Chapple, where I became a Chapel Designer in June 2015. Not only was my mind racing with inspiration following Holly's education, but I was introduced to the most beautiful luxurious garden roses in an abundance I had never seen before. Thanks to Holly and her incredible workshop experience, my love of David Austin's was born.
We love this photoshoot you created with our roses, what was your inspiration?
Baby Collins' mother Paige is one of my best clients and she found me because of our mutual love for David Austin Roses. Way back in 2017 I had a David Austin Rose Pop Up Sale and Paige ordered a bouquet, that was just the beginning of our bond. Paiges' mother and sister became dear clients and friends soon after through our holiday workshops and whenever we had David Austin's roses in stock they were sure to order some.
In January 2019, Paiges' boyfriend Shayne, ordered a bouquet from us of assorted David Austin Roses for his engagement proposal . He placed the ring in the centre of a David Austin Constance rose and she said yes!! When we had the honour of creating their wedding flowers 11 months later, she carried David Austin Keira roses in her bridal bouquet. Her husband Shayne never forgets to treat his beautiful bride to her favourite roses on special occasions, so naturally when their first born daughter arrived, Paige texted me almost immediately and said…"Get the David Austin Garden Roses Ready, it's a Girl!"
I gave her a few options to choose from and after careful consideration they went with my first recommendation.  A beautiful combination of 24 Keira and 24 Constance David Austin Roses. We created a flat lay circle as our first floral scene for Baby Collins' newborn shoot followed by a full bed of the softest most luxurious roses for their adorable baby girl.  Truly we all felt like she was a princess lying on the most coveted roses we could provide for her. Her loving Dad looked at me and said "Thanks so much Lisa, now both my girls need their favourite David Austin Roses for all special occasions…."  I apologized with a laugh in advance and said sorry we're starting Collins extra early with her love of luxury branded garden roses, until the day I can create for her wedding!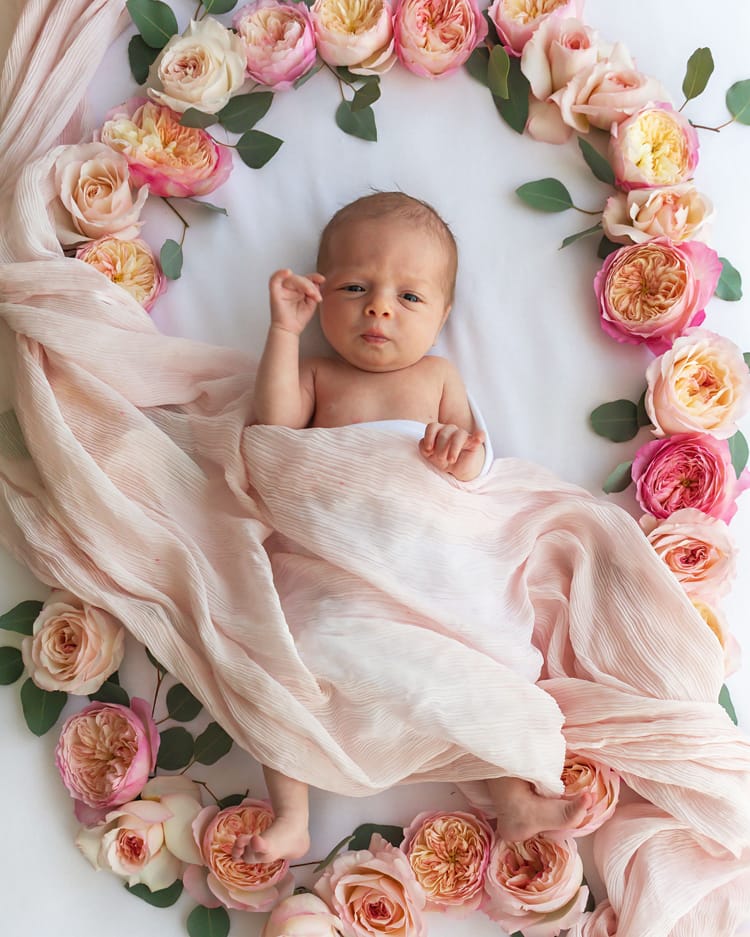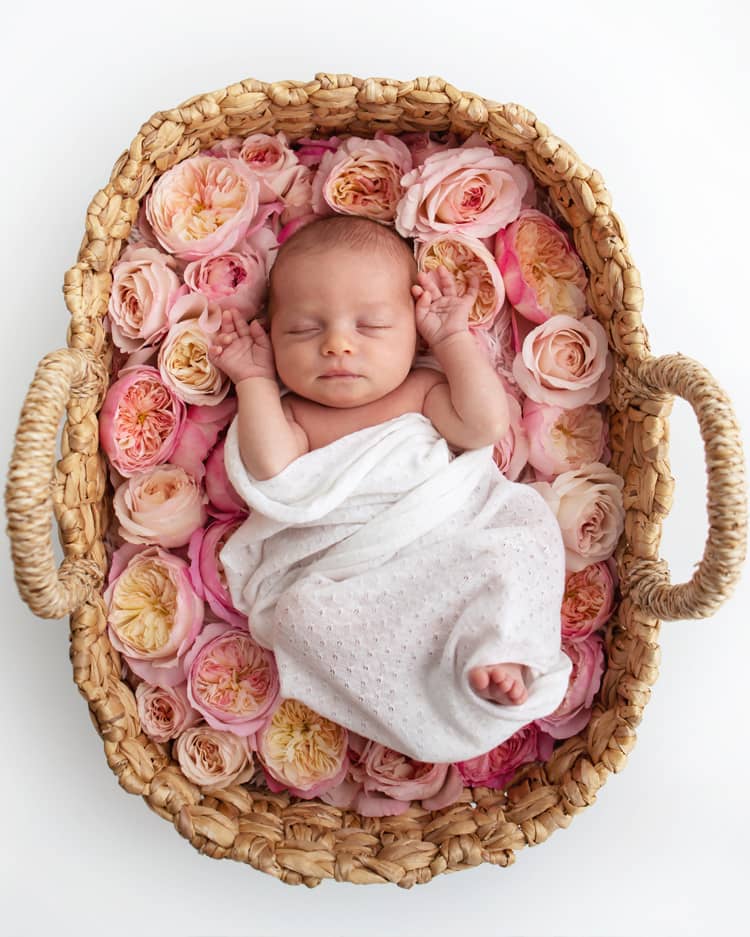 Any top tips for baby florals you would like to share with other florists?
David Austin Roses are always my first choice for baby styled sessions because of their intense petal count and utter beauty. They elevate the shoot and never disappoint.  Just be sure to hydrate and properly condition the roses when they arrive in the studio. I like to leave them out a few days to open to their prettiest stage when you can truly appreciate and enjoy these luxury roses the way they were intended to be. As for tips in regards to the shoot itself, working with an experienced photographer who understands and follows baby safety is paramount.  On the day of the shoot, I like to arrive on site at Petra's beautiful studio about an hour before the baby arrives, which gives me enough time to cut and arrange the roses for the first set up on site.
Petra and I have the session flow down after 4 years of working together on these luxury photoshoots for our most cherished clients. After the first floral scene is complete, Mom usually tops up baby with a quick snack or outfit change while I set up the next scene. We like to allow an hour for these floral sessions so both baby and parents feel welcome and relaxed, allowing Petra to capture all the details they will want to cherish forever.
Why are baby photoshoots with flowers so popular do you think?
I think Baby Photoshoots with flowers have become quite popular over the last few years because flowers create the ambiance. Who wouldn't love luxury garden roses surrounding their newborn or for their daughter's 1st year milestone session?
I believe premium blooms like David Austin Wedding & Event Roses elevate the experience and that is exactly what I'm there for, to create an experience that stands out from the rest and when I'm incorporating Mom's favourite blooms in the process it's a win-win! 
Thank you so much Lisa for sharing this beautiful story with us and for Petra's incredible photography.  A huge thanks also go to Paige, Shayne and their gorgeous baby girl, Collins, for allowing us to share these cherished family moments.  No doubt this has inspired many other florists as well as parents-to-be to follow in your footsteps.