We have been busy preparing for a fabulous wedding day, set in the heart of the English countryside.  Watch a rose-filled moment unfold as all aspects of this special occasion are festooned in glorious roses from our cut rose collection.
Our absolute favourite shot – capturing both the beauty of the roses, the glorious rainfall of rose petals and above all, a special moment of pure love and joy held between two people.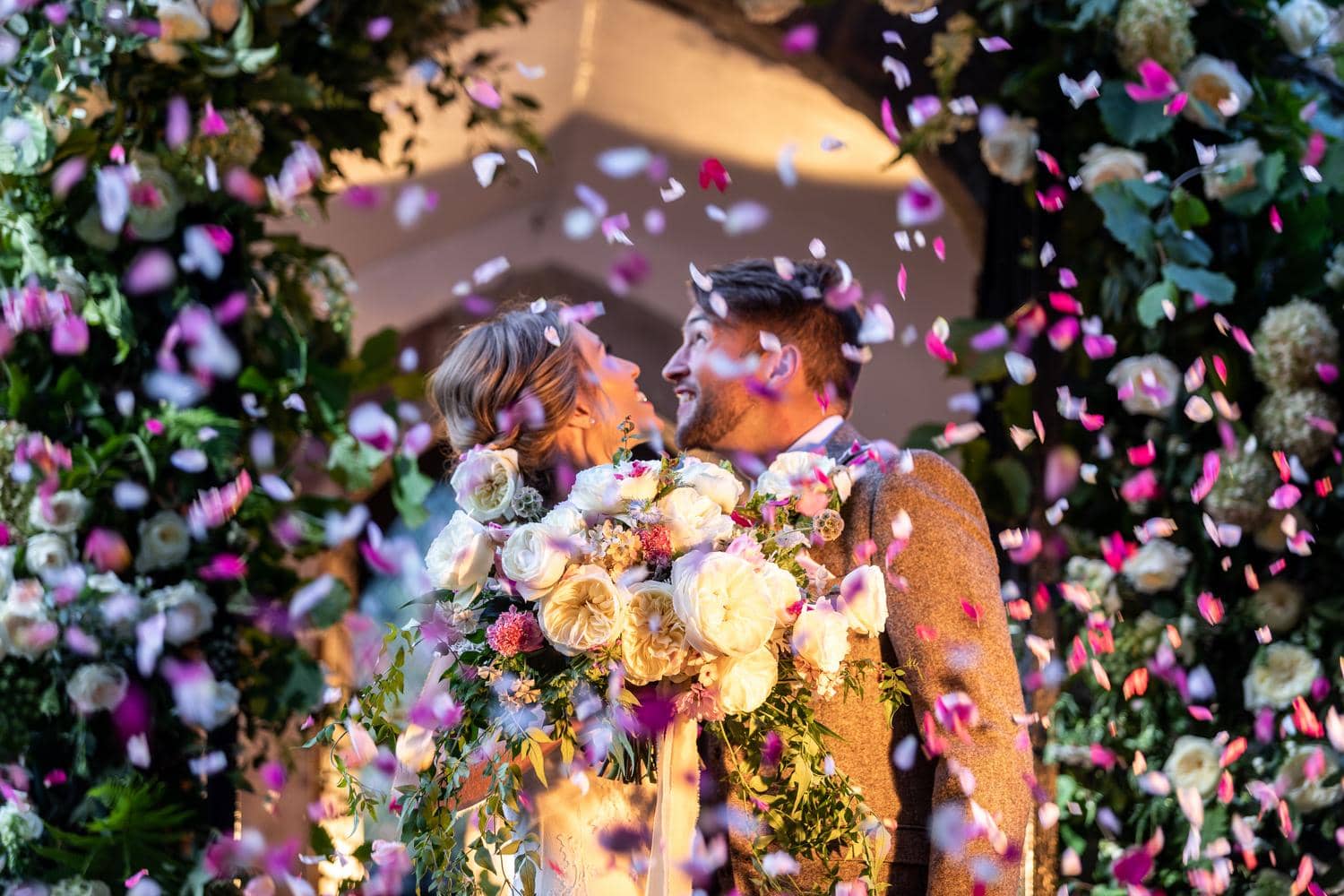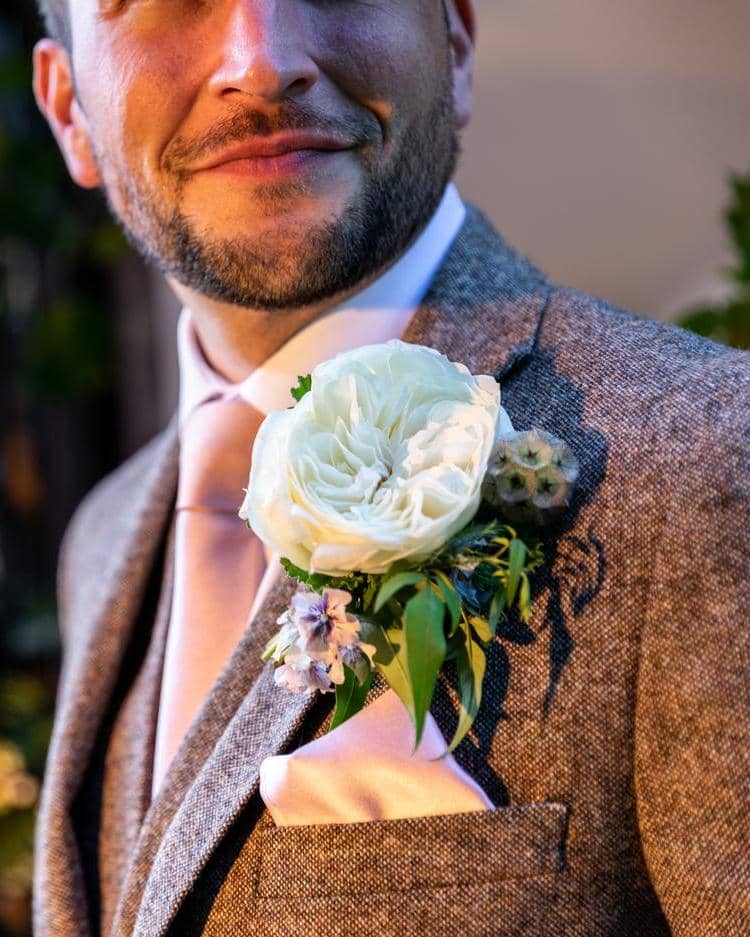 The groom's button hole or boutonnière full of meaning – a symbol of beauty in nature and of love undefined, captured in a single bloom of Leonora (Auswagsy), one of our newest varieties, chosen to match the bride's bouquet.  …We didn't want to leave out the groom who plays an equally important role!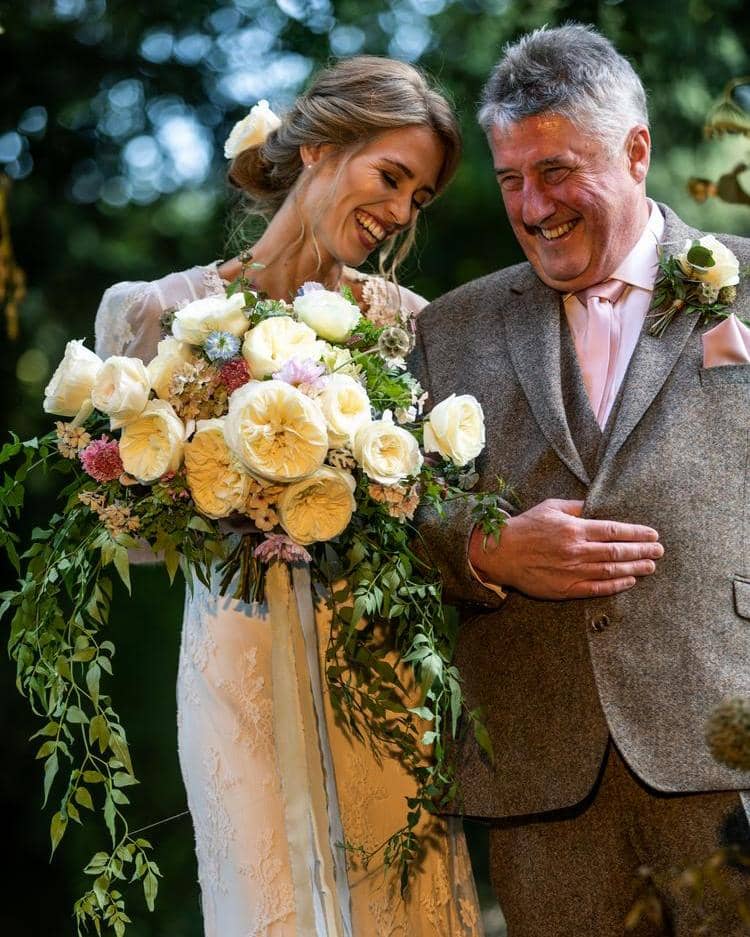 A touching moment between father and daughter as they walk to church, arm in arm.  A very proud dad and a beautiful bride holding an exquisite bouquet of Leonora (Auswagsy) roses complemented with seasonal flowers and foliage along with cascading jasmine trails.  The hand-died silk ribbon had a beautiful softness in colour and was kept long to create added movement and romance.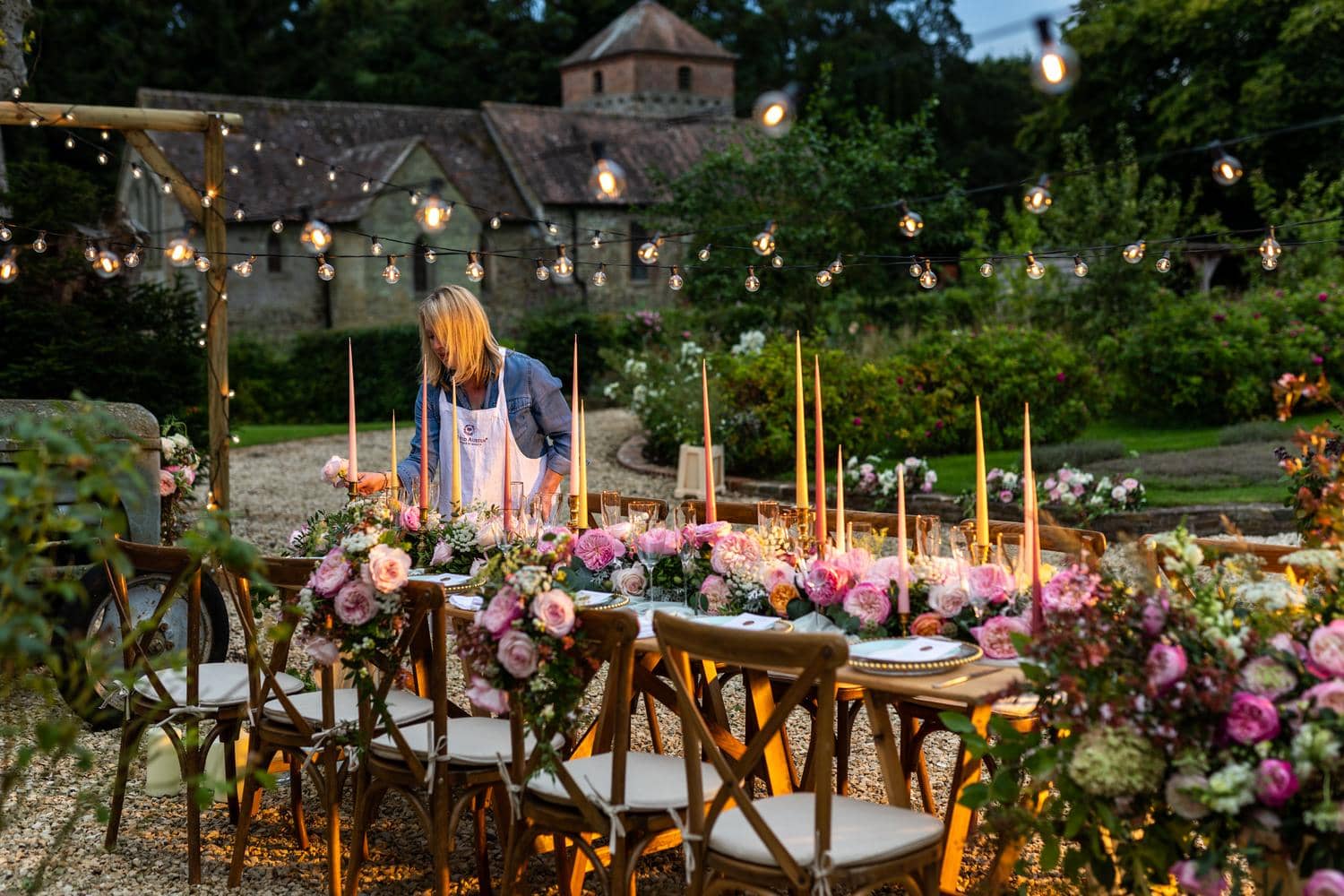 The final flurry of activity – the banqueting table is bedecked with beautiful tapered candles, the champagne is on ice and the blush pink roses of Constance (Austruss) and Keira (Ausboxer) come alive in the beautiful late afternoon light.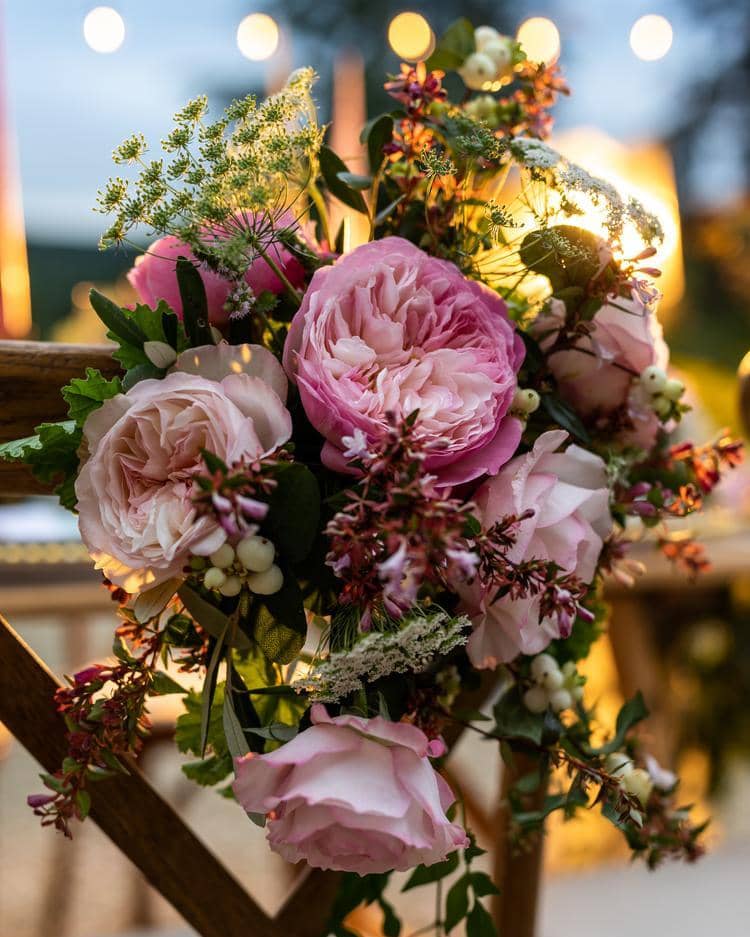 A close-up shot of the mesmerising blush pink roses of Keira (Ausboxer) and Constance (Austruss), nestled alongside their companions of ammi, snowberries and abelia, which provide the added textural detail.
Brushed gold cutlery tied with silk ribbon and calligraphy name tags, along with gold edged plates and glasses all add a subtle note of opulence and formality to a wonderful, relaxed occasion.  A very English menu was served including a medallion of beef with a medley of garden vegetables followed by a spiced apple and plum crumble.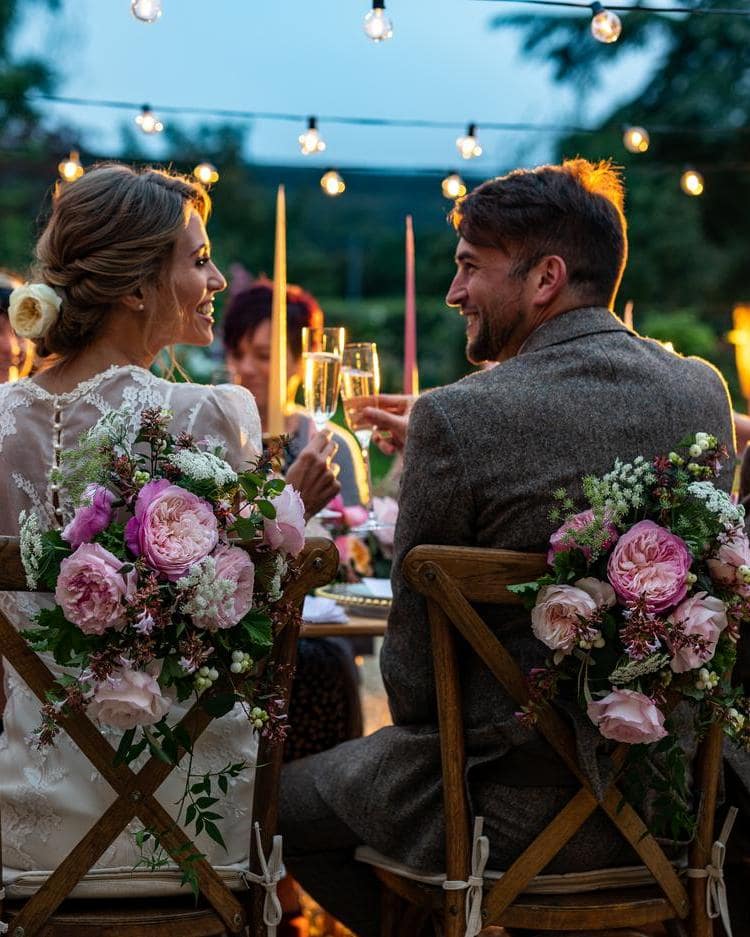 The floral rose decorations ran throughout the couple's special day and it was not all about the larger-scale creations.  The smaller, more intimate flowers were equally as important – from the small posy of roses in the bride's bedroom;  the single rose in her hair; the button holes for the bridal party; the wedding wreath on the front door and the arrangements on the back of the banqueting chairs. Like music, we love to create light and shade with our roses, which in turn deliver such emotion.  From the pianissimo of the groom's button hole being placed on his lapel through to the crescendo of the couple walking through the floral arch, showered with a cascade of petals.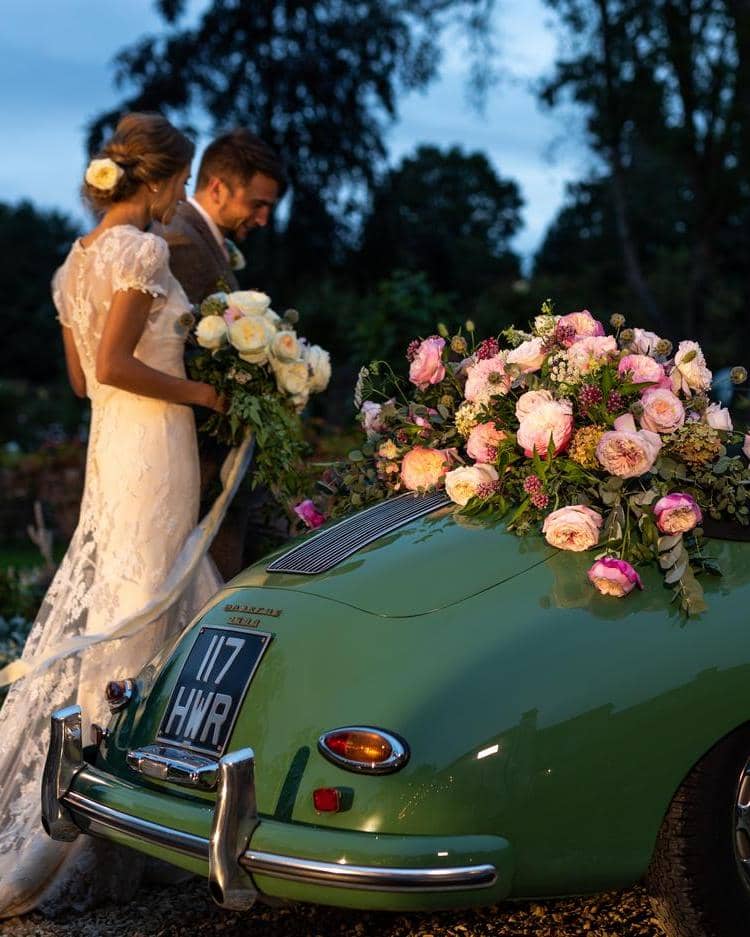 The final scene ….. Dad's classic car, which he has lovingly restored in readiness for this moment – his daughter finding true love and starting a new chapter of her life.  The bridal bouquet, still in her hands, has stayed close to her heart every step of the way and will always hold the special memories of this day.