After carefully selecting your dream wedding venue, you can start the fun part of planning the decor and designing a gorgeous tablescape to warmly welcome your guests. This is your chance to get creative and there are countless ways to style the space whether you tackle it yourself or work with a wedding planner and stylist.
 There's no end to the creative ways you can transform your wedding venue to complement your personal style as a couple. Will you embrace recent trends like a pastel wedding colour palette or opt for a timeless look with green and white? Perhaps you've got your heart set on a colourful English country garden-style wedding, or a more formal black-tie wedding with all-white roses? Scroll on to see how our team styled two different wedding receptions in the same space to get you inspired.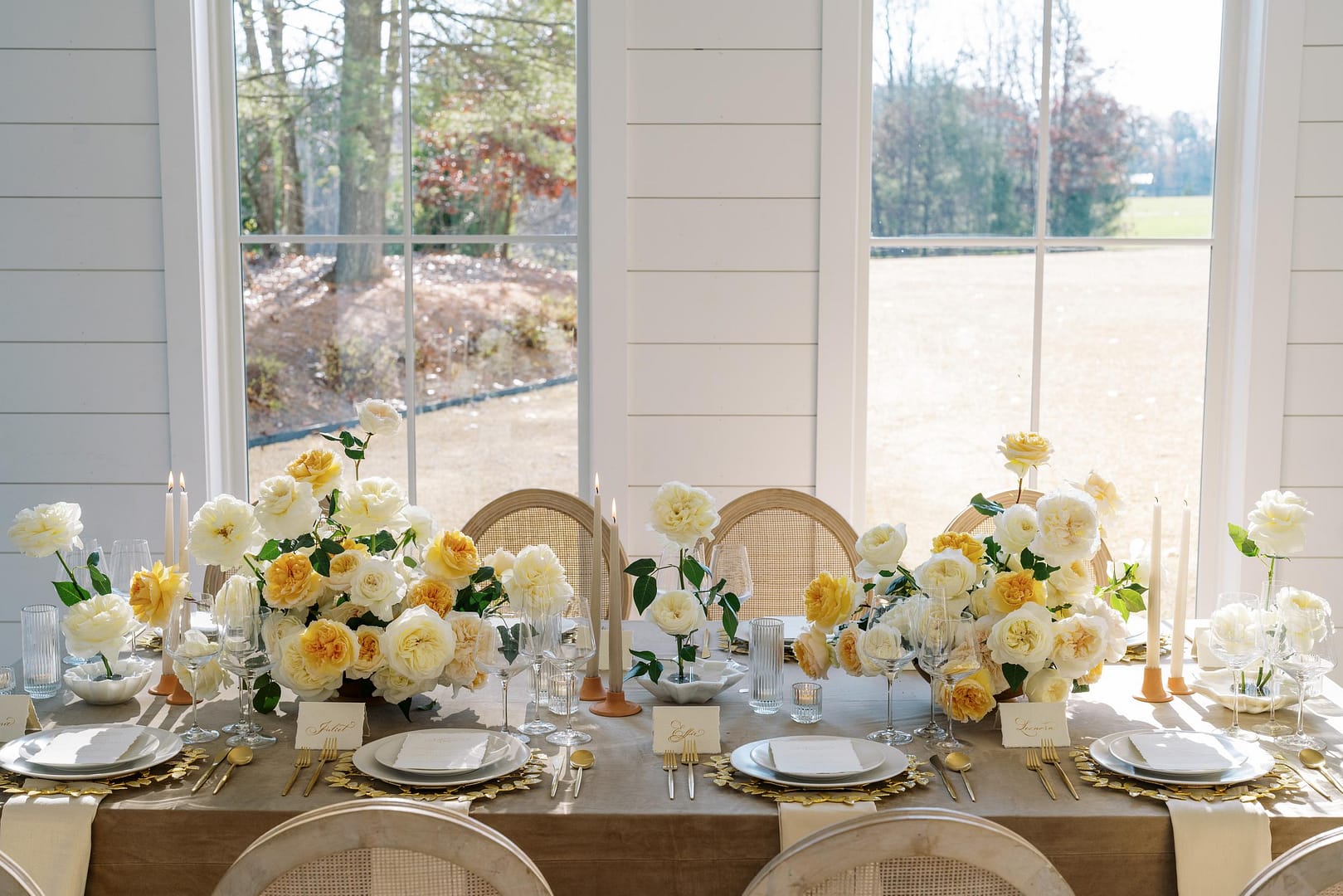 Yellow and Cream Rose Wedding Reception
A wedding venue that provides a blank canvas like the Ivy Rose Barn in Virginia (photographed here) is a great opportunity to express your personal style and showcase your chosen colour palette. Here stylist Joy Proctor and floral designers from Bows and Arrows have created a muted warm colour scheme, ranging from creamy ivory and sandy tones to buttery yellow and mustard brown shades.
The rustic foundation of the tablescape is elevated with our bountiful fluffy roses – yellow Beatrice and ivory Leonora and Eugenie–  and golden cutlery and placemats. Elegant subtle details add to the vibe of laidback luxe, including handwritten place cards and menu in gold ink calligraphy by Maria Esperanaz, and beige taper candles that add a warm glow. We love how the florist has used flower frogs in little bowls to display individual stems, allowing guests to fully appreciate the beauty of David Austin Roses.
Eclectic Pink Rose Wedding Reception
If you take a relaxed, creative approach to colour, you can find yourself with a really interesting aesthetic that feels personal and one of a kind. So, for example, rather than simply going for pink and white, consider incorporating nuances of these shades and colours that sit next to each other on the colour wheel such as peach, purple and blue to create a unique, eclectic look.
This wedding reception is in the same space as the one above, but given a totally different look. By highlighting the chandeliers with hanging floral installations and switching to traditional round tables filled with Constance, Edith, Juliet and Miranda roses, the light and airy space at Ivy Rose Barn takes on a more formal feel. Touches of dusty blue in the tablecloth, ticking stripe napkins and hand-painted candles by Nadia & Co prevent the predominantly pink design from feeling too sugary sweet.